The Budget delivered more cash for infrastructure – which accounted for the biggest share of new contracts in November – but economic forecasts were significantly downgraded.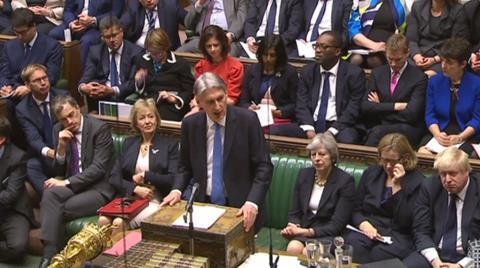 Economic context
The Budget, which was delivered in November, set at its heart a series of measures to raise productivity in the UK economy. It also majored on changes to solve the housing crisis including cuts to the stamp duty land tax (SDLT) for first-time buyers, as well as a series of reforms to the planning system.
However, the main headlines were given to the deteriorating economic forecasts for the UK in future years. The outlook for the economy received the biggest downgrade since the financial crisis, indicating some difficult years ahead if forecasts are correct.
The Office for Budget Responsibility's (OBR) updated economic forecasts for the UK show GDP growth is now estimated to be 1.5% in 2017, down from the 2% predicted in March. The figure for 2018 was also downgraded to 1.4%, from 1.6% in its previous forecast. Further downward revisions were made to the forecasts for 2019 and 2020.
The fall in the value of sterling since the Brexit vote has led to a period of higher inflation in the UK. From a rate of 0.7% in 2016, inflation is predicted to have peaked at 2.7% in 2017. The OBR predicts that inflation will recede to 2.4% in 2018. Looking forward to the end of the forecast period, it is predicted the inflation rate will be 2% in 2021, which is a year later than was predicted in March.
One of the major implications of the higher level of inflation is a fall in real wages. If average earnings growth is lower than consumer price inflation then real wages are falling. And, according to the OBR, average earnings will have grown by 2.3% in 2017 compared with an inflation rate of 2.7%. In 2018, the rate of growth in average earnings is forecast to be 2.3%, which is still below the rate of inflation. The wages growth rate of 2.3% is estimated to remain in 2019, but by that time inflation will have fallen to a level that means real wages will start to grow.
The Budget overview
The policy measures for construction announced in the statement included:
£15.3bn extra spending for housing, meaning a £44bn total spend over the next five years
A review by MP Oliver Letwin of reasons why planning permission is not implemented
Planning reforms including strengthening the proposed housing delivery test and minimum densities for urban areas
Support for five garden towns in the South-east with new town corporation powers
Funding includes a £1.1bn Land Assembly Fund and £2.7bn for the Housing Infrastructure Fund
Help for small builders including £630m for the remediation of small sites and £8bn of guarantees to underwrite loans
Stamp duty abolished for first-time buyers on properties up to £300,000 in value
£1bn of further borrowing headroom for councils to invest in building affordable homes.
The construction sector
New construction contracts awarded increased by 5% in November 2017, reaching £7.4bn, 35% higher than in November 2016.
The latest figures from the ONS indicate the construction sector in the UK declined by 1.7% in October compared with September. Comparing output levels in the three months to October with the previous three months also showed a decrease of 1.4% (see table on construction activity by sector, bottom right). This longer-term fall demonstrates an industry continuing to slow even after declines in the second and third quarters of 2017.
Falls were largely attributed to declines in repair and maintenance work in housing and non-housing sectors. Total repair and maintenance declined by 3% in the three months to October, with housing repair and maintenance falling by 3.1%. New private housing remains a bright spark, however, growing by 0.4% in the three months to October compared with the previous three months.
Infrastructure also declined over the three months to October, falling by 0.3%. But it is healthier than this time last year, with October 2017 figures 5.7% higher than those in October 2016. Private industrial is also performing well, with output 7.8% higher in the three months to October 2017 compared with three months earlier.
The Barbour ABI data on all contract activity indicated that the recent upturn in construction levels continued into November 2017. The value of new contracts awarded was £7.4bn, based on a three-month rolling average. This is a 5% increase on October and is 34.6% higher than in November 2016. The recent upward trend for the number of construction projects in the UK also continued, with data for November showing an 8.3% increase on October, which was also 7.4% higher than for November 2016.
Projects by region
Analysis by region indicates that Yorkshire and the Humber was the leading region for contract awards in November, with 38% of the UK total. This was followed by the North-west, with 15% of contract awards, while London and the South-east each accounted for a 10% share (see map showing location of contracts awarded, right). The highest-value contract awarded in November was the £2.25bn TransPennine upgrade from Stalybridge to Leeds.
Types of project
Infrastructure projects accounted for the highest share of contract awards values in November with a 47% share, followed by residential at 26% and education at 10%. The dominant position of infrastructure in November was underpinned by the £2.25bn TransPennine upgrade. Other notable infrastructure contracts included the £76.2m contract to replace 62 escalators on the Jubilee Line and the £48.9m highways project at Northstowe in Cambridgeshire.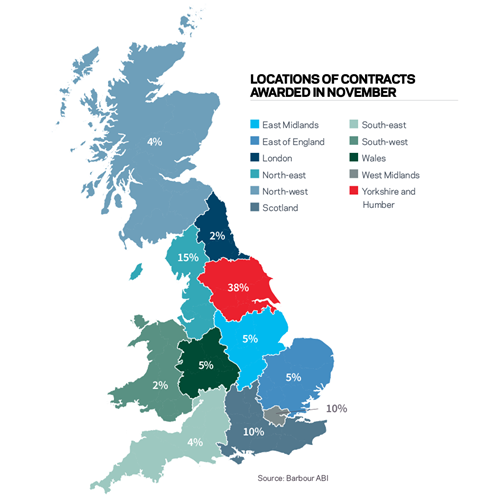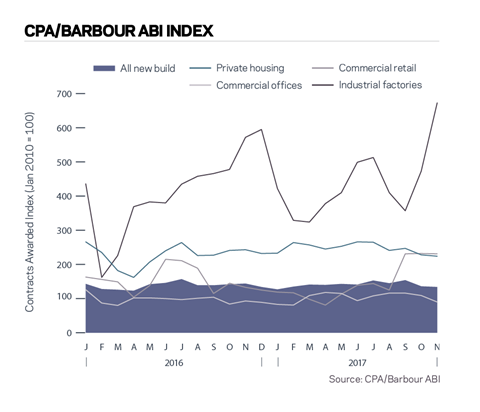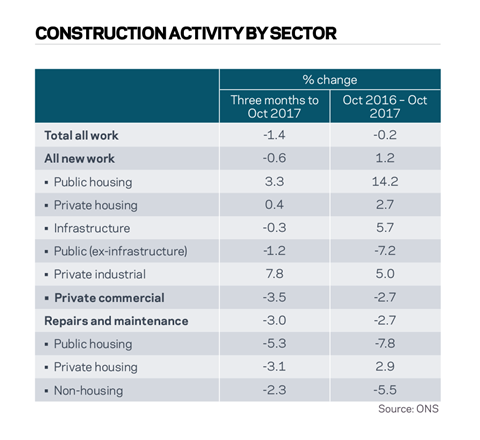 Construction performance by sector: spotlight on infrastructure
The positive trend for infrastructure contract awards has continued into November 2017, with the contracts awarded totalling £3.7bn based on a three-month rolling average. This is 25.7% higher than in October and 176.6% up from November 2016.
In the three months to November, total infrastructure contract awards were £9.5bn, based on a three-month rolling average. This is an increase of 281.7% on the previous quarter and is 114.9% higher than for the same three-month period in 2016.
The sector has benefited from the awarding of a small number of high-value contracts linked to the transport sector over the last quarter, resulting in a significant upturn for infrastructure.
Projects by region
The largest share of infrastructure contract awards in November 2017 was Yorkshire and Humber, with a dominant 72.3%, which compares with only a 1.7% share in November 2016 (see value of contracts by region).
The civil engineering contract for the TransPennine rail route for west of Leeds section was awarded to Bam Nuttall – the contract is due to be completed in Q4 2027.
In Leeds, the £15m Redcote Lane battery storage facility for CJ Energy is set to provide a 49.99MW battery energy storage facility, which will include 25 containers, substations and transformers, as well as cabling over a 4,400m2 site.
The North-west had the second largest share of contract awards.
Types of projects
Civil engineering continued to dominate in November 2017, with a 76% share of contract awards value, although it made up only a 7% share in November 2016. Utilities had a 16% share, a decrease of 64% on November last year, with transport the only other sub-sector with a significant share at 5%.