Construction output continues to dip against a background of rising inflation and slowing wider economic growth. Michael Dall discusses the highlights of Barbour ABI's monthly Economic & Construction Market Review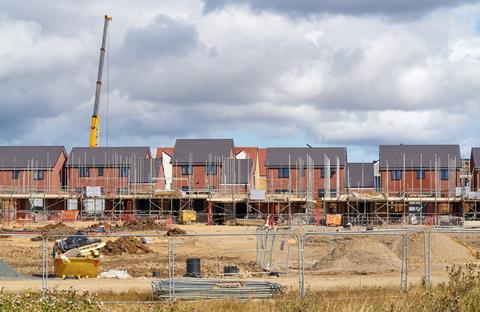 The pace of economic growth fell to its lowest level in six months according to the Markit all sector PMI indicator. The reading for August was 53.8, which is a very slight reduction from the 53.9 reading.
A reading of above 50 indicates growth but according to Markit this reading of 53.8 is consistent with growth of 0.3% for the third quarter, which would indicate a continuation of the lower levels of growth seen in 2017 (see fig. 1.1). There is some evidence that higher prices are impacting negatively on consumer spending growth and that is hampering economic growth rates.
In addition, the positive impact expected from the depreciation in Sterling on net trade has failed to materialise to the extent that was forecasted. As the Brexit negotiations begin to gather pace the challenges ahead for the UK economy are set to increase.
Other news this month on the UK economy includes:
The minutes of the Bank of England Monetary Policy Committee indicated that the consensus is moving towards a rise in interest rates in the near future
A survey by Manpower, the employment agency, found that 7% of businesses surveyed planned to hire more people ink the last quarter of 2017
The National Institute of Economic and Social Research forecast that economic growth will be slightly higher in Q3 at 0.4%
A survey by the Society of Motor Manufacturers and Traders showed that new car sales were 6.4% lower in August than in the same month last year, the fifth month in a row that a fall has been recorded.
The construction sector
The latest figures from the ONS indicate the construction sector in the UK shrank by 0.9% between June and July 2017. Industry output was 0.4% lower than July 2016 compared with compared with the same period 12 months ago.
The main reason for the monthly decrease in output is declines in new work in the private housing and infrastructure sectors. New private housing output shrank by 3.9% over the period, while infrastructure fell by 2.6%. Over the longer term, private commercial was still 3.4% higher in July 2017 compared to July 2016. However infrastructure was 2.1% lower than a year ago. Looking at the past three months compared to the preceding three months, shows that construction output has fallen by 1.2%, clearly demonstrating that the level of activity in construction is declining. However, while the level of private housing continues to grow annually longer term growth should continue to exist.
According to Barbour ABI data on all contract activity, August witnessed an increase in construction levels with the value of new contracts awarded at £5.8 billion, based on a three month rolling average. This is a 7.4% increase from July and a 4.7% increase on the value recorded in August 2016. The number of construction projects within the UK in August increased by 19.7% on July, and were 15% higher than August 2016.
Projects by region
The majority of the contracts awarded in August by value were in London, accounting for 20% of the UK total. This is followed by the North West which had 14% of contract award value. The next highest region was the East of England, which attracted 12% of the value awarded.
The highest value contract awarded in London in August was the 1 Park Place office development in Canary Wharf which is valued at an estimated £200 million. The 31 storey office block has a total floor area of more than 100,000 square metres. In the North West region the highest value awarded contract was an industrial scheme called the Frontier Business Park. This site will include 92,415 sqm of warehouse/ industrial space, 1820 sqm hotel and 938 sqm of pub/ restaurant space and a petrol station. It has an estimated value of £80 million and was awarded to Barnfield Construction.
In the East of England the largest contract awarded was in the commercial and retail sector and it was for the Intu Leisure redevelopment of the Lakeside shopping centre. The scheme is an extension to the shopping centre, providing additional space for retail use. It will include up to 40 shops, restaurants and cafes following the demolition of the Debenhams store. This scheme is valued at £180 million and was awarded to McLaren. It is due to start in September 2017 and is expected to be completed in May 2019.
Type of projects
Residential had the highest proportion of contracts awarded by value in August with 36% of the total (see fig. 2.5). The highest value contract awarded in London was the 458 unit scheme in Wembley Park, London. This scheme has a total construction value of £155 million and consists of a 21 storey building comprising of 458 two, three and four bedroom flats, and 18,601 sqm of commercial space. The next highest value residential contract awarded was a 648 unit development in Lionel Road, Kew Bridge.
This is a residential development comprising 286 one bedroom, 303 two bedroom and 59 three bedroom apartments over seven residential blocks and has a contract value of £100 million and was awarded to Buckingham Group. Commercial and retail secured the second highest share of contracts by type with 22% of the value awarded. The largest commercial contract awarded in August was the Park Place office development in Canary Wharf. This is valued at £200 million and was awarded to the Canary Wharf Group.
Another project of note in the commercial sector in August is the award of the contract to build a new shopping centre at the Broadmarsh Centre in Nottingham from retail specialists Intu, valued at £92 million and awarded to Sir Robert McAlpine.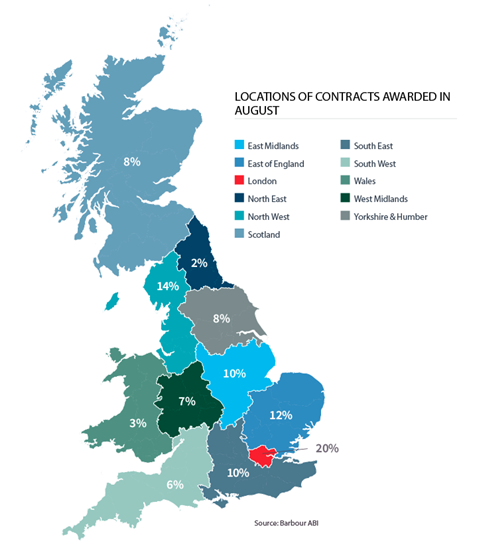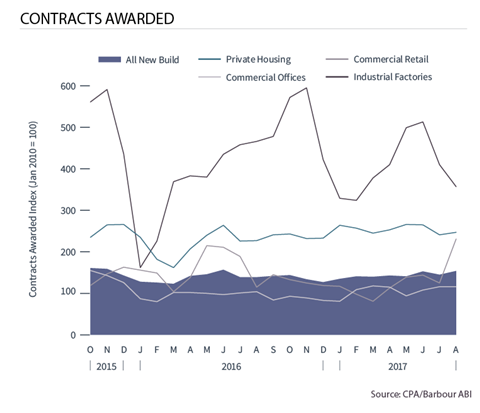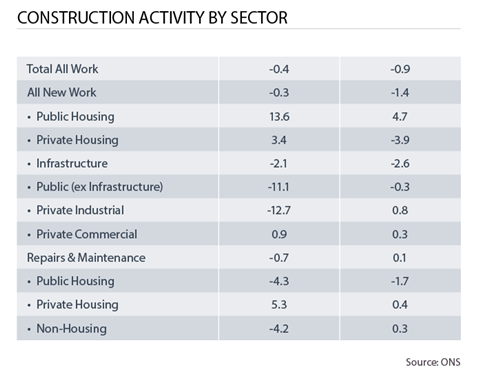 Spotlight on residential
Activity in the residential sector increased in August with the total value of projects valued at £2.7 billion based on a three month rolling average (see fig. 3.2). This is a 6.6% increase compared to July and is 55.2% higher than August 2016.
The number of units associated with residential contracts awarded decreased by 3.5% between July and August based on a three month rolling average, but are 9.7% higher than August 2016. Taken together this data shows the continued popularity of residential developments in the UK.
House prices
The latest house price indices for August from Halifax showed that average house prices are rising at 2.6% annually, up from 2.1% in July. There was also a quarterly increase in house prices of 0.1%, following on from four consecutive quarters of declines. The Nationwide reported annual house price rises at 2.1% in August, down from 2.9% in July.