The latest Experian figures predict that the recent gloomy construction output is set to continue
Predictions for the fall in construction output this year are getting worse as the coalition government's spending cuts begin to bite.
The 3.6% fall forecast in the latest figures from Experian is even more gloomy than that issued by the Construction Products Association before Christmas.
This is in contrast to 2010's unexpectedly fast growth on the back of the Labour government's fiscal stimulus programme.
At 2005 prices, 2011 output will now be £95.8bn, Experian predicts, 12% below the pre-credit-crunch peak in 2007.
The survey shows that the total new work, excluding repairs and maintenance, will fall by an even more worrying 4.3% on 2010. This time last year, Experian was predicting growth in new work of 1.9% for 2011.
Hardest hit sectors include public housing, expected to fall by a fifth this year; public non-residential building, down 15%; and public repairs and maintenance spending, down 5% for both housing and non-residential buildings.
The report says the cutting, by more than half, of the social housing budget in the spending review meant forecasts had to be revised downwards: "It is difficult to see how current levels of social housebuilding can be sustained under this funding regime, even if registered social landlords are much more successful in raising private finance than they have been in the past," the report said. "This is likely to be a particular challenge in the light of the tight financial environment."
The report also predicts no big increase in commercial building until 2013.
Simon Rawlinson, head of strategic research at EC Harris, said: "The predictions around commercial building are perhaps a bit gloomy, but this is definitely going to be a year of the squeezed middle for contractors. Those not big enough or small and nimble enough will feel workload falling."
However, the falls follow an unprecedented growth in 2010, with new work rising by 12.2%, compared with a predicted fall in output this time last year of 1.9%.
This is attributed to record public sector output figures, with most spending cuts not taking effect until 2011 at the earliest.
Taking account of inflation, 2010 construction output in public non-residential building, at £13bn, was by far the highest since data collection began in 1955. Public housing output also hit a historic high of £4bn. Infrastructure spend, at £11.3bn, was the highest figure since 1993.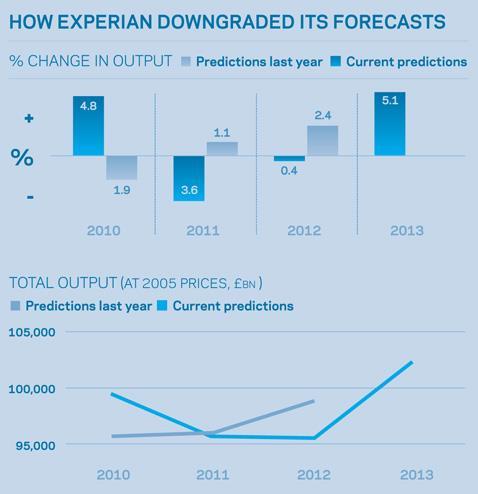 For more analysis of Experian's latest output figures read Brian Green's Brickonomics blog at www.building.co.uk/brickonomics