After a two-year hiatus, developers and occupiers gathered to discuss the future of the office - here are some highlights
Last week office-builders, architects and everyone in-between descended on the Manchester Central convention complex for this year's British Council for Offices conference.
The two-day conference – the first since Copenhagen in 2019 – provided a platform for industry experts to share their views on a range of topics as the British Council for Offices (BCO) published new advice on office specification. Here are Building's five key takeaways from the two-day conference.
Manchester on the up
With Greater Manchester mayor Andy Burnham called away on urgent business, Joanne Roney, chief executive of the city council, deputised, delivering a triumphant keynote extolling Manchester's gifts as an hub for culture, innovation and sport.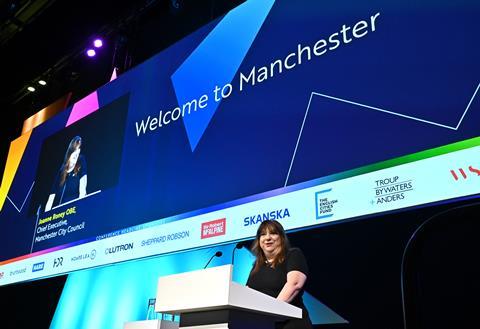 According to Roney, the city centre is expected to be home to 100,000 people by 2026, with engineering, science and digital jobs expected to be a major driver of that growth and the city identified by government as one of three UK innovation acceleration hubs. With that job growth comes demand for greater office space. Fifty four percent of office space completed in 2022 is pre-let and the figure for 2023 completions is 30% – of these pre-lets 50% are digital businesses new to the city.
"There is a number of exciting developments currently on site that are going to be game-changers for the future of the city, but they're not all in the city," said Roney, citing the St John's neighbourhood, which will include Enterprise City – a cluster of media and tech business. The new neighbourhood is expected to be completed in 2025.
New BCO guide to spec and fit out guide set to follow
The BCO's position paper for its new Guide to Specification, published at the beginning of the conference, was a hot topic among attendees, and lead author Neil Pennell, of Landsec, said he had received "really positive" feedback. The paper proposed a new base level occupancy criterion of 10m2 per work setting, up from the recommended 8m2 recommended in the 2019 guide. Pennell told Building the recommendations reflected the need to look at the "mode utilisation of the space, rather than the maximum".
He said: "I think after the revolution in the way we use buildings, it's more likely to be those [lower] utilisation levels that gives us a chance to reconsider the amount of provision that's put in to cater for that number of people. And it opens up more opportunity to use the space in buildings for all the amenity uses that people are really crying out for in terms of occupiers".
He added: "It's a good thing from a net zero carbon perspective, it's probably more effective and efficient use of space".
The final version of the updated guide is expected to be published later this summer.
Meanwhile, the BCO is half-way through drafting a new guide to fit out, which was last updated in 2011. According to Pennell, the new guide, set to be published early next year, will mean the organisation will move away from process-oriented advice, towards guidance on "what you should do, as well as how you should do it".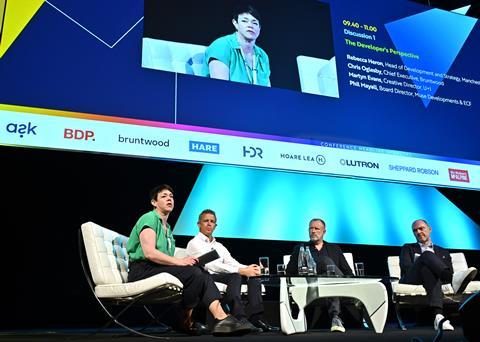 Beyond location, location, location: The developer's perspective
Gone are the days when office development was simply a matter of "location, location, location". According to Chris Oglesby, chief executive of Manchester-based developer Bruntwood, the past decades have seen specification, flexibility and amenity thrown into the mix – and the latest key consideration, he told the auditorium at Wednesday's first panel discussion, is community. "That community proposition is both in terms of what you actually provide in terms of the community activity, but also who you get in, in the nature of like-minded businesses," he said. "There is a bit of a community arms race at the moment".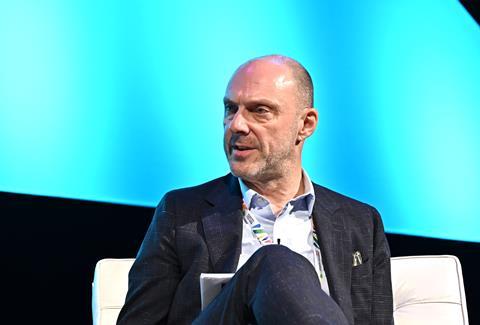 Martyn Evans, creative director at U+I, which is Manchester's development partner on the Mayfield project, agreed, saying that companies needed to shift their mindset from property developing to place-making.
"Whilst we are in the business of connecting glass and steel and bricks and mortar to make buildings, what we are really doing is making places for people," he said. "We are having a bit of a tough time getting people to come back to work and feel like they want to come back to the office. That's not their fault, that's our problem. We have to inspire them to want them to come away from their comfortable homes."
Occupiers look to address stubbornly low utilisation rates
The first panel discussion on day two echoed the developers' emphasis on community, as occupiers discussed how to address stubbornly low office utilisation rates. All the panellists said utilisation levels had been lower than expected and targeted after the pandemic, with figures as low as 30% referenced. Andy McBain, head of future of workspace and design at NatWest Group, said his firm had been modelling an average three days in the office per fortnight for its employees, but that the reality had been closer to once per week. Panel chair Despina Katsikakis noted a survey which reported that 90% of workers felt trusted by their employers to work from home, compared with 3% pre-pandemic.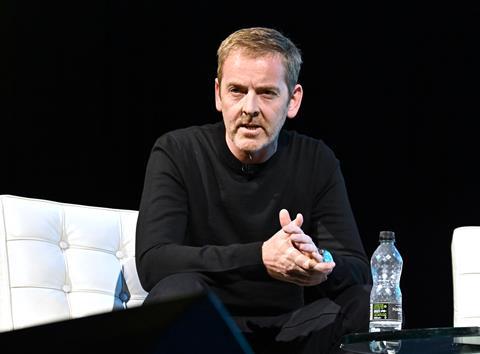 "The pandemic shifted the balance of power", said Paul Casey, global real estate EMEA director at IBM, who said firms needed to invest in their office spaces to coax people back. He and McBain agreed that vogue for collaborative spaces in offices had been taken slightly too far, with a need for individual working spaces and spaces for pure socialisation.
"We are now finding a lot of the people who are coming back to work are saying 'I like to collaborate, but I also want an individual space in the office and complete my day there'," said Casey, while McBain said hosting events was an important way to get people in. "We need to think about this more as if we are running a hotel or an event or experience," said Vernon Blunt, global workplace operations director at Ericsson.
Dublin calling: exploring the ecosystem of the office
Dublin was named as the venue for next summer's conference, which is set to run 7-9 June. Despina Katsikakis, executive partner at Cushman & Wakefield, will be at the helm for the conference, taking up the presidency in March 2023. Katsikakis, currently junior vice president of the organisation, told Building that part of the reason for choosing the Irish capital was its "blending of work, live, play, learn and the ability to have accessible, walkable cities that bring together the different functionalities".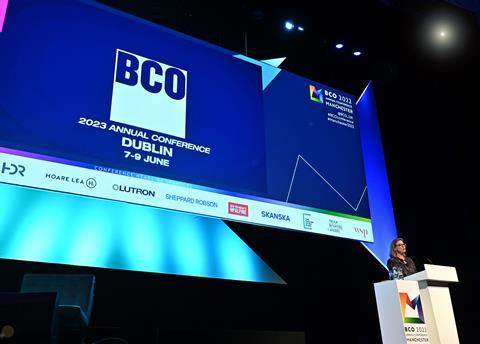 She said the so-called "ecosystem of the office" was likely to be one of the 2023 conference's major themes. "As we embrace this idea that work does not happen in a single location, but it happens across an ecosystem that involves the office, the home, third places, the city, public realm, then the role of cities becomes really important to drive social value," she said. "The office becomes one key node in the ecosystem, so you have to think about what the purpose of the office is in the context of that - because it becomes much more purposeful and intentional."
Katsikakis said the BCO was re-shaping its research agenda and that she wanted to create a series of taskforces addressing the changes to zoning and planning, funding and leasing, design and specification and facilities and operations necessary to achieve this vision. She added that local authorities need to escape from "blinkered thinking" on zoning and cited Copenhagen as a city with "vision and joined up thinking" in terms of planning and funding development.