The mainstream use of BIM and emerging technologies that harness big data are just the foundations of the UK's next digital revolution: smart cities where data will link buildings and infrastructure in a way that could transform our lives. What hurdles do we need to overcome to make this a reality?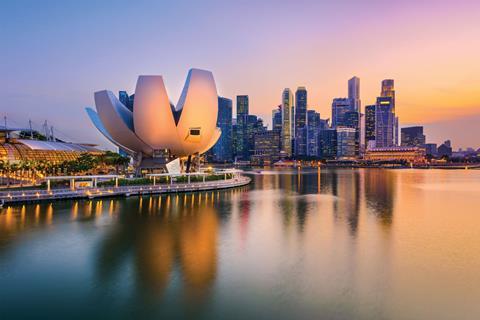 Cities across the world are building up to something spectacular, from seemingly small schemes such as public bicycle hire, to sensor technology in irrigation systems across city parks to smart traffic management systems that regulate traffic flows at busy times.
Singapore has gone even further, with its government setting up a Smart Nation and Digital Government Office to collate digital innovations in order to improve the lives of its citizens.
The UK government has been vocal in its support for the progression of the construction industry to embrace digital culture. And it backed up its words with a pledge of significant investment in last year's Industrial Strategy, promising up to £15m for the Centre for Digital Built Britain.
"It is about digitising the entire lifecycle of built assets to boost capacity, reduce costs, improve whole-life performance and cut carbon emissions"

Mark Bew, PCSG
The new centre in Cambridge aims to help deliver "a smart digital economy" for infrastructure and construction. It sees the construction industry, as well as the UK facilities management sector – both heavy users of BIM technology – as sectors with significant potential for performance improvement.
Now that the majority of the industry uses BIM, the technology at firms' disposal is constantly being refined, and a growing proportion of the workforce are digital natives, the conditions needed to incubate smarter cities are in place. Yet, if the next stage of digital construction is set to involve data sharing on a scale we haven't seen before, the construction industry needs to undergo a change in mindset. And linked to changes in attitude, it also has the tough task of broadening its skills base so that people will be equipped for jobs that don't yet exist.
Mark Bew, chairman of engineering consultancy PCSG and a strategic adviser for the Centre for Digital Built Britain, explains that the government's support provides an opportunity for UK businesses to take advantage of the power of sensors, data analytics and other smart systems technologies as they become more commonplace in future projects.
"Success in the future is about procuring for better value, seeking and driving forward industry-led innovation and building the skills for a future, modern digitally enhanced industry," he says.
"It is about digitising the entire lifecycle of built assets to boost capacity, reduce costs, improve whole-life performance and cut carbon emissions."
Efficiencies for all Paul Flatt, chief executive of consultant Hurley Palmer Flatt, explains that sharing data in smart cities leads to shared efficiencies.
He says: "Plans could include the introduction of intelligent street lamps, supply networks and traffic management. Buildings can be linked to one another so that efficiencies are gained and shared between them (see "Using data for good", overleaf).
"Furthermore, by using the internet of things (IoT) and expanding a city's wifi network,there are opportunities to improve public and private transport efficiency as well as the local authority's services. This makes the city more efficient for its residents and visitors and therefore more attractive to outside investment."
Using data for good: smart cities
Smart cities use interconnected information and digital technology to improve – among other things – public services, public health and productivity. They rely on the innovations also used by smart buildings: connected devices, sensors and a better understanding of data and the combined assets. With smart cities as a future aim, it is likely that building information models will be critical elements in the management of our future built environment.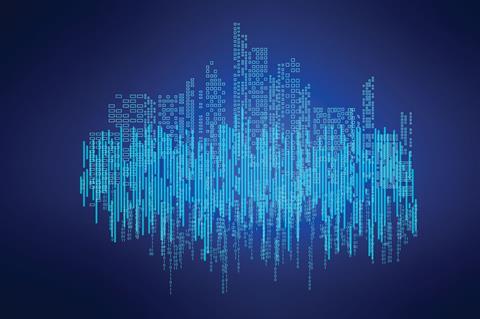 Sharing is key
But the data network must be open and connected in order for a smart city to learn, adapt and evolve, according to Brian Zrimsek, industry principal at MRI Software.
"Without genuine openness, buildings (and the technology in them) become hermetic as they are unable to fully integrate and communicate with other 'points' across an urban sprawl," he says.
Individual businesses are struggling to adapt to the increasing amount of data that must be analysed, and the huge number of connected devices has opened a realm of potential IT security issues. There is a need for caution – but too much could hinder the development of smart cities, explains Zrimsek.
The idea of sharing potentially very valuable intellectual property and data goes against the instincts of most companies. However, the government's Digital Strategy 2025 seeks to create a set of international open data standards to enable easier data sharing.
BIM 'tipping point'
At least the UK's quest for smart city living has a good foundation in the widespread uptake of BIM Level 2. "We are just past the tipping point now where [BIM is] the standard way of working," says Ben Wallbank, BIM strategy manager at Viewpoint.
A 2018 NBS survey on BIM usage in construction found that nearly three-quarters of those polled now use BIM, compared with 13% in 2011.
"It's a mindset. One should make decisions slowly, and take action rapidly. Making decisions needs to be based on the data evidence and qualitative assessments"

Barrie Diffin, Fulcrum product manager, Wilson James
Wallbank believes the sector is in a consolidation phase of the development of digital tools. "As we move towards the next level of digital asset, the challenge is how you begin to share that information and use that to great effect," he says.
"Live information coming in and being able to share data across multiple types – utilities data, transport data and so on – this is the area where we need to focus."
"There are still challenges about how you get the microdata – BIM data is very granular in nature. The challenge that Digital Built Britain will seek to solve is how to get data from smart cities and to relate to that on a larger and smaller scale."
Wallbank adds that equipping the workforce with the right skills is vital. "With greater BIM usage and greater technological developments, new skillsets will be required by industry to maximise their potential. BIM changes almost everybody's job in some respect," he says.
The Digital Strategy 2025 notes that whether it will prove successful will be underpinned by how government and industry are able to develop an education programme to nurture the necessary skills to deal with rich data sets for built assets. Wallbank explains that while there will be jobs centred around BIM, most roles will have more of a digital, technical aspect in the next decade.
New skillsets
Part of the skillset required is to have an understanding of available data in order to make the right decisions, says Barrie Diffin, Fulcrum product manager at Wilson James. "It's a mindset. One should make decisions slowly, and take action rapidly. Making decisions needs to be based on the data evidence and qualitative assessments."
The ambition shown by the Centre for Digital Built Britain has been welcomed – through the collaborative use of BIM and technologies to make solid use of the huge amount of data available, it aims to make design and construction more efficient. Its success will be largely measured on whether it can drag construction – a sector that so often has dug its heels in, reluctant to embrace new technology – into a new era where data analytics, fully integrated BIM and digital construction are second nature. The tools are there and to keep up with other parts of the world, the mindset will have to follow.