Building performance used to be all about energy efficiency, but now wellbeing is the big preoccupation for clients, designers and builders. Jamie Harris asks if the WELL certificate is set to take over as the standard to live up to and looks at what could drive change in the years to come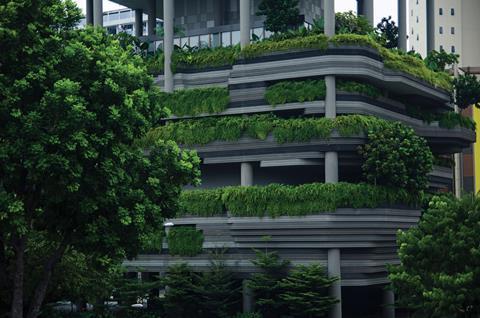 Source: Ivan Kamzyst / Alamy
Health and wellbeing are where the big bucks are: 22.5 million Fitbits were sold worldwide in 2016, while software providers such as Apple have developed "health" apps designed to track an individual's wellness data. The general public is now far more aware of environmental factors that can negatively affect health.
What's more, people are prepared to make a stand to improve their surroundings – last month a crowdfunding campaign hit the headlines as parents of children in London state schools set out to buy air purifiers for classrooms, following a study showing that air pollution in classrooms close to main roads regularly exceeded World Health Organisation guidelines on air quality.
Occupants across all building types are demanding better working and learning environments, and this demand has shifted the building performance agenda from a relatively narrow focus on energy efficiency to a wider interpretation of sustainability that includes wellbeing. As a consequence, those who commission, design and build workplaces or homes need building performance assessment tools to include wellbeing metrics.
"The WELL standard is a symptom of interest in this wellbeing topic – and to an extent a driver"

John Alker, director of policy and places, UK Green Building Council
Industry standards such as BREEAM, LEED and RICS' SKA, which predominantly covers environmental benchmarks, do incorporate wellbeing aspects into their criteria. But newcomers have put a real emphasis on the link between the design and operation of a building and the health of its occupants, including the Fitwel certification system, set up by the Center for Active Design (CfAD), and the better-known WELL certification from the International WELL Building Institute (IWBI).
The WELL standard, introduced in 2014 and updated earlier this year, seeks to pull together environmental, sustainable and social elements to enhance living and working spaces (see "What is the WELL standard?", right).
But can WELL support occupiers' demands for a more comfortable and healthy environment? How long will it take for a standard with ample scientific backing to send enough ripples for businesses to take notice? And is WELL accessible enough to lower-spec buildings to make sufficient adjustments and benefit its end-users?
What is the WELL standard?
The WELL Building Standard explores how design, operations and behaviours in buildings can be optimised to advance human health and wellbeing. WELL v2, launched this summer, added sound, thermal comfort and materials to its major concepts.
It is judged on these criteria:
Air – ensuring high levels of indoor air quality
Water – quality, distribution, contamination and control
Nourishment – food environments for healthy eatin
Light – promoting exposure to light for health
Movement – promoting physical activity
Thermal comfort – for productivity and comfor
Sound – acoustical comfort parameters
Materials – reducing human exposure to hazardous materials
Mind – promoting mental health
Community – establishing an inclusive, integrated community.
Why WELL stands out
What makes WELL different is that it is the first standard to focus on the people inhabiting the building, rather than the building itself, while tying in with other green standards. It was set up in collaboration with the US Green Building Council, which created the LEED green building rating system, and earlier this year the IBWI collaborated with BRE to publish a briefing paper outlining how buildings can meet both BREEAM and WELL requirements.
New environmental developments such as living walls – walls covered in plants – backed by research into how sound, light and air quality affect human wellness, are supporting the core aims of WELL, particularly in urban spaces.
"The WELL standard is a symptom of interest in this wellbeing topic – and to an extent a driver," explains John Alker, director of policy and places at the UK Green Building Council (UKGBC).
"Interest in this topic predates the initiative. Architects have been saying this for years, and the industry has caught up with them."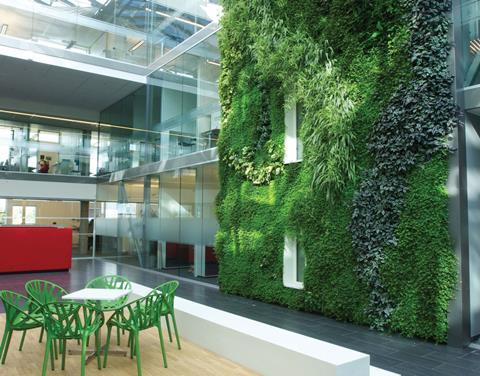 Previously, the focus was purely on environmental performance in buildings, says Alker. "[But] over the last four or five years, there has been an explosion of interest in health and wellbeing as a consumer topic. Carbon was the only thing that was really talked about in this area 10 years ago, but typically, what is good for health and wellbeing is good for the environment as well."
And by extension, what's good for wellbeing and the environment is also good for output. Researchers have spent the last few years looking at the impact the physical environment can have on the nation's productivity. Resulting evidence from organisations such as the World Green Building Council and the British Council for Offices has linked energy-efficient green buildings with a happier and more productive workforce.
One WGBC report notes that improved air quality can raise productivity by as much as 11%, while a variation in view and daylight could account for 6.5% of sick leave.
"You can really sense a better atmosphere when you get some of the basics right around things like air quality," says Martin Townsend, director of sustainability at the BRE, the centre of building science behind the BREEAM certification.
"If we look at the work on rating tools and how they've evolved, they've centred on environmental performance in the past. But there is a need to look at the social element of buildings – how they perform well in terms of people."
Townsend cites the use of lighting that better reflects people's circadian rhythms, using biophilic design and even the finishes to buildings and the materials used, as details that should be important.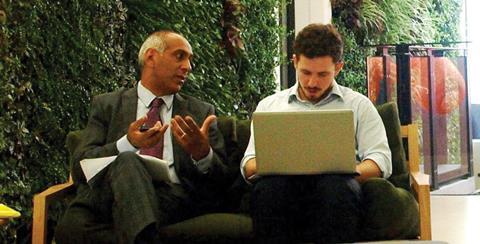 The biophilic office
BRE is currently conducting research into the biophilic office. The project uses a 7,000ft2, 1980s BRE office building in Watford to evaluate the impact of biophilic design – an environment that connects humans with nature – on the office environment.
Ed Suttie, research strategic advisory director at BRE, says: "We are conducting one year of detailed monitoring of IEQ [indoor environmental quality] and the people, before intervening with refurbishment early in 2019.
Then the same people will move back in for a further year of monitoring alongside the indoor environment quality.
"We are keen to focus on guidance for owner/occupiers of more 'ordinary' offices that will enable them to make health and wellbeing decisions on refurbishment within alimited budget."
Assessments are being made on lighting, indoor air quality, acoustics and thermal comfort, as well as the impact biophilic design has on health, wellbeing and workplace behaviours.
Office occupants have been given wearable technology, such as smart watches, to help track metrics such as heart rates and sleep patterns. Researchers are also conducting psychological monitoring in the form of surveys and online cognitive tasks.
Business case
WELL is being used to maximise rental and resale rates of the building for landlords: having a WELL certificate means a building may be able to demand a premium from forward-thinking occupiers. "It should provide a differentiator, and one that prospective tenants will be increasingly adding to their decision criteria," stated a report on the standard by Alinea.
Previously, clients were cautious about investment in improving buildings to benefit human health. But so detailed is the research, Alker notes, that it is now easier to quantify the benefits of happy, healthy staff than carbon savings.
He explains: "It's easier to make a business case because […] staff costs typically account for about 90% of a business' operating costs [with energy costs accounting for 1% and rental costs at 9%]. So a small saving in staff costs through lack of absence outweighs a larger reduction in energy use."
Townsend says that the cost-benefit analysis is even more striking in the US: "In America, the employer is also often paying for medical bills, so there is an additional cost saving to come from investing in a healthy building."
A healthy building centred on wellbeing also has the added benefit of keeping staff within the company – and enticing the next generation to join. "Creating great places for people to work is part of retention strategy now. Take The Edge building in Amsterdam [described as the greenest, most intelligent building in the world], occupied by Deloitte. The company says it no longer needs to advertise for jobs [there] because so many people want to work in the building. This exemplifies the impact of a good place to work," Townsend says.
Too expensive?
However, despite all the theoretical benefits of having the best possible building for workers, there is some concern that standards such as WELL are expensive and inaccessible to most of the market.
Alker says: "WELL is a very comprehensive framework to help people understand the key issues. The perception is that it's a very high-end label and tool, which is the preserve of those at the expensive end of the market.
"For any tool to really shift the market, it needs to penetrate the mainstream; it needs to be usable, cost-effective and very recognisable in the market, and a label of health and wellbeing quality. It's still early days for the WELL standard, but there is a lot of interest in it – it's responding to an appetite and a need."
WELL has recently launched a second iteration of its standard – WELL v2 – which was introduced partly to reduce barriers to entry, and partly to create a standard that can be applied to all types of buildings in all parts of the world.
While WELL is still in its infancy, Ashley Bateson, partner and head of sustainability at consultancy Hoare Lea, believes it is already having an impact on how office developers think about their brief. He explains: "At the moment, WELL certification is still relatively expensive compared with BREEAM so the uptake hasn't been as deep as BREEAM, but its influence is still being felt.
"The WELL standard has helped us as engineers and built environment specialists to have an intelligent discussion about light, air quality, noise, comfort and other crucial human-centric design parameters. It's also great the IBWI has made the knowledge base publicly available."
The relationship between how the building performs environmentally and how the building's occupants interact with it is now clearly backed by anecdotal and scientific evidence. And despite the financial implications that come with WELL and the cost of the initiatives it recommends, the strong business case for happier and healthier staff means uptake of WELL is likely to match society's increasing clamour to work and live more comfortably.
WELL standard – key facts
1. The WELL Building Standard v1 was the first building standard to focus exclusively on the health and wellness of the people in buildings
2. WELL factors building performance when in use into its certification model – others predominantly cover design and build only
3. London's 22 Bishopsgate was the first project in the UK to be registered for WELL certification
4. Initial v2 certification is priced on square footage and starts from $7,500 (£5,656), with a requirement for re-evaluation every three years, from $2,250 (£1,697)