Engineer confident that UK market is returning to growth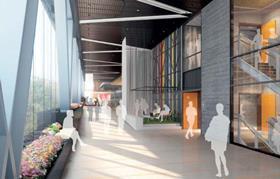 Engineer Waterman Group is to increase its dividend to shareholders despite a dip in pre-tax profit, as its confidence in the UK market returns.
In its annual results the firm said it would be increasing the dividend to 0.3p per share in January 2014, up from 0.2p per share in January 2013. It said the move "reflected our confidence in the future performance of the group".
Waterman reported a dip in pre-tax profit to £353,000 in the year to 30 June 2013, down from £530,000 the previous year.
Pre-tax profit was hit by redundancy costs from closing the firm's Chinese operations and restructuring its UK business; office closures and provisions against losses from business in China. These formed the bulk of the company's exceptional expenses totalling £414,000.
But the firm's operating profit, which did not include these costs, remained stable at £1.1m.
The group also reported a dip in revenue to £66.8m down from £68.8m over the period.
Nick Taylor, chief executive of Waterman Group, said the business was "is in good shape".
He added: "The results for the period reflect a historic backdrop of challenging trading conditions but, looking forward, our markets are much more positive. We have also re-positioned the business successfully and the result is a solid platform from which we are confident that over the next three years we will deliver strong growth."
He said he was "particularly enthusiastic" about the prospects for the UK market, which accounts for over 75% of Waterman's revenue.
Taylor said: "Our clients, many of whom are the major property developers, are much more confident and are starting a wide range of schemes. At the same time, we have reinforced our footprint and I am delighted that we are increasing our market share.
"As a result, our order book is strong with some first class projects, including the 1m sqft new UK headquarters for Google UK Ltd at King's Cross."
The upturn of large London residential and commercial developments was a significant factor in the increased revenue in Waterman's structural engineering arm, which reported revenue of £12m in 2013, up from £11m in 2012. But the structural arms operating margin fell to 9.1%, down from 10.5% over the period.
Waterman's building services business reported an increase in activity across all regions and a diverse range of sectors including commercial, hotels, leisure and retail. Although it reported a dip in revenue to £5.4m from £5.9m over the period, operating margin increased to 3.9% from 1%.
The group's most improved business was its energy, environment and design arm, which reported increased revenue of £7m in 2013 up from £6m in 2012 and a jump in operating margin to 6.8% from 3.4%. It said a diversification and the business into waste permit work and planning was a driver of growth.
But its international business slumped to an operating loss of £326,000 in 2013 from an opperating profit of £99,000 in 2012. It said this was partly because work in the Australian healthcare, judicial and education sectors - where Waterman gets a significant portion of its workload – was delayed because of government elections in September 2013. Plus, it said the ongoing Eurozone crisis dampened demand in its European markets.
While its civil and transportation business reported deepening operating losses of £303,000 in 2013 compared to £232,000 in 2012. Waterman said regional markets, where a lot of its civil engineering capability was, remained tough.