Finally, after six years of work and waiting, we have entered London's Olympic year. Building kicks off our 2012 campaign with a guide to the main venues and what makes them greener, faster and smarter

So, this is 2012. The year that has been focusing the minds of an army of Olympic planners, architects, engineers and construction workers, not to mention athletes, since 6 July 2005.
There are just six months to go until the starting guns fire and the world descends on London and the 34 venues on and off the Olympic park. The good news is that, against the odds and most people's expectations, construction work is pretty much on time, on budget and over 92% complete.
To mark the final push towards the London Games, Building has launched Building 2012, a campaign to highlight the industry's achievements in delivering the UK's highest-profile project for decades, and to look at how the lessons learnt on the scheme can put the UK at the forefront of global construction.
Every week from now until the event, we will be providing news, features and comment in print, online and through social media to keep you up to date with the latest developments from all Olympic-related sites and venues as well as demonstrating how expertise gained through the project is giving UK firms an advantage at home and abroad.
We kick off our extended coverage with a comprehensive guide to the venues and their greener, faster, smarter credentials and look at just how far the project has come since 2005. Then, on page 32, we canvass opinion from industry experts about what's next on the to-do list and what the milestones will be between now and July. With an estimated 5.5 million visitors a day due to come to London during the Games, effectively doubling the population of the capital, everything from transport to security and venue accessibility will have to be drilled to perfection.
Here's the story so far …
Main stadium
Facts and figures
Construction cost £570m
Architect Populous
Main contractor Sir Robert McAlpine
Structural and services engineer Buro Happold
Ground broken mid-2007
Completed March 2011
Capacity 80,000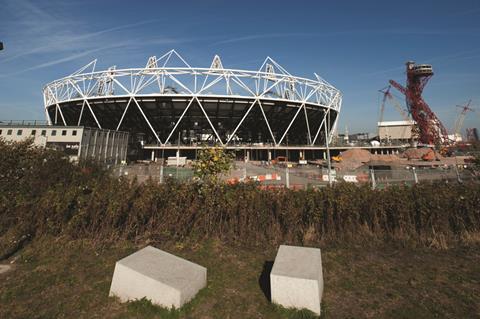 The second Olympic park venue completed after the velodrome, the Olympic stadium required, among other things, 360 rolls of turf, 10,000 tonnes of steel, 532 individual floodlights, 14 lighting towers 28m high, 700 rooms and spaces including eight changing rooms and four prayer rooms, 338km of power cables, 11km of drainage pipes and over 5,000 reinforced concrete columns to act as foundations.
The building of the stadium is a particular achievement as it very nearly didn't have a contractor. Back in the nineties boom time, no one wanted to work with a new, unknown client on a colossal site. Sir Robert McAlpine was the only contractor to bid.
Greener This will be the lightest Olympic stadium to date, 75% lighter in terms of steel than any other. It features a low-carbon concrete, made from industrial waste and containing 40% less embodied carbon than usual
Faster The second venue completed on the park on time and being £10m under budget was a record-breaker compared with past Games
Smarter The track will be laid in the main stadium to an accuracy of 1 millimetre for every metre.
High points
Piling works beginning four weeks early before the 22nd May 2008 official start date
Construction finishing on 29 March 2009 "on time and on budget" according to ODA Chairman John Armitt
Giving work to over 240 UK businesses that won contracts for its construction
Low points
The cost of the venue going up by £22m in the six months to February 2009 due to a "lack of competitive tension".
Being described as resembling a vol-au-vent when HOK Sport, now known as Populous, revealed designs on 7 November 2007
The collapse of the deal to award the stadium to West Ham FC in October 2011 following a legal dispute with Tottenham Hotspur and Leyton Orient. The stadium will now remain in public ownership.
Aquatics centre
Facts and Figures
Construction cost £269m
Architect Zaha Hadid Architects
Main contractor Balfour Beatty
Structural engineer Arup
Ground broken July 2008
Completed July 2011
Capacity 17,500 (2,500 post-Olympics)
The Zaha Hadid-designed aquatics centre is the second biggest venue on the Olympic park at over 200m long, with a 22,000m2 footprint. It includes two 50m swimming pools and a 25m diving tank.
Greener The ceiling above the pool is made up of 30,000 sections of sustainably sourced Red Lauro timber. The roof has aluminium covering, half of which has been recycled.
Faster The venue was one of the very first off the starting blocks. Zaha Hadid famously started designing the structure in 2004, before London had even won the Olympic bid.
Smarter Innovative design of the famous roof means that the entire 160m-long wave-shaped steel roof is held up by just three concrete supports.
High points
The first venue to be designed, Hadid started working on the concept in 2004
The venue quickly became one of the most iconic on the Olympic park
The centre was completed on time in July 2011
Low points
In 2008, it was discovered that the venue would cost three times more than originally anticipated, coming in at £242m
In January 2008, new images were revealed of the centre with two "wings" attached on either side to create additional capacity and seating for 17,500 people rather than the 2,500 in the original design. Everyone, including the ODA chief executive and Lord Coe, chair of the London 2012 Organising Committee, agreed they were an unattractive addition, though necessary. In an interview with Building, Hadid said she hated them.
Velodrome
Fact and figures
Construction cost £93m
Architect Hopkins Architects
Main contractor ISG
Structural engineer Expedition Engineering
Services engineer BDSP
Ground broken 2008
Completed February 2011
Capacity 6,000
The velodrome was the first Olympic venue to be completed, in just 23 months.
Greener The most sustainable building on the park, the velodrome's roof weighs just 30kg/m2, and is designed to deflect the sun to reduce the need for air conditioning. As a result, the venue will be nearly 100% naturally ventilated.
Faster Apart from having the world's fastest cycling track, this venue was the fastest built velodrome ever, completing in just 23 months - 18 months ahead of the Games.
Smarter Judges at the 2011 Structural Awards said: "It demonstrates outstanding creativity and uniqueness in its combination of the art and science of engineering."
High points
Meeting every single deadline since 2008 and finishing construction first in February
Coming in £93m under budget
Winning a series of awards and being shortlisted for the Stirling prize
Handball arena
Facts and figures
Construction cost £44m
Architect Make
Main contractor Buckingham Group
Ground broken July 2009
Completed May 2011
Capacity 7,000
The arena will accommodate modern pentathlon fencing as well as handball and paralympics events.
Greener 88 rooftop sun-pipes feed natural light into the venue resulting in 40% energy savings.
Faster The compact venue has been designed to convert in just 48 hours from a handball venue to one fit to host modern pentathlon fencing events.
Smarter It is almost entirely recycled. 3,000m2 of external copper cladding has been used so the venue appearance ages and weathers over time.
High points
Construction started in July 2009 and the foundations were complete within just five months
A 1,000-tonne steel frame makes up the main structure of the arena - fabricated in Bolton, it was lifted into place in July 2012
The copper layer was added in November 2010 ahead of final completion, on time, in May 2011
Basketball arena
Facts and figures
Construction cost £42m
Architect Wilkinson Eyre
Sports architect KSS
Main contractor Volker Fitzpatrick
Structural Engineer Sinclair Knight Merz
Ground broken October 2009
Completed June 2011
Capacity 12,000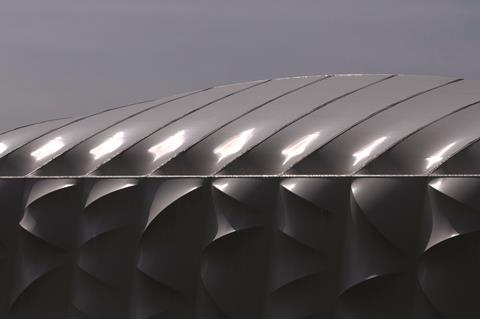 The arena is designed to be deconstructed post-Games with the 12,000 seats bound for Silverstone and the external structure potentially re-used for the Rio Olympic Games in 2016.
Greener Two-thirds of the materials and elements within the building can be reused or recycled after the Games
Faster One of the quickest venues to complete; it took just 15 months. It has been designed to transform, in just 22 hours, from hosting the basketball finals to the handball finals
Smarter This would be the first time ever that such a large venue has been reused
High points
Speed of construction
Being the largest ever temporary venue built for any Olympic Games
Potential to be the first temporary venue recycled for another Olympic Games
International broadcast centre and main press centre
Facts and figures
Construction cost £355m
Architect Allies & Morrison
Main contractor Carillion
Ground broken April 2009
Completed July 2011
Capacity 20,000 broadcasters, photographers and journalists
The Olympic Media Centre will accommodate 1,140 people, 50 broadcast cameras and 100 photographers.
Greener Photovoltaic cells on the roof of the Media Centre's multi-storey car park will help save 170 tonnes of carbon a year post Games. And the venue will include 2,500m2 of "brown roof" complete with 130 bird and bat boxes
Faster For such a complex structure designed to hold 20,000 broadcasters and journalists, coming in on time was pretty impressive.
Smarter Plans to turn the building into a snowdome following the Games were scrapped this year. Definitely a smart move.
High points
In December last year it was revealed that the media centre had attracted 10 bids from would-be tenants looking to take over the 1 million ft2 facility after the Games …
Low points
… but there is widespread concern that a legacy purpose has still not been secured for this venue
The £355m venue has had to be fully funded by the ODA after design and build contractor Carillion failed to raise private funds
The mixture of permanent and temporary elements has been criticised across industry for being "unattractive".
Olympic village
Facts and figures
Construction cost £1.1bn
Architects Designers on different parts of the scheme include Patel Taylor, Glenn Howells, CF Moller, Niall McLaughlin Architects, Panter Hudspith, Penoyre and Prasad, AHMM, Make and Ian Simpson Architects, Caruso St John, Denton Corker Marshall, dRMM, DSDHA, Eric Parry, Ian Ritchie, and Lifschutz Davidson Sandilands
Developer Lend Lease
Main contractor Lend Lease Construction, Galliford Try/John Sisk/Ardmore
Ground broken June 2008
Handover in December 2012
Capacity When finished the project will result in the creation of 2,818 homes, 1,379 of which will be affordable
The village site will provide accommodation for around 17,000 athletes and officials over the course of the Games and will leave 2,818 new homes for Londoners as part of the Olympic legacy.
Greener Carbon emissions will be cut down by 50% and the project will be 25% more energy-efficient compared with building regulations.
Smarter The village is set to become a new and complete London neighbourhood comprising 2,818 new homes across 11 plots
High points
In May 2011, the future of the project was secured when Lend Lease was lined up to finish the halted Olympic housing block after Tier 1 contractor P Elliott went into administration
In August the village was sold to Qatari Diar and UK property developer Delancey Estates for £557m
Low points
A reduction in the number of homes on the site from 10,000-12,000 units to just 8,000
In December Lend Lease issued Galliford Try with a non-completion notice for the last phase, although handover took place later that month.
Not forgetting …
Landscaping
Around 250 acres of new park space has been created in a former heavily industrial landscape. It took 6,200 trees, 9,500 shrubs, 63,000
bulbs and 766,000 grasses and ferns to make this happen.
Neil Mattison, partner at LDA Design, the firm leading the landscaping, says: "I think people will be surprised at how much the venues and the landscape are in proportion. People might be expecting a few twigs and sticks. But most things have now had over 12 months to bed down and it looks stunning."
Transport
Three stations - Stratford, Stratford International and West Ham - will accommodate just under 80% of all visitors to the Olympic park, with a staggering 120,000 people set to travel on 200 trains every hour.
So far, £125m has been invested by the ODA in permanent improvements to Stratford regional station; a new 36m-long bridge will be built to form a new entrance and exit at Stratford International; £80m will be invested in Docklands Light Railway to boost capacity; and a new 12-track railway siding will be built to the north-east of the Olympic park. There is also anticipated to be a 33% increase in capacity on the Jubilee line once the London Underground line upgrade is complete.
The Olympics in numbers
2.5 The size of the Olympic park in square kilometres
10,000 Pages of outline planning applications for the Olympic park
10 Rail lines that will serve the park
7 Estimated minutes that it will take for the 140mph Javelin Rail service from St Pancras International to get to the Olympic park
250 Benches within the Olympic park
50m The maximum walk to a seat for anyone in the park
4,000 Smooth newts on site
100 Toads relocated to the park
11 Canteens on site during construction, each serving up to 350 people per day
6,499 Number of people working on the Olympic site in December 2010, the peak of construction
98 Percentage of construction waste diverted from landfill and reused/recycled
525 Bird boxes on the park
150 Bat boxes and artificial otter holts on the park

The London Olympics and Beyond
Our Building 2012 coverage will celebrate construction's greener, faster and smarter contribution to the London Games. Every week up until July we will bring Olympic-themed coverage in print, online and through social media. After the Olympics we will continue to cover legacy issues and overseas opportunities for UK firms in the lead-up to two World Cups and the 2016 Rio Games.
In addition we will be stepping back in time as we introduce Building Memories to bring you news and features taken from old issues of the magazine, beginning with those from the last two London Olympic years - 1908 and 1948.
If you want to follow or contribute to any of our coverage online, you can visit www.building.co.uk/building2012 and to follow or comment on our campaign coverage on Twitter at #BLD2012 or #BLDMemories.