The gap between a house's predicted energy use and actual performance has been comprehensively panned. Building meets three developers who reckon their projects will show that low carbon on paper can mean low carbon in practice
In September communities minister Andrew Stunell launched a stinging attack on housebuilders for failing to take climate change seriously. He lambasted them for not giving energy performance the same importance as other regulations, and said zero carbon was becoming little more than an "empty slogan" to them. He singled out a Joseph Rowntree Housing Trust development called Elm Tree Mews that was monitored for post-completion energy performance.
The carbon emissions from one home were 140% higher than predicted at design stage. The difference between predicted and actual energy use is known as the performance gap and this issue is now sitting at the top of Stunell's in-tray. As he is the minister in charge of Building Regulations, expect some action on this issue.
The poor performance of Elm Tree Mews is so significant because it had been established using a scientifically robust way of measuring how well the building envelope retains heat. Called a co-heating test, this isn't subject to the variability of differing occupation patterns. The external temperature is monitored and the home heated up to a preset temperature for a week or more. The fabric performance can be calculated from the energy used to maintain this preset temperature. Elm Tree Mews was part of a study that measured the energy performance of 15 homes. Energy losses through the fabric of the building were on average 60% higher than predicted.
Does the industry have any hope of improving on these figures? A new report on the energy performance of three recently completed low energy residential schemes shows there is some reason for optimism.
Co-heating tests revealed these homes performed from 29% worse than predicted up to a commendable 1% better than the design prediction, which is much better than the study involving Elm Tree Mews. But achieving these figures wasn't easy, even though all three developers were experienced in delivering low energy homes. One of the schemes under scrutiny in the report was developed by the Joseph Rowntree Housing Trust (JRHT). Lessons from its Elm Tree Mews scheme were fed into this scheme.
All three developers are members of the Good Homes Alliance, an organisation that aims to close the performance gap by sharing best practice knowledge. Director Jon Bootland says there is a whole series of common problems with the design and construction of low energy homes, particularly where new systems are being used. "People are trying to achieve these very high standards for the first time using new building systems," he says. "There are bound to be things they get wrong." Those problems include not getting the detailing right, resulting in gaps in the fabric through which heat escapes. Ensuring site workers know how the system fits together and what to do if there is a problem is also crucial.
Bootland thinks the three developers have done extremely well to get these results, particularly because these were low energy schemes to begin with and the gap between predicted and actual performance is also small, making the schemes very energy efficient.
"I think it's brilliant," he says. "The heat loss on most sites is 60-80% worse than predicted but these are better as it's a smaller percentage of a smaller
number. We shouldn't get too hung up on the precise figures; if we got all developments down to 20% it would make a massive difference."
ECOS HOMES
OLD APPLE STORE, STAWALL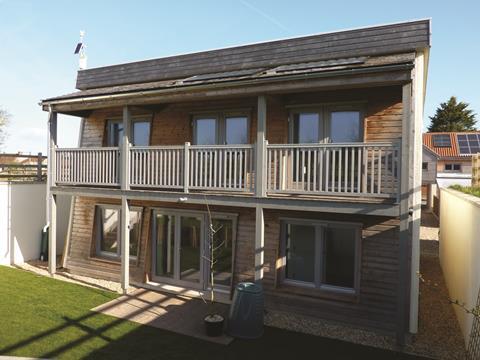 What is it?
The development consists of a three home terrace of three-bed houses and two four-bed detached homes built to level 5 of the Code for Sustainable Homes. The home subjected to the test was one of the detached properties. The homes are timber framed and feature recycled newspaper insulation between the timber studs and a layer of Diffutherm external wood fibre insulation panels finished with lime render.
How they tackled the project
Tim Cutting, a director of Ecos, says simplicity of design and attention to detail was the key to the success of this project. "Concentrate on keeping it simple, use as much insulation as possible and make it easy for the site guys to get it airtight," he says. The external wood fibre insulation is used to clad the frame and this, combined with the lime render, ensures the building is airtight.
Concentrate on keeping it simple, use as much insulation as possible and make it easy for the site guys to get it airtight

Tim Cutting, Ecos
Performance
1% better than predicted
What they said about the results
"We are proud of the fact we have built several really good houses on this development," says Cutting. "All the houses were fairly close to the predictions and everyone took a lot of care over the design and construction."
What they would do differently next time
Cutting isn't complacent about the result as another home on the development was tested for another study and was found to be less airtight than predicted. Cutting puts this down to a car access tunnel slicing through two of the terraced homes making it more complex than the detached home, which was a simple box. He says this shows the importance of detailing for airtightness and ensuring standards are maintained onsite.
Joseph Rowntree Housing Trust, Temple Avenue
Derwenthorpe, York
What is it?
Two three-bed prototype homes for a 540-home scheme were built to level 4 of the Code for Sustainable Homes using two different construction methods and then tested. Seventeen methods of construction were whittled down to just two. One home is built using thin joint masonry with a parge coat, a thin layer of plaster applied to the inside of external walls to make it airtight, and the other using Kingspan TEK structurally insulated panels clad with brickwork. The idea is that JRHT will roll out the most successful prototype over the whole development.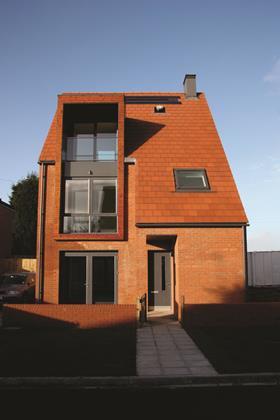 How they tackled the project
Lessons from Elm Tree Mews were fed into this project. Nigel Ingram, director of development and property services for JRT says the two key lessons were keeping the design as simple as possible and going for a Passivhaus approach: a high performance, airtight fabric and mechanical ventilation with heat recovery. Establishing a robust construction method for the rest of the scheme was another key objective. "We wanted to see if there was a particular construction method that the industry prefers for environmental housing and see which one represents the best value for money," explains Ingram.
Performance
Despite two different construction methods the homes performed very similarly, one was 12% worse than the design prediction and the other 15% worse.
What they said about the results
"You can celebrate if you can get a home that achieves 85% of the theoretical maximum," says Ingram. "I would much rather see 240,000 homes achieving 85% rather than a few dozen achieving 95%."
What they would do differently next time
Although Ingram is satisfied with the performance of the two Temple Avenue homes he says subsequent homes on the development will be constantly refined. "I would be very disappointed if we didn't improve on these results," he says.
Ingram adds that one of the two construction methods - he won't say which - was 10% cheaper than the other with no significant energy performance penalty so this will be rolled out across the rest of the scheme.
BioRegional Quintain
One Brighton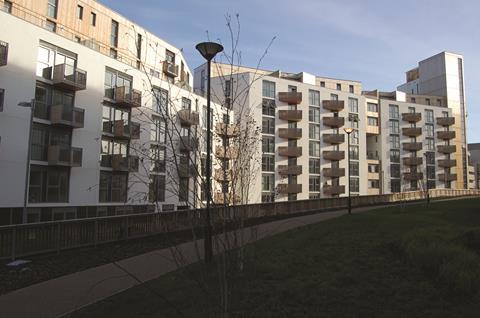 What is it?
A 172-apartment development spread between two blocks, nine and 11 storeys high. It is built with a concrete frame infilled with ThermoPlan 240mm thick aerated clay blocks and clad with 100mm thick Pavatex wood fibre panels finished with render. The development received an EcoHomes "excellent" post-construction review rating.
How they tackled the project
BioRegional Quintain chief executive Pete Halsall says he was very aware of the risk of falling short of the design prediction, so selected a simple design and ensured it was delivered according to the specification onsite. "We set out at a very early stage to really focus on the fabric performance and chose insulated render rather than a cavity wall solution as this is less prone to workmanship error," Halsall explains. A quality assurance manager was appointed to ensure standards were maintained during construction.
Performance
This was 29% worse than the design prediction, although in absolute terms this was the best performing development.
What they said about the results
"I would say this is pretty good going and I am pretty satisfied. There is an order of magnitude difference between this and mainstream developments. The industry still hasn't woken up to the huge performance gap that needs to be addressed."
What they would do differently next time
"We really got it right at One Brighton, the thing is to make sure we get it right again," says Halsall. "The temptation is to get rid of the quality assurance bloke but this should be resisted. You cannot build a decent project without third party support and a clerk of works provides that."