Among the casualties of Carillion's collapse were two major new hospital schemes, the Midland Metropolitan and the Royal Liverpool. After lying abandoned for months, work is at last restarting on site – but both are now years behind schedule.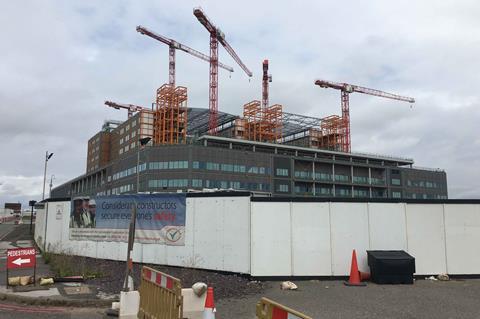 The lives of countless people in Merseyside and the West Midlands were supposed to be changed for the better through the creation of two new flagship hospitals that should have been open by now, but the collapse of Carillion put paid to the prospects of a timely completion for the Midland Metropolitan and Royal Liverpool hospitals.
The building programmes have now been brought back under public control and restarted, but are only going ahead thanks to government intervention in the form of more funding.
However, the NHS trusts involved are under greater pressure to balance their own books, having to spend more money on keeping dilapidated buildings running for longer than they planned, while patients and staff must cope with existing hospitals well past their sell-by date.
More than a year after work on the new hospitals stalled in the wake of Carillion entering liquidation, the shockwaves from the construction giant's collapse continue to reverberate through these two projects in multiple ways.
Here Building takes a look at the human cost of the delays, as well as what the future may hold for these troubled projects still haunted by the ghost of Carillion.
Midland Metropolitan hospital: delay, distress and confusion
The planned 670-bed super-hospital being built near Birmingham was supposed to have opened in October 2018, replacing accident and emergency departments at Sandwell and City hospitals. But the hospital is still nowhere near complete.
A half-finished building stood empty for most of last year, until Sandwell and West Birmingham Hospitals NHS Trust eventually brought in Balfour Beatty last October to do remedial works on the site. These included weatherproofing the building, which was left exposed to the elements for most of last year.
The delays to the project are prolonging patients' restricted access to hospital consultants – with staff still spread across two locations, this often means a wait before proper care can be accessed.
"We are stretching our emergency care workforce across two sites – it's not unsafe but it's definitely not as high quality as it could be"

Toby Lewis, Sandwell and West Birmingham Hospitals NHS Trust
The trust's chief executive, Toby Lewis, told Building: "We are stretching our emergency care workforce across two sites – it's not unsafe but it's definitely not as high quality as it could be, and so what we are working to do is to get onto a single site in order to be able to provide seven-days-a-week high-quality emergency care."
He added: "It's not unsafe but it's extremely stretched and so time does matter to us."
Costs of the project have soared, and the government has had to provide millions in extra funding to cover the costs of maintaining the emergency services across the sites destined to be replaced by the new hospital.
Exposed to the elements
The half-built hospital lies empty and hasn't been protected from the elements, something that Balfour Beatty has been spending the past few months putting right as part of a £13m early works contract.
Carillion's demise left many firms in the supply chain out of pocket (see below), but most of them have been unwilling to talk publicly about having taken a financial hit.
Rudi Klein, chief executive of the Specialist Engineering Contractors' Group, says: "The specialist contractors in the supply chain in both these projects have to a greater or lesser extent suffered as a result of the Carillion collapse. I am aware, in the case of the Midland Metropolitan hospital, of subcontractors who lost millions."
But the hospital trust will not be compensating the companies concerned. As Lewis puts it: "Where they are losing money that they should have been paid, we've already paid that and I can't pay twice."
Local health watchdog Healthwatch Birmingham, in its latest annual report, stressed the impact the delay is having on patients in terms of "access and quality of services". It stated: "The trust needs to develop a plan to ensure that access to services and quality of care does not suffer. Alongside this, the trust should ensure they are prepared for the new hospital with the right staff skills mix and numbers."
Rob Pocock, chair of the health overview and scrutiny committee at Birmingham city council, told Building: "This whole affair has caused delay, distress and confusion to what should have been a glittering good-news story about new hospital investment."
Jon Trickett MP, Labour's shadow minister for the Cabinet Office, adds: "Severe delays and spiralling costs at the Midland Metropolitan hospital remind us that the failure of this outsourcing giant has been felt by many different sections of the public across the country."
Staff and patients are having to put up with substandard conditions, with wards in a "state of disrepair", according to Su Lowe, regional officer of trades union Unite. She says progress on the new hospital may have been set back by it being left open to the elements for many months.
"There were reports that nobody would risk signing off some of the existing work because it hadn't been mothballed: they literally walked away from it . There's an awful lot of exposed workings in there – the rumour is that the electrics have just been completely exposed. It looks like a shipwreck; it's just been left to the elements. It feels like a disaster but it's not quite the Titanic yet." However, Lewis says: "We have sufficient warranties for the work done."
Spiralling costs
The hospital was originally meant to cost £297m to build. Some £204m was paid to Carillion. A further £13m is being spent on the work currently being done by Balfour Beatty. And now the trust is planning to spend £320m to get the building finished, which will mean that it will end up costing more than half a billion.
Meaningful work on the new hospital is not due to begin until late October at the earliest – and that is assuming a contractor can be found to take over the project. Lewis claims there have been a few expressions of interest in taking on the contract, but seems to think it unlikely that all the firms involved will follow through with an actual bid. "We expect to be in all probability in a single-bidder situation," he says, adding: "We'll be in a position to announce the preferred bidder in July."
Even assuming that everything goes to plan and construction starts in October, that will be a hiatus of almost two years from the date of Carillion's demise.
The subcontractor's view
Larc Construction was working on service trenching and ducting at the Midland Metropolitan hospital in Birmingham when Carillion went into insolvency and the work came to an abrupt halt last January. Larc is one of numerous suppliers to have suffered financially as a result of the contractor's collapse.
Company director Josh Lee says: "They owed us in total about £273,000, which as a small contractor is not easy to swallow." He adds: "If we'd owed a lot of money at that point we'd have had to fold, I think."
The firm was able to keep going, thanks to the support of other clients, which passed more work its way. While Larc was left with a hole in its finances, "a lot of the big boys were pretty much paid up for their part of the contract so they were probably relatively unscathed", Lee believes.
The firm has had little choice but to write off the £273,000 debt, and Lee would be wary of getting involved with the project again. "I think it would depend if they agreed to do something with this historic debt," he says.
He adds: "People are very wary these days of going with big contractors; you look at Interserve and people like that. The major outsourcers – I think that game is dead."
Lee describes the chaos that arose after Carillion collapsed last January: "The day that the site closed, lads were ripping stuff out of the ceilings and all sorts, because they knew they weren't going to get paid. There were blokes walking out with 100ml copper pipes."
To return to the project now could be like going back to square one, says Lee: "It's been left to go that long now, without everything being sealed up, that they'd have to redo most of what we did.
"It won't be pretty. There'll be a lot of work that won't be up to scratch because it was never finished, it was just left – the building wasn't watertight […] I should think it will be almost that they'd have to go back to the RC frame and start again."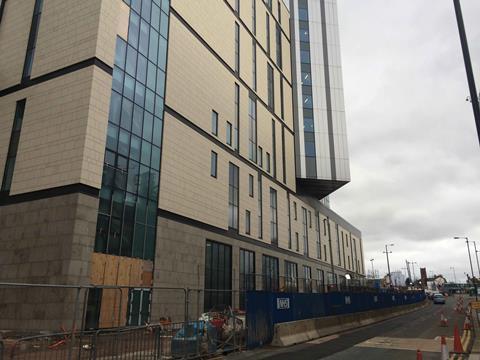 Royal Liverpool hospital
To say the dilapidated Royal Liverpool University hospital, which opened in 1978, is past its best would be an understatement. The building is quite literally crumbling. Scenes showing the A&E department flooded were broadcast during the BBC 2 series Hospital earlier this year.
Flooding is a regular occurrence at the hospital, due to ageing pipework, as are broken-down lifts that can delay moving patients around and equipment failures that lead to urgent operations being cancelled.
The BBC 2 show featured a tense meeting between hospital staff and Aidan Kehoe, chief executive of the Royal Liverpool and Broadgreen University Hospitals NHS Trust. Matt McGinn, a senior anaesthetic nurse practitioner at the hospital, told Kehoe: "We are concerned about patient care, with so many systems in the hospital failing on a regular basis."
"The collapse of Carillion has left patients receiving care in an ageing building long past its use-by date while the new hospital and brand-new equipment lies unused next door"

Sarah Thwaites, Healthwatch Liverpool
The need for its replacement to be built without delay could not be more apparent. It should have opened in 2017 but will now not be ready until 2020 at the earliest.
Serious problems had already emerged before Carillion went bust last year, such as major fractures in several structural concrete beams.
The business, energy and industrial strategy select committee along with the work and pensions select committee, in a report into Carillion last year, said: "Charles McLeod, director of the hospital company, told us that five of the eight defective beams could have failed under the load of a fully operational hospital. He said failure to remedy the defects 'could have resulted in at best, unsafe working conditions and at worst, injury and loss of life'."
Further issues have since come to light, after a structural review by Arup of Carillion's work. These include the fact the building has unsafe cladding that would fail fire safety tests.
The half-finished hospital stood empty for most of last year, before builders went back in. Mace was brought in last June on a temporary basis to act as project manager on the scheme and Laing O'Rourke appointed as the main contractor last October. Mace was replaced by Gleeds in February.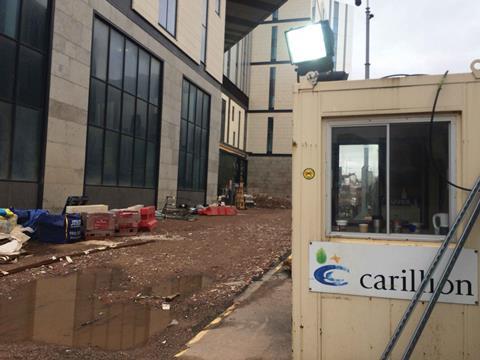 Extensive remedial works required
Papers for meeting of the trust's board in February warned that "extensive structural remedial works" are needed in the new building that "impact on usability of clinical accommodation, programme and costs".
Derek Jones, regional industrial officer for Unite, told Building: "What's been said to me is that there's a need for another £150m to complete the build. I'm also led to believe that there are 80-plus faults with the build that need to be rectified – serious structural faults."
In a statement, Kehoe admitted that "getting the project back on track has been challenging". Referring to "structural issues that have been identified" he added: "This is highly complex work and requires significant interventions to the concrete frame, the internal finishes and facade of the building."
The new hospital was initially projected to cost £335m to build, and some £114m was paid out to Carillion before the firm's collapse. But the scale of problems in the new building have cost implications so great that the trust is having to go back to government for more money to finish the job. Details of how much the new hospital will end up costing have yet to be disclosed and will be set out in a business case the trust will submit for approval to the Department of Health and Social Care at the end of April.
Kehoe said in his statement: "Whilst we remain in the current Royal, we are doing all that we can to keep vital systems and equipment operational and our patients and staff safe." In a bid to safeguard patients and staff, the trust is spending more than £1m this year on the old hospital, including modernising the lifts, and ensuring spare parts are on site for systems such as heating and ventilation.
Dame Louise Ellman, Labour MP for Liverpool Riverside, says: "People are very concerned about the state of the current hospital. Staff are struggling to provide high standards of services." There's no time to waste, she says, and the parties involved need to "just get on with it: if there are any unknown problems deal with them – find the money, deal with them – just get on with it and get our hospital completed".
Health minister Stephen Hammond told MPs in February that a new construction programme will be provided by Laing O'Rourke by the end of March.
He hinted that the new hospital is likely to suffer further delays. "There are significant and complex remedial works required to resolve the structural issues of the hospital, and this needs to be fully factored into the construction programme that Laing O'Rourke are working on," he said, adding: "The date at which the facility will be open to patients will depend on when construction has been completed."
This will be of little comfort to the people forced to use the existing hospital in the meantime. Sarah Thwaites, chief executive of Healthwatch Liverpool, told Building: "The collapse of Carillion has left patients receiving care in an ageing building long past its use-by date while the new hospital and brand-new equipment lies unused next door.
"It has piled additional pressure on overstretched staff who then struggle to deliver the quality of care that they want. As a result, patients lose out."
Large construction companies may be viewed by some as too big to fail, but when they do, as Carillion has demonstrated, they fall hard. And the aftershocks are long-lasting.