Airports have become air-conditioned nightmares beset by security checks and endless queues. But some designers, intent on reviving the Golden Age of Aviation, have let their imaginations fly. Building looks at five of the newest terminals
As many of us departing on our annual summer holidays trudge through the turgid cavalcade of check-in desks, security and baggage handling that is the regimented ritual of the modern airport terminal experience, it may be difficult to grasp that once upon a time your holiday would begin when you entered the airport and not when you left it. In the Golden Age of Aviation, the airport itself was a well-established part of the whole holiday experience and these portals to the skies brimmed with as much glamour and escapism as the exotic destinations they served.
Naturally this sense of excitement was once seamlessly reflected in the design of airport terminals, particularly in the fifties and sixties. The sixties in particular produced some spectacular airports whose designs sought to capture the melodrama and motion of flight in order to elevate the human experience.
Renowned Finnish-American architect Eero Saarinen was an undisputed master of airport architecture and the scintillating, sculptural choreography of his iconic TWA and Dulles terminals in New York and Washington D.C. respectively are enduring monuments to just how powerful the architectural allure of the airport once was.
The modern airport experience is sadly diminished from these halcyon days. Modern aviation has brought bigger planes, tortuous security and cavernous retail, all of which has meant that airports have become bigger and more impersonal. Saarinen's TWA terminal at JFK is now so unsuitable for air travel that it is being converted into a luxury hotel.
However, all is not lost and even with today's constraints, there are still some spectacular examples of airport architecture out there. So as you clutch your tattered boarding pass while waiting patiently in line at an endless queue for security, take a look at some of the newest airport terminals across the world that are doing their best, architecturally at least, to revive aviation's golden age.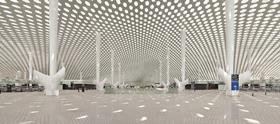 Shenzhen Bao'an International Airport, Terminal 3
Guangdong, China
Completion: November 2013
Architect: Studio Fuksas
Contractor: China State Construction Engineering Corporation
Cost: £580m
Size: 450,000m²
If you ever wanted a glimpse into the airport of the future, have a look at this. The form and footprint of this sprawling terminal building are based on a mantra ray fish complete with an astonishing 1.5km long spine-like tunnel with splayed wings on either side. The terminal's structure is a perforated steel and glass double-skin "honeycomb" that dramatically wraps around the entire building. Externally the result is an architectural form of immense sculptural and organic power. Internally the dynamic honeycomb skin creates a series of spectacular, cathedral-like spaces where column "trees" soar into a heavenly, clinically white void. This swerving, vaulted space is in turn studded by millions of tiny light-filled openings that shimmer like stars in the sky. The effect is both ethereal and cinematic, with the stark, monochrome sheen of the terminal's crystalline surfaces fusing with an infinitely morphing patina of shadow and light to forge an extraordinary space that is as much film set as it is airport.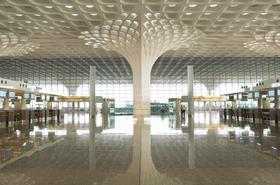 Chhatrapati Shivaji International Airport, Terminal 2
Mumbai, India
Completion: February 2014
Architect: SOM
Contractor: Larsen & Toubro
Cost: £525m
Size: 410,000m²
As air travel is so intrinsically a technological facet of the modern world, it is rare for airports to embrace traditional architecture. It is perhaps rarer still to find one of the most emphatic examples of historicist airport design created by an American architectural practice credited with perpetuating a globally homogenous corporate style. And yet at Mumbai International Airport's Terminal 2, SOM has crafted an extraordinary building that is directly inspired by the aesthetics, geometry and spirituality of traditional Indian architecture. A monumental white concrete canopy supported by 30 giant, tapering columns spreads over a 40-hectare site underneath which a thin veil of curtain walling is all that differentiates between the exterior and interior. With the canopy and columns perforated by thousands of small, radically arrayed cellular openings, some of which flood the interior with daylight, the design has been based on the tail of a peacock, a creature of great spiritual symbolism for the country. The patterned geometry of the canopy also recalls ancient religious architecture and the coloured glass inserted into rooftop openings sometimes bathes the cavernous concourses in a rich celestial glow.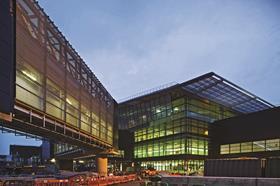 Heathrow Terminal 2, The Queen's Terminal
London, England
Completion: June 2014
Architect: Luis Vidal + Architects / Foster + Partners (concept)
Contractor: HETco
Cost: £2.5bn
Size: 310,000m²
While the design of Heathrow's new Terminal 2 lacks the punch and drama of some of its foreign counterparts, it has revolutionised the airport's logistical structure and vastly improved the passenger experience it offers. Heathrow expansion may be mired in government indecision, but
Terminal 2 provides a glimpse of the airport's long-term vision for retaining its global hub position. A vast, undulating triple-tiered Kalzip roof measuring some 50,000m² covers a terminal layout of remarkable simplicity. The first roof tier spans the departures concourse, the second security and the third the airside gates. Vertically the arrangement is similarly practical with parking and public transport access at the bottom, baggage and arrivals in the middle and departures at the top. So proud were the terminal's designers of its ground-breaking efficiency that its opening was heralded with claims that it would take just seven minutes to reach the exit after disembarking from a plane.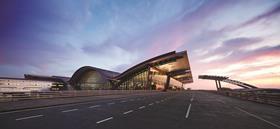 Hamad International Airport
Doha, Qatar
Completion: May 2014
Architect: HOK
Contractor: Bechtel
Cost: £12.3bn
Size: 600,000m²
As far as Middle Eastern mega-hub airports go, the new Doha International Airport is the sign of things to come. Built on land reclaimed from the Arabian Gulf and covering a staggering 29km², the airport is the second biggest in the Middle East after Dubai.
Incredibly, the hub is only marginally smaller than the city of Doha itself. It also includes 300,000ft² of retail, a vast mosque and aims to serve 50 million primarily transfer passengers per year by the time it is fully operational next year. Despite these daunting statistics, the architects have worked hard to give the airport a recognisable, signature architectural identity. With a wave-like glass and steel roof flooding its five cavernous concourses with natural light and an extensive monorail network to whisk passengers across its vast acreage, the airport uses a combination of advanced technology and distinctive design to mitigate its prodigious bulk. Also, many of the barrel vault roofs that span its concourses inadvertently though appropriately recall the great European railway stations of the 19th century when trains and not planes were the byword for glamour and romance.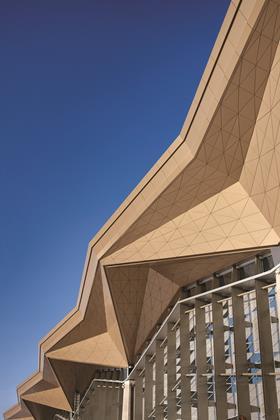 Pulkovo International Airport
St Petersburg, Russia
Completion: February 2014
Architect: Grimshaw / Pascall+Watson (delivery)
Contractor: ICA Construction
Cost: £553m
Size: 110,000m²
The rebuilding of Russia's third largest airport provides the perfect synthesis for cutting edge environmental design and Grimshaw's signature preoccupation with technical innovation.
It snows for about 123 days a year in St Petersburg and the designers had to find a way of accommodating the huge weight of this annual snowfall on the airport roof. Their solution was to cast the roof as a unique twin-surface structure. Externally it is flat but inside a dizzying, surreal roofscape of folding planes and sliced, skewered surfaces distributes weight to different parts of the roof structure. The roof's tessellated, origami-like form is composed of golden metal panels, their colour vividly recalling the gilded domes and spires of the
St Petersburg skyline. Externally, the folds protrude above the glass and concrete external walls to form a dramatic, cantilevered canopy that trims the edge of the building like a heavy golden lid. Remarkably, the terminal came in half a billion euros under budget and claims to be one of only five certified "green" buildings throughout the whole of Russia.