Only three people asked questions and two of them were the same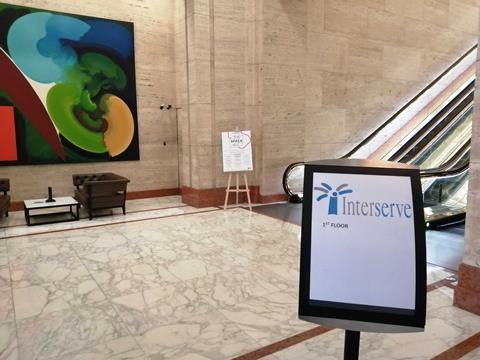 A mere hour or two before Interserve shares permanently lost all of their value, those who owned some had an opportunity to do two things.
They could vote for a deal which wouldn't wipe them out, and they could ask the chairman whatever question they wanted at an extraordinary general which kicked-off at 11am on Friday.
Surprisingly few plumped to do the former and almost nobody did the latter.
An escalator up to the conference room at 155 Bishopsgate, next to Liverpool Street station, was empty at 10.55. In the reception area, coffee machines stood either side of a hallway, unused.
A few screens glared Interserve's name over empty hall space. And another central table held unopened glass water bottles and around them a few punters were making niceties to investor support staff or one another.
In the meeting itself, chairman Glyn Barker introduced eight members of Interserve's board, including chief executive Debbie White, who were on a panel at the front of the room.
Barker spoke in a friendly and compelling tone, urging shareholders to vote for the management's deal.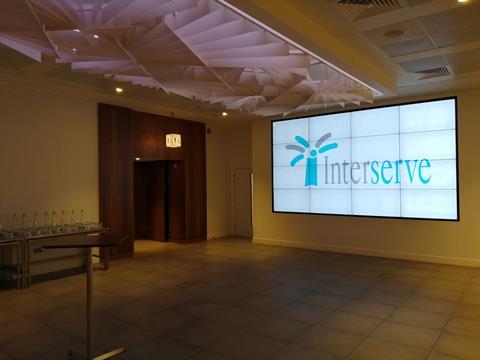 There was much in what he said, but very little in how he said it, to hint that a £3bn-turnover company was about to fall over under the weight of its debt.
He breezily told voters the company had breached its covenants and was being kept alive by the goodwill of lenders, kindly adding the alternative deleveraging plan was imminent administration.
A handful of sharp-suited men had turned up to watch, presumably on behalf of asset managers or clients. But among the fuller rows was that of reporters at the back; only around one in five seats in the room were being used.
Some whispers were exchanged among the audience as the meeting started – poor turnout was a decent indication that the rebels' 33% bloc voting against the rescue deal was not to be outdone.
Only three people had questions for Barker and two of them asked the same thing, about why directors were not taking up new shares. "We've already had that question, sorry," he said.
In the end, not a single word was uttered from any of the panel at the front and reporters had been forbidden from asking them questions.
Barker wrapped up the meeting after just 28 minutes. Shareholders who had not already voted online did so. Everyone else waited around, guessing that a further statement from Debbie White might come after a little while – perhaps after the results were announced.
But Interserve staff drained the room, leaving everyone else to cotton-on and then wander back to their office and watch the stock exchange news service.
The meeting had the feeling of a company worth £18m – not a company with circa £2bn worth of public contracts. The contradiction being ironed out was that it was both of these things at the same time. But it was an extraordinarily ordinary extraordinary general meeting.