Most UK contractors are busily diversifying to survive. Not so with BAM Construct, the UK's third biggest contractor - its boss is determined to stick with what it's good at: construction
While all those around him are diversifying like crazy to survive 2011, Graham Cash is sticking to what he knows. The chief executive of Bam Construct, the UK construction arm of $9bn Dutch giant, the Royal Bam Group, has no qualms about being a bit different. Especially as he is convinced his strategy is the right one. "More companies will go bust throughout 2011," he concedes. "But ours will not be one of them."
His confidence is unwavering. It needs to be. His plan for the future of the company - one he has already put into action in some parts of the business - is pretty left-field compared with the strategies his competitors have been adopting. "We're not diversifying into all sorts of weird and wonderful things," he explains in a friendly, yet no-nonsense Mancunian accent. "We're sticking to what we do, what we're good at - construction. And, although only time will tell, I think we're doing it right."
Moving on up
There's no denying that in recent months, Bam Construct has risen through the ranks to become one of the most talked about large contractors in the UK. The firm ranked third in Building's Top 150 contractors last year and is well known for winning work on increasingly high-profile schemes including King's Cross, the Riverside Museum in Glasgow and the Ashmolean Museum in Oxford.
We're staying true to what we do and who we are. Not like Costain which has gone very infrastructure-focused or Carillion which has gone services-focused. We're not doing that
"If you're asked who the contractor of the moment is these days, Bam is likely to come up," says one industry source. "The firm has a reputation for being well organised, doing good work and winning well regarded, complicated work."
High praise indeed, but how does Cash, who has only been in the role of chief executive since April, prepare to keep Bam Construct at the top of its game throughout 2011 and beyond? Well, Cash's involvement with the firm actually spans 23 years so he's more patriarch than chief executive. Before he took on his most recent role he was managing director and before that he was head of the South East region. He says his long history with the company means he can run it in a way that staff are familiar with: "I run things very much like a family business," he explains, "we're not an aggressive hire and fire company. We're very balanced."
What clients want
This balance is evident in his measured strategy for the firm. There are no knee-jerk reactions to the current climate, but a careful evaluation of what might be on the horizon and the best way to prepare for it: "We're trying to rethink the sectors we're already working in to be leading the pack and to give clients what we think they're going to want in the future."
Luckily for Cash, he is starting from a relatively secure point. In its last published results, Bam Construct posted a turnover of just over £1bn in 2010 and a pre-tax profit of £30m, down from £52.3m the year before - but Cash says that from December 2010 70% of the firm's workload for 2011 was already secured and that the forward order book stands at £2.3bn.
He hopes turnover will come in at just over £1bn in 2011, adding that a flat financial progression for the firm for a year or two, followed by an increase later on, is all part of his plan.
Cash is quick to stress that all this doesn't mean the group won't be moving forward. Quite apart from changing approaches to sectors such as health and education, Bam Construct will be investigating emerging markets such as waste, water and energy, and will be looking to support its sister company Bam Nuttall, which specialises in infrastructure, with above-ground developments. "Of course we're looking at all the usual emerging markets," he explains. "But we're staying true to what we do and who we are. Not like Costain which has gone very infrastructure-focused or Carillion which has gone very services-focused. We're not doing that."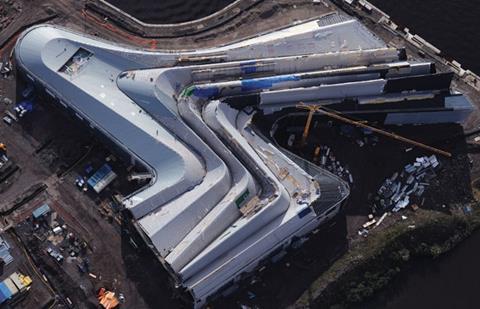 From quality to science
So, how does he propose to make sure his firm is the best when it comes to offering government what it wants in terms of school and hospital design and build?
"I think the market will shift from quality-led design to science-led design," he says. "For example, it will shift from schools that are corporate headquarters to schools that are much more functional, utilitarian, componentised.
"When I go through Europe - you look at schools and they're very simple. Utilitarian and bright but the children seem to enjoy them. Who's it for - all of these walkways and atria? It's for the architects. A classroom is a classroom and a sports hall is a sports hall. They don't have to look the same but they are made up of similar components.
"At the moment we're coming up with an idea of standards to build this sort of thing to and it's not about lowering standards - it's just getting more out of design, more for less, which is what the government wants."
Cash adds that this doesn't mean there is no longer any need for iconic buildings - it's about recognising when they are appropriate. "The pendulum swung too far one way," he says.
"The UK just got a bit silly architecturally and the architectural profession and Cabe have produced an awful lot of excessive buildings. You always need the odd iconic building, but they cost you. You visit certain buildings and think, 'I appreciate this quality and it's right', but you visit other buildings like schools with three-storey atria and you think, 'actually this is a bit OTT'."
Staying agile
Cash goes on to say that agility is key for survival through a recession, and from 2011 onwards this will be particularly important. He says the firm's regional focus allows it to change direction and adapt quickly and smoothly: "Redirecting and refocusing the regions very quickly is necessary at the moment." There are seven clear-cut regional areas run by seven directors who meet regularly. He says this allows Bam to develop each region to ensure it is best suited to the sort of work available locally.
At last, there is a slight chink in Cash's armour of confidence as he admits that 2010 was a very daunting time to lead the company. And there are certainly challenges on the horizon: "It is hard winning work in a market like this and also keeping staff motivated. The spending review is obviously a concern to everyone - anyone who is listed on the English Stock Exchange anyway."
But the confidence doesn't take long to return: "It's always a pendulum. So, the public sector went up, then down. And when it goes down further, the private sector will come back up. You only have to look at firms like British Land and Land Securities - major developers - starting to get things moving again. The pressure will be high but I am confident.
"We're taking a different path to our competitors - we're getting ready for what might happen next. Plus we have a very efficient and focused business. And one I am very protective of. And I get to be the captain of the ship. It's great being the rear admiral. But I do like being the captain."
The cash family
Graham Cash may be the chief executive of the third biggest construction company in the UK, but you're even more likely to know his brother, Craig, who writes and stars in TV programmes.
He is best known for playing the part of Dave in the Royle Family sitcom which he co-writes with Caroline Aherne (pictured above with Craig), who plays Dave's wife Denise. "Some of Craig's celebrity friends are mad," says his brother. "There is one in particular that, if I see their car parked in Craig's drive, I'll turn around!
"But all the guys from the Royle Family are fantastic and they have so much fun making the programme. I think Craig has written some even better stuff - Sunshine was fantastic. Steve Coogan took the lead role in that and he did it so well."