Inheriting not one but two problem contracts, Bill Hocking, boss of Galliford Try's construction arm, might have felt he'd been dealt a bad hand when he took over the job two years ago, but now that he holds all the cards, he's moved to reduce the risk the firm takes on. He tells Dave Rogers how. Photographs by Jean Goldsmith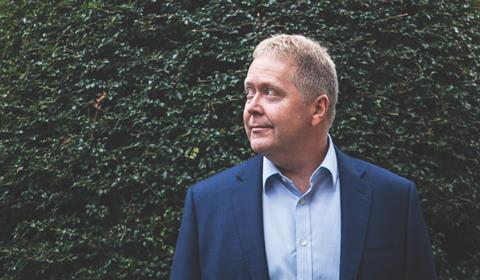 Before he ended up in construction, Bill Hocking wanted to be a farmer. Growing up in Zimbabwe – he was born in the city of Gweru in the middle of the country – being a farmer meant looking after hundreds of thousands of acres, the sort of ranch-style farming that you see in places like Australia. But this was just after Robert Mugabe had come to power in 1980 and he was beginning to have reservations about farming's long-term prospects.
He was talking to his headmaster at school, who also doubled up as the careers officer, when his worries about farming cropped up. So they looked at alternatives, with one proviso. "I wanted to do something outside," he says. "We talked about building and civil engineering and he said 'of course, if you're any good, you'll end up inside'. I thought that was quite a good statement and that's what's ended up happening."
Now the chief executive of Galliford Try's construction arm, Hocking first arrived in the UK 28 years ago this month. He'd seen an advertisement asking for engineers to come over and help build the Channel Tunnel. "I thought 'wow, what the hell, let's give that a bash'." Wanting to broaden his horizons and have a bit of an adventure, he applied and got the job. He's been here ever since. "I came over here for a bit of adventure. I just never went back."
I hope the industry has learned that even in the bad times, it's better to shrink your business and keep the quality of work reasonable rather than try to maintain your size through taking on work with a high-risk profile
The firm he joined was Trafalgar House and his first role was as a sub agent – but not on the Channel Tunnel scheme. "When I arrived that had gone into the long grass and I ended up on water treatment works in Birmingham. It was a really great job, I've fond memories of it. I lived in Birmingham for the first four or five years. I loved it."
As Trafalgar House morphed first into Kvaerner and then Skanska, Hocking rode the changes and moved up. When he left Skanska in 2015, after being approached to join Galliford Try by the firm's then chief executive Greg Fitzgerald to become the managing director of its construction business, Hocking had long left the site behind.
His last site job was as the deputy project manager on the A12/M11 link road in east London, completed in 1998, and one of a number of roads jobs at the time best known for being besieged by anti-roads campaigners. By the time Fitzgerald came calling, Hocking was looking after all of Skanska's civil engineering business in the UK.
He has warm words for his former employer, though the sense is that he doesn't miss the drag of having to deal with an overseas headquarters. "A lot of stuff went up to Sweden for approval," he says. "What I like now is that if I need a chat with [chief executive] Peter [Truscott] I just pick up the phone and call him. I don't need to get on a plane to Sweden."
A Londoner at heart
Bill Hocking goes back to Zimbabwe every couple of years. Along with four old friends, the quintet head off to the Zambezi for a spot of fishing. "We fly overnight Thursday, get to the river Friday, fish the weekend, fly back Monday and are back in work Tuesday," he says. "It's a bit mad but good fun."
A confirmed Anglophile, he supports England at everything, loves the seasons and even suggests the UK summer isn't so bad after all. "Summer in England is one of the best places in the world." He's a fan of the London tube as well. "It's a great leveller, it's a sign of democracy – a bloke who's worth millions hanging on to the same rail as a pauper."
The 54-year-old came to fatherhood relatively late on, but he says he is relishing it. "I asked a lot of my friends who had kids to tell me the one thing they would have done differently and every single one of them said, 'I would have spent more time with my kids when they were young'. That's the only thing I religiously stick to. Get your work life balance right. I absolutely love it. I say to all my people 'I expect you to go to all your kids' Christmas concerts, sports days'. I think that's really important."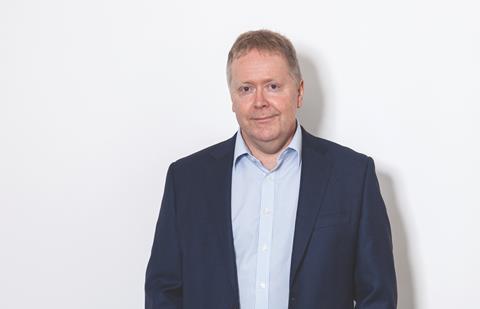 Managing risk
Talking about his decision to leave Skanska, Hocking, who, a year after joining Galliford Try, took over from Ken Gillespie as chief executive of construction, adding investments to his responsibilities, says: "For me it was an opportunity to do something a little bit different. Galliford Try was evolving from a big small company into a smaller big company if I can say it like that."
He set about reducing the risk his £1.5bn business – split into £1bn of building work and £500m of civils – took on. Processes for weeding out the sort of contracts the firm is no longer prepared to take on have been strengthened. The sorts of things where red flags now drop, Hocking says, are onerous terms and conditions, a negative cash profile of a client or where a client doesn't have a strong balance sheet behind them.
"We've got some legacy projects and let's learn why they are legacy projects," he says. "We're being very disciplined about what we take on.
"I hope the industry has learned that even in the bad times, it's better to shrink your business and keep the quality of work reasonable rather than try to maintain your size through buying work or taking on work with a high-risk profile."
Kids don't know the breadth of careers in the construction industry. I think as we get more technically orientated, we will be better at attracting people
He says the strategy met some resistance amid worries that turnover would go down. "I did get a bit of pushback, that if we go down this route we will shrink the company but that's not proved to be the case. We grew it by £100m [in 2016]."
More than 85% of the firm's work is with the public sector for two reasons, he says. "The risk profile is much lower [and] the government always pays you."
The firm has a £3.5bn order book – including three major job wins last month: a £40m contract to build an education hub at Durham university, a further £54m contract on the Manchester Airport upgrade and a £24m contract from Highways England to build a new M49 junction at Avonmouth. Hocking says he likes an order book to have two years' worth of work in it. "When people are under pressure to maintain an order book, then some of the behaviours of the past will come through. That's the danger, good luck to others [but] we're not going to get any less selective if the going gets tougher."
Of course, Hocking knows all about difficult jobs at Galliford Try with the firm counting the cost of two contracts north of the border both of which were signed before he joined.
One, a scheme where Galliford Try was part of a team to build the new Queensferry Crossing, has completed but it is another, building a bypass around Aberdeen, a contract which gained wider notoriety this week after being identified as one of the problem jobs that sent Carillion under, which is giving him more headaches.
Clearly proud of the new Queensferry bridge – he even took his two young children to have a look at it the day before it was opened by the Queen last September – nonetheless head rules heart when asked if he would have bid it had he been in charge at the time. He chooses his words carefully, making clear the firm is not giving up on big, complex schemes – provided the terms and conditions are right. "But what I have said," he continues, "is we will not do mega, lump sum fixed-price jobs anymore."
It was high winds that meant the bridge was completed seven weeks late, and up in the granite city the fickle Scottish weather has brought in more problems. Parts of the Aberdeen road were under water two years ago, with levels on the River Don reaching their highest since 1971, and Hocking reckons the scheme is still taking up one day of his working week.
He's careful to avoid saying how much the scheme, originally due to have finished at the end of last year, is costing the firm but it's widely known that it was one of the contracts that it referred to last May when it said it was taking a £98m hit on legacy contracts.
He was speaking before news broke of Carillion's collapse on Monday and four hours after that firm told the Stock Exchange it had gone into liquidation, Galliford Try was also having to tell the markets that it and its remaining joint venture partner on the job, Balfour Beatty, would be having to wear an £80m bill on the Aberdeen road as a result.
"The terms of the contract are such that the remaining joint venture members, Balfour Beatty and Galliford Try, are obliged to complete the contract." It said: "Our current estimate of the additional cash contribution outstanding from Carillion to complete the project is £60m-£80m, of which any shortfall will be funded equally between the joint venture members."
Balfour Beatty is estimating that it will have to stump up around £45m, presumably leaving Galliford Try with the remainder.
No doubt the firm, which remained in the black last year thanks to its housing business, will provide further detail at its interim results next month but for Hocking he must be sick of the sight of the road.
Will he, then, be taking his children to see the road when it finishes, set to be this May? "Probably not," he diplomatically replies.
Changing Zimbabwe
With ancestry dating back to the founding of Zimbabwe – Rhodesia as it was known then – Hocking has been watching recent events in the country of his birth with more than a passing interest. His maternal great grandfather was part of Cecil John Rhodes' pioneer column that set up Rhodesia back in the 1890s, and Hocking says he's hopeful the country can put the Mugabe years behind it. "In Zimbabwe there is ultra-rich and ultra-poor with bugger all in the middle. It can only be a good thing that Mugabe's gone but I am nervous. I just hope the new guy [Emmerson Mnangagwa] delivers more democracy into Zim."
Recruitment – don't panic
Bypasses are unlikely to capture the imagination in the way a new bridge slung across the Firth of Forth does anyway and Hocking says the industry should be doing much more to fire the dreams of youngsters. "We need to be much better at selling it," he adds. "It can be a really exciting, stimulating career. We need to be better at articulating our case. The kids don't know the breadth of careers in the construction industry.
I think as we get more technically orientated, we will be better at attracting people."
Recruitment is one of the key issues facing the industry right now with some panicking about who will actually carry out the jobs once the UK leaves the EU. Hocking, who is now a British citizen, is less alarmed about whether jobs will be affected. "A hard Brexit will affect London and the South-east more than it will the Midlands and Scotland," he says. "I think central London [work] would slow down and cause all sorts of wage inflation [but] I remember we had this debate about around the Olympics – how are we going to find the people to do it? It happened. The same with Crossrail."
But Hocking says the government does need to put transitional arrangements in place for EU workers. A couple of years, he suggests. "From a moral perspective, if nothing else," he adds.
"I think people who have been here four or five years should be allowed to stay."
He voted remain – "a bit of a no brainer for me as annoying as some of the European stuff can be" – but says right now he thinks Brexit will happen and that the decision to leave the EU could only be reversed by a second referendum.
"I suppose that's not impossible, by the way. The only way they could not do it is to hold another referendum and say: 'This [Brexit] is too difficult, shall we think again?'."
In the meantime, like his peers, he is trying to plot a way to increase the meagre margins contractors have to live on. "The bigger more mature clients recognise that for a sustainable construction industry there has to be a higher level of profitability," he says. "I think it's sensible to aim for 3-3.5%. Other people have said 5%.
I also aspire to 5% but I think it's a really difficult thing to do because of the structure of the industry. At a main contractor level, there is a high level of competition that's always going to cap your margin. I think 2.5-3% is about right." Galliford Try's construction margins in 2016 were 1.1% before flatlining to zero last year, so there's some way to go yet.
Hocking's come a long way since that first job in Brum. He misses the sites and he still likes to get out and about. Galliford Try is carrying out a flood alleviation scheme in Marlow, the Buckinghamshire town on the banks of the river Thames, where he lives. He's keeping tabs on that but the lure of the sites isn't what it once was. "You move on in your life," he says. To the inside. Just like his headmaster suggested would happen all those years ago.