The lack of a consistent approach to BIM software product data means that exchanges can be inaccurate and cause problems. Now, two new resources - BIMHawk and Lexicon - are setting out to make sure everyone is talking the same language. Ike Ijeh reports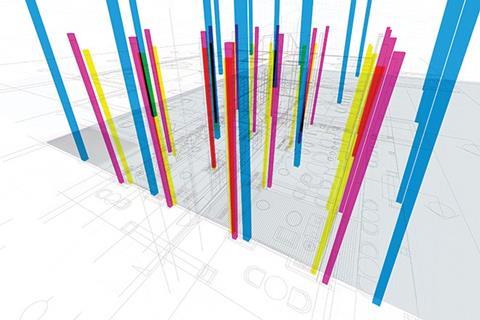 How information is shared is fundamental to the BIM concept yet over the years it has become one of BIM's biggest stumbling blocks. Many BIM users will be familiar with a lack of consistency in the way products are described in BIM and the information attached to those objects. For example, a window is made up of multiple elements: the glass, the frame, the handle, hinges and so on. It is also a specific size and there are three different thermal performance elements: the performance of the frame, the glass and the overall performance. The elements can be described using a variety of language and one manufacturer may use a different set of performance data from another.
This lack of consistency has led to huge frustrations and complications when using BIM data. Consultants will ask manufacturers for BIM data without fully understanding the nature or limitations of that information. In turn, manufacturers, some of which have spent a huge amount of money on BIM content, will sometimes not have complete knowledge or understanding of what exactly that data will be used for.
The matter is further complicated by the various BIM platforms available from products such as Revit, MicroStation and Archicad, which don't always communicate with product data in the same way. This means product data read by one software package could be interpreted differently by another package. The eventual result is a growing misalignment between requests for information and their responses, with confusion, discrepancy and possibly even resentment among the design team ensuing.
This lack of product data consistency is what Carl Collins, digital engineering consultant at the Chartered Institute of Building Services Engineers (CIBSE), describes as "the Wild West of BIM" and what Steve Thompson, senior consultant at construction strategist PCSG, describes even more succinctly as "the BIM nightmare".
However, a solution may now be in sight. In fact at least two have come along at roughly the same time. Both the Construction Products Association (CPA) and CIBSE have recently produced new tools that aim to develop standardised product data parameters and structures for the BIM industry. By so doing the hope is that this new data consistency replaces the confusion of the past and leads to more efficient and effective BIM implementation across the industry.
The two tools are known as BIMHawk, developed by CIBSE, and Lexicon, developed by the CPA. While complementary, there are subtle differences between the two. Below, we analyse their key aims and characteristics and assess exactly how they hope to make the confusion and inconsistency all too commonly associated with BIM software products a thing of the past. Both products have also been developed in conjunction with the Building Engineering Services Association (BESA).
What are they?
CIBSE's BIMHawk seeks to collect and structure product information for specific building service product types in a standardised format. A product data template, known as a PDT, is created for the product type which is then populated with specific product data by the manufacturer. Once populated, the PDT becomes a product data sheet. For example, the PDT for a heat pump will include dimensional data, refrigerant data and performance data. By contrast a cable tray will also include dimensional data but not performance or refrigerant data as these parameters don't apply to a product of this type.
BIMHawk provides an online database and suite of software programs and utilities for creating, managing and integrating PDTs and product data sheets with other native BIM digital applications such as Revit and MicroStation. Initially developed in spreadsheet form on a more ad hoc basis, it has evolved into the more comprehensive free to use online toolkit that it exists as today.
Manufacturers that have spent a huge amount of money on BIM content, will sometimes not have complete knowledge of what that data will be used for
Collins describes it as a way to "define like for like objects in a consistent way" or in other words, "to put parameters into the design platform". But for Collins, BIMHawk's overriding characteristic is its creating of "a fair and neutral arbiter that imposes a language of consistency across the entire product data set".
The CPA's Lexicon also aims to create a consistent way of describing and sharing product information. It offers a web-based and fully free and accessible online resource that defines information parameters at a product data template level in a uniform and standardised way. It also plugs in directly to the supply chain by creating "relevant authorities" who are signed-up trade associations charged with providing the definitive terminology that will be used across all product data templates.
Peter Caplehorn, CPA deputy chief executive and policy director, describes Lexicon's chief aim as "creating a unified, coherent and consistent approach for all construction jobs that feeds into the software and process that suppliers and designers will use to create all their BIM models and data".
While BIMHawk and Lexicon clearly harbour similar ambitions and have been described as "complementary", there are subtle differences between the two. Thompson, who helped write Lexicon, describes BIMHawk as "providing specific information on obtainable products". But he claims that: "Lexicon has a much broader scope that is concerned with systems and processes as well as products."
Collins also maintains the two products are "mutually complementary" but while "Lexicon offers a protocol by which you can define a parameter, BIMHawk aggregates these parameters in a way that is directly connected to the end user consultant."
What impact might they have?
Peter Caplehorn is clear about why there is a need for the kind of data consistency both BIMHawk and Lexicon are trying to deliver. He says: "BIM Level 2 has been proceeding well for a lot of the industry but the sectors still aren't as joined up as they should be. What the industry needs is for all product information to be consistent and directly machine-readable but the quality of product information generally lets this down.
"These new tools create a common data structure that are all machine readable. Ultimately, this will enhance coherence and co-ordination across the sector and lead to more efficient and joined-up working."
The industry needs all product information to be consistent and directly machine-readable but the quality of the information generally lets this down

Peter Caplehorn, Construction Products Association
For Thompson one of the biggest challenges has been getting the right terms to attach to the product data. "Normally when you open a document you find that anyone has been able to input information, not all of it relevant or correct," he says. "But by using the trade associations as the relevant authorities ultimately now in charge of terminology, it means that the terms used in product data are consistent, meet legislative requirements and flow all the way through the project and the supply chain. The CPA has already received applications for the relevant authority roles from 75% of industry trade bodies."
Thomson also sees Lexicon offering advantages over traditional industry foundation classes (IFC) that are normally responsible for providing behind the scenes translations between different digital platforms.
"IFCs are platform agnostic and have been around for a while. But they come with various problems such as information being lost during exchange, gaps in information and terminology, and insufficient detail. But Lexicon works in a plain language format that eliminates these potential errors when sharing information data."
And it is the potential that these tools have to improve the data sharing process that forms the basis of their benefit for Collins.
He says: "These toolkits allow manufacturers and suppliers to access data and information on an equal basis for the very first time. They also force common parameters onto generic objects that are no longer defined by manufacturer specific information but are accessible and coherent to everybody."
Whether these tools will solve the communication problems remains to be seen. But to get the full benefits from BIM, the industry needs some way to ensure that everyone involved in the construction process is speaking the same language.