While Building's BIM survey indicates that adoption of the technology is increasing, there is growing anxiety about its effect on the dynamics of project teams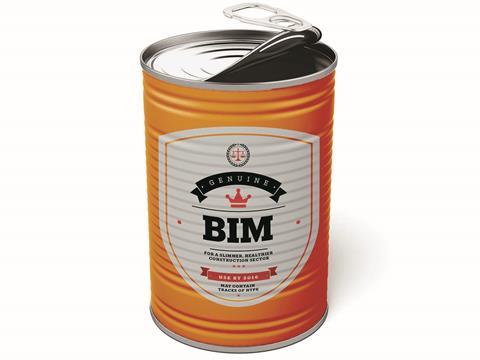 If If you harbour any remaining doubts over whether BIM is genuinely entering the construction industry mainstream, then a chat with the technical director of HS2 should dispel them pretty quickly. In a keynote speech to the Bentley Systems' Year in Infrastructure conference earlier this month, Andrew McNaughton detailed how even the smallest elements of the £42bn high-speed rail link were being modelled virtually in advance, down to "every newt and bat" resident in the countryside next to the line. McNaughton has been encouraged to push the boundaries of the technology to ensure there are no surprises once the real-world construction takes place. "We're not interested in just doing safe and comfortable things," he said. "We want to push it to the limit. We're betting the house on BIM."
While the sheer size of HS2 makes the project an exceptional case, there's no arguing that the industry's use of BIM is growing, and growing fast. The government's mandate that all public sector construction jobs must make use of BIM Level 2 by 2016 has catalysed the sector, with private sector clients also starting to join in. HS2's own survey of its supply chain - albeit likely to include many of the sector's more sophisticated firms - shows that 94% of those that are in line for work on the project already use BIM to some extent, and 55% claim to have used it to Level 2.
Building's own survey of over 150 readers - including consultants, architects, engineers, contractors and clients - found slightly more modest uptake, with just over half saying they had used BIM on real projects. This matched the findings of the third national BIM survey by NBS earlier this year, in which 54% claimed BIM experience. Of Building's readers, just under a third said they had reached Level 2.
Nevertheless, a significant, and possibly less vocal, part of the industry remains to be convinced. So what are the main reservations about the use of BIM, and how justified are they?
Believe the hype?
Of those surveyed by Building, 45% felt that the benefits of BIM are more hype than substance at the current time. While over 70% of those using BIM on projects said they were seeing improved clash detection, just over a third reported cost savings, and similar low figures saw benefits in terms of quality of construction, more predictable built performance or better management of the programme. A significant minority reported seeing absolutely no benefits at all. Some said it was detrimental because managing the technology diverted resources away from areas where they would be better deployed.
Superficially, our survey, like those carried out by NBS and HS2, indicates a large uptake of BIM, with 52% saying they have used it on projects. Crucially however, when those that do use it were asked how much they use it, a clear majority - over 65% - said it made up less than a third of their workload.
Chris Witte, marketing director of northern Europe for Knauf Insulation, says: "Most architects that are asked whether they are doing BIM will say yes. The reality is that they are either just using 3D modelling, which isn't BIM, or they have a couple of people on a couple of projects that are using product manufacturer data within the model, but this only accounts for a small percentage of their overall work."
An inflexible tool
In particular, some architects have distinct reservations about BIM software as a design tool. And while much of the hype around BIM stresses its ability to nudge the industry towards a more collaborative way of working, for some it represents a further diminution of the creative aspect of the design process, putting more power in the hands of contractors.
It's not a design tool … it asks for a huge amount of detailed information very early on, which makes it very difficult to explore changes

David Ardill, Sheppard Robson
David Ardill, partner at 320-strong architect Sheppard Robson, is one who thinks that BIM needs to be used carefully. The practice is fully integrating BIM as a design and implementation tool for all its architects. He says that while the technology will ultimately offer an opportunity to create a better and more efficient design approach, in the short term architects need to help shape BIM tools such as Revit to make them as beneficial as possible to the early design stages.
Ardill says the fact that BIM is used to create a 3D or 4D model (that is, one including time and scheduling information), which includes a huge amount of detail about specification and M&E, makes it useful for a contractor to build from. But it means it is not necessarily optimised for designers to work with.
"Right now it's not a design tool, it's a construction co-ordination tool. It asks for a huge amount of detailed information very early on in the process, which makes it very difficult to explore changes. It pushes you to make decisions before you need to, and means you can't think like an architect," he says. This design issue is considered in more detail by Building's architectural correspondent Ike Ijeh on page 34.
But for Ardill, the implications of this go further to the relative roles of different parts of the project team. "I can see the advantages of this if you're a contractor. It's no surprise that contractors are building up their design teams. Architects have to become more sophisticated in focussing BIM as a design tool. Otherwise there is a risk that building design will become more standardised, potentially diminishing the distinct role that architects can play on projects."
A natural role for architects
Needless to say, where some see difficulties, others see opportunities. David Hunter, chairman of Bristol-based architect Stride Treglown, says the recommended legal framework for BIM Level 2 enables architects to secure additional fees through the requirement for dedicated consultants to manage the information on behalf of the whole design team.
He uses as an example a critical care hospital in Hampshire where the firm is lead consultant and has been allocated an additional specific fee to administer the "sheer volume" of data being generated. "For certain projects this is attracting a fee. You need to have people who understand the technology, and typically we need someone specifically spending time to make it work together. It's a natural extension of the lead consultant role."
Building's survey supports the idea that it is mostly architects taking on this co-ordination role, with about a third of respondents suggesting that this is the case - a far larger proportion than for any other member of the project team.
But beyond the extra fees, there is, says Hunter, a bigger prize for architects. "I do think they seem to be pretty well placed to grab themselves a position in the construction industry that they used to occupy and has been lost," he says, referring to the time, before the growth of independent project managers, QSs and design-and-build contractors, when the architect's status on a project team was all-powerful. "It's potentially a bit of a return to 30-40 years ago, when architects had a much bigger role in the process."
Andrew Barraclough, group design director at contractor Wates, and formerly partner at architect HOK, agrees that this opportunity exists. His concern, however, is that the profession may miss the boat by allowing negative perceptions of BIM to persist. "The architectural profession is quite fixated by the loss of its leadership position in recent years, and BIM does provide an opportunity to regain that. But this opportunity won't last long and architects had better get moving. Others in the sector will be very happy to take on this role if they don't."
Barraclough says that, in his experience, many projects are having to bring in specialist BIM consultants to complete virtual models because architects have only been able to take the technology so far, or have used shortcuts to produce complete 2D elevations, while the 3D virtual BIM model sits incomplete. Building's survey backs this up: 15% of respondents said they were using dedicated specialist consultants to manage the BIM process.
"To take this leadership role you've got to be able to use the tools to bring together different models from different parties and co-ordinate them in a federated environment. We're seeing very few architects willing to step up and take that challenge," says Barraclough, adding that the extra effort of co-ordination brings other benefits for architects. "There are massive efficiencies we can make. We're still getting designers saying it'll cost us more to deliver the project in BIM. I say that's a nonsense - BIM is now a given if you want to work with Wates, and we don't expect to pay more."
As is usually the case, the arguments of both sceptics and evangelists have some validity. Wates' Barraclough and Stride Treglown's Hunter - both BIM supporters - concede that, should the technology be used too early in a design and major changes are subsequently made, models may have to be thrown away and redone. Indeed, both say this is a fairly standard way of operating.
They also acknowledge that large amounts of data are needed early on, meaning more heavy lifting in the design work before construction starts. This is often difficult to resource, given the tight timelines set out by demanding clients.
But of course, both add that the benefits outweigh these inefficiencies. Regardless of whether BIM does represent a reinvention of the architect's role, or augurs a more contractor-centric industry, one thing is certain: it is going to have widespread implications for the way the industry's different disciplines work together.
Results from Building's BIM survey
A total of 166 Building readers completed our BIM survey which we carried out in the first week of November. Architects made up the biggest single proportion of respondents, with main contractors the next most common respondents, making up 18% and 15% of respondents respectively. Of those responding, 52% said they had used BIM on projects, with 30% saying they had used it to Level 2.
Seven per cent said they had used BIM Level 3, despite the fact this standard has not been finally defined. More respondents said the benefits of BIM were over-hyped (45%) than said they were real and substantial (37%).
However, this finding reversed for those who have actually used the technology, among whom a small majority (52%) said the benefits were real. The vast majority of those using BIM said it was offering them improved ability to detect design clashes, however, only around a third said it delivered cost savings, and just a quarter that it ultimately delivered better quality construction.
The biggest barrier to the uptake of BIM was seen to be lack of client interest, with the lack of availability of staff, upfront technology costs, and higher projects costs also seen as major barriers. Respondents were almost exactly evenly split as to whether they saw developing their firm's BIM offer as an opportunity (43%) or not (42%).