Building's fifth annual BIM survey shows continued growth in the number of firms using the technology and appreciating the value it brings to their work. But how to win over those who are not yet convinced it's worth it?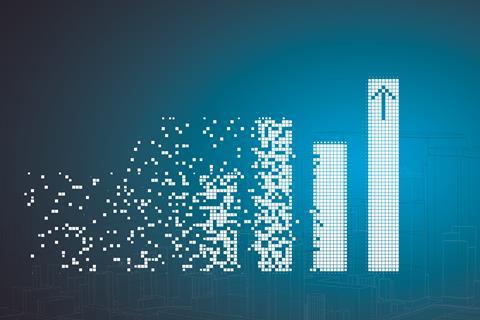 On the face of it, the results of Building's fifth annual BIM survey are encouraging. The responses to the 2018 poll suggest that usage has edged up, more firms are using Level 2, and fewer firms see the benefits of the technology as "overhyped".
With more companies seeing value to their businesses from digital construction technologies and with backing from the government's 2016 mandate to use BIM on new public sector work, BIM is more embedded than ever in the UK construction industry. Indeed, the country itself appears to lead the way globally, with its standards for BIM – as enshrined in BS 1192 – set to be adapted into a new international standard, ISO 19650, in a matter of months.
"It's more than just about buildings, it's about a whole range of things. it's a journey towards a digital world"

Ben Wallbank, Viewpoint
It's not all good news, however. A sizeable minority of companies still don't opt to use BIM in their day-to-day work. The cost of getting started on BIM remains a barrier, with the number of those citing the expense as a reason for not using BIM up on last year's poll, and while concerns around the amount of time spent on BIM in the design phase have subsided, one of the most cited barriers to getting into the technology seems to be client disinterest.
So it's a mixed picture, just at a time when the UK construction industry – said to be second only to its agricultural sector in terms of missing out on the opportunities offered by digital technology – needs to drive itself forward on a wave of increased productivity and innovation-led excellence. Advocates of BIM counter indifference by arguing that BIM can and will be a gamechanger for the sector. Yet how is this to happen while a significant proportion of the industry is reluctant – even resistant – to using it?
Methodology
The 2018 survey attracted more than 460 responses, with the majority of replies coming from architects, quantity surveyors and project managers. Firms with an annual turnover of less than £1m represented the largest group of respondents (20%), followed by those making between £1m and £4m a year and more than £500m (16% each).
Key findings
Uptake: Encouragingly, the use of BIM returned to 2016's level of 73%, up from last year's 70% figure. Use of Level 2 picked up as well, from 43% in 2017 to 48%. At 34%, six percentage points down, fewer respondents. year-on-year regard BIM as "overhyped".
Benefits: Clash detection remains the greatest single positive from using BIM, according to this year's survey, cited by 59% of respondents, up from 51% in 2017's poll, and improved collaboration within a project team rose from 45% last year to 48% in 2018. The perceived potential for firms to secure higher fees by using BIM remained steady at 51%.
Problems: Both increased costs and the amount of time required in the design phase were cited as the biggest headaches for those using BIM, with 37% citing each of those two factors. In the case of costs this was an increase from last year's 33%, while the issue of time was down on last year's 39%. Difficulties recruiting suitably qualified staff eased slightly, down one percentage point in 2018 to 37%, as did the problems managing the extra volume and complexity of using BIM information, down from 30% in 2017 to 27% this year.
1. BIM usage
Have you made use of BIM on any of your projects?
Year
%
2016
73
2017
70
2018
73
Keep it simple
Much like a company's balance sheet, industry surveys give us just a snapshot of where we are at any given moment. That said, it is still encouraging to see that in Building's 2018 BIM poll the percentage of firms who used BIM in a project rose to 73% from 70% last year. Similarly, the proportion of those who believe the benefits of BIM are being overhyped fell from 40% last year to 34%. And the percentage of those who said they used government-defined Level 2 BIM rose from 43% to 48%. But there is a still a sizeable minority for whom BIM is either not relevant, too time-consuming, not cost-effective or just plain daunting. And that, the BIM specialists agree, is a situation that must change.
"Let's talk about bim, but talk about it differently, and in more simple terms"

Sarah Davidson, University of Nottingham
Sarah Davidson, formerly head of corporate R&D at Gleeds and now associate professor and BIM manager at the University of Nottingham, accepts there are barriers to people getting on board with BIM but doesn't believe these are insurmountable. "We can make those barriers smaller. For example, we've created a barrier by virtue of the language around BIM. It can be confusing for some and creates the sense of a 'club' for those who are in the know – and those who are on the outside feel left out. So let's talk about it, but talk about it differently, and in more simple terms."
Certainly those at the forefront of pushing the BIM agenda have recognised the problem. In May the UK BIM Alliance, the cross-industry organisation charged with promoting digital technology in the built environment, published a five-point "Plain Language Pledge" to reverse a trend that it says has rendered terminology around new processes as jargon that, in its words, ends up "excluding many professionals from engaging with current best practice". It remains to be seen how effective their suggestions prove to be, but at least the issue is gaining traction.
2. Level 2 uptake
Have you used BIM to what the government describes as Level 2 on any of your projects?
Year
%
2016
44
2017
43
2018
48


Another issue is the acronym "BIM" itself.
Nick Leach, strategic BIM manager at Sir Robert McAlpine, argues that it focuses the mind on modelling rather than on the digital aspect of harnessing data that can be used in construction. He says: "'Building information modelling' can be misleading, since it's more wide-ranging than that. And it's not like people are unfamiliar with the technology now. Everyone carries a smartphone and so it's not a generation thing, more a misconception and education thing. It's about the impression the word 'BIM' can give."
Some think the benefits are being undersold. Ben Wallbank, BIM strategy manager at Viewpoint Construction Software, says BIM is not just a modelling technology, "it's a transformative technology. It's about offsite manufacturing; it's about improved productivity and safety on site; reducing waste; producing better quality outcomes. It's all part of the same movement." Wallbank says he'd like to see the acronym "BIM" disappear altogether. "It's more than just about buildings, it's about a whole range of things: cross-section of data; cities; environments; better value and so on. It's a journey towards a digital world and the modelling bit is the graphical route to analysing the data. But there's so much more to it. And at least we're heading in the right direction."
Case study: Manchester Town Hall
The "Our Town Hall" project in Manchester is in the early stages of a seven-year refurbishment programme to fully restore the building for modern day use, including the repair, restoration and conservation of many of its historic features. With a fully collaborative design team working within the building itself – one of the finest examples of neo-gothic architecture in the UK – Purcell UK's project team co-ordinates the transfer of information via BIM models. Purcell digital design manager Dan Hoogeveen says the firm is working collaboratively with the client, Manchester council, and the likes of Mace, the project manager, while using the model data to identify and record the historically significant elements of the building.
Make it normal
For some the key to BIM's progress is to stop making it a "thing" and start making it normal practice. Anthony Kamil, digital integration manager at Lendlease, says that his firm – which built the BIM-supported Rathbone Square development in central London for Great Portland Estates – requires every project to be Level 2 enabled. And he acknowledges the industry's fatigue around the acronym: "We don't call people who deal with it 'BIM co-ordinators' any more; they're digital managers or something like that."
3. Top six BIM benefits
Which benefits do you commonly derive from BIM on projects in which it is utilised?
Benefit
%
Improved clash detection
59
Improved collaboration between project team members
48
Better design
39
Time savings in the design process
35
Reduced delivery reisk in construction phase
33
Cost savings in the design process
29
Supply and demand
One of the findings from Building's latest BIM survey was that firms found some clients remain unmoved by digital techniques. One solution, according to Dan Hoogeveen, digital design manager at conservation specialist architect Purcell UK, is to get the right people in place from the start of a job to make clear what the advantages of using it are going to be. "Client awareness can be a challenge, which is why it's important to have formative conversations at the very outset of a project, as is getting the right people to be involved.
"It's important that everyone, not just the client, has a full understanding of how BIM can be of benefit," says Hoogeveen, whose firm is using BIM on the refurbishments of Elizabeth Tower in London and Manchester Town Hall (see case study, right). "If just one individual isn't motivated by BIM, it can have a knock-on effect. We keep our senior staff very well versed, reinforcing industry knowledge within the organisation, giving out a positive message of what BIM can do and what it is capable of. It can enhance efficiencies and significantly de-risk a project."
While this message needs to be reinforced more in some quarters, for others it is like pushing an already open door. Helen Hare, head of project management at Great Portland Estates, says her firm is fully behind BIM and the benefits it can bring to a scheme, as on the multimillion-pound, 420,000ft² Make-designed Rathbone Square development in central London, now home to social media giant Facebook, retail outlets and 142 apartments (see case study, below).
"BIM requires significant investment, not least in training people and providing the hardware to run the mega-sized models involved. In the case of Rathbone Square we agreed to fund it. We saw it as an investment in our approach to development. With BIM we foresaw the importance of identifying problems before we got on site and rectifying those issues early. It meant easier and better installation and a better-quality build. It also resulted in a tidier site and better health and safety, including some 5.2 million safe working hours without an incident. BIM definitely contributes to a safer working environment," she says.
Case study: Rathbone Square
Helen Hare, head of project management at Great Portland Estates, says BIM was crucial in the firm's development of Rathbone Square in central London, which saw nearly 243,000ft² of the 420,000ft² building taken up by Facebook for its new European headquarters. "Take a walk in the basement and see the six or seven layers of M&E services, all installed on top of each other," says Hare. "We could see all of that before installation [through BIM] and the pre-fabrication element and see how far we could take it. The outcome was that every material was installed 'right first time'. That's what BIM gives you: certainty of the programme. BIM significantly helped de-risk Rathbone Square. And we built it 'virtually' before getting onto what was a very complicated site in central London, bordered by six boundaries and a railway line running underneath." The scheme was completed in November 2017.
Take it further
It's not just the forward-thinking client who is helping drive the uptake of digital capabilities in the industry. Melanie Dawson, director of digital construction at Northern Ireland-based Graham Group, says her firm has seen a push coming from the asset management side. "People are looking for longevity of information, for it to be a 'living thing' where information can be used for the whole lifecycle process of a building. We hand over a building, the keys and a virtual model so the manager or occupier can continue to monitor services, lights and so on." In the wake of the Grenfell Tower fire and following calls for a "golden thread" of accountability, this aspect could take on an added significance.
Dawson confirms that the scope of the technology is also moving beyond modelling, with her firm currently building a new £168m Norr-designed hospital in Aberdeen, the Baird Family Hospital and Anchor Centre, and using virtual reality headsets to show clinicians what their new workplace will look like. "We got great client engagement, holding 'VR days' where we were able to put medical staff into their new building, albeit in a virtual way."
And the University of Nottingham's Davidson agrees it is much more than just piecing together a group of digital models. "It's about how you use data and information together. People have to know what questions to ask from the beginning. What data do we need? How much? When? And in what format? Projects are often not approached in that procedural way. It can be quite challenging, so you have to define it."
4. Top six BIM problems
Which problems do you commonly encounter with using BIM on projects?
Problem
%
Increased cost in the design phase
37
Increased time spent in the design phase
37
Difficulties securing staff or other project team members with requisite expertise
37
Difficulty managing additional volume/complexity of digital information
27
Difficulty using BIM model to aid building's operational/FM phase
21
Poorer/more formulaic design
12
Use it wisely
The issue of how much information to go for is pertinent, as is having someone who understands the technology, says GPE's Hare. "How to get people engaged? I'd sit down with the team and have one knowledgeable person in the group and ask them 'what do you want from the model?'. People need to understand what it is they want from BIM. Some don't understand and they ask for too much. Take the analogy of a plasterboard wall; use BIM and it can tag every element, every stud, screw, layer of board. All would have to be referenced. Do we need that? No, all we need to know is the thickness of the wall and how that impacts what's around it."
Hare says GPE has put together a 10- to 15-page training document – a sort of "BIM For Dummies" – which she says has worked well for tier-one, tier-two and trade contractors. "Keep the terminology appropriate for the use to which you're putting it," she adds.
But some firms will be requiring those with whom it works to be BIM-friendly already. Sir Robert McAlpine's Leach says his firm has mandated BIM for every job since November 2017 and will soon include a statement of desired BIM capabilities when shopping for suppliers. "We are soon to be launching a comprehensive supply chain network portal, which will be live early next year, and BIM will be one of a number of key criteria we will use to judge who to take on. We won't rule a firm out because they don't do BIM, but if we're faced with two potential suppliers on the same price and [only] one is BIM-enabled or capable, we'll go with them."
GPE's Hare says not everyone will be convinced of the benefits. "Some people will always have a different approach to things like procurement and design. But over the next five years we'll see interest [in BIM] increase."
There is clearly a growing tide of enthusiasm for BIM and related technologies. But the question remains: how long before the rest of the industry catches up?