Birmingham New Street station's transformation is one of the most stunning achievements of recent time
Winner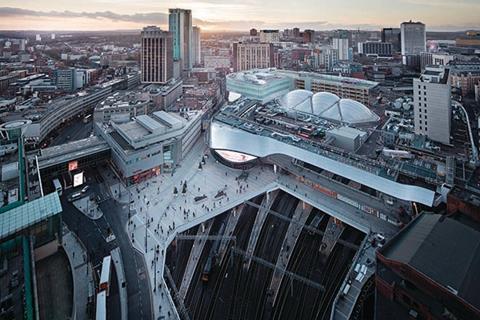 Birmingham New Street Station
Mace working in partnership with Network Rail and Atkins
Challenges don't come much bigger than those that afflicted the rebuilding of Birmingham New Street Station. The 1960s terminus was voted Britain's worst station in 2014, yet, as the UK's busiest station outside London, it had to remain open during the work. Much of the station was underground. All of which identifies New Street's transformation as one of the most stunning design, engineering and construction achievements of recent times. Some 13,500 tonnes of concrete were demolished and almost 60 flights of stairs, lifts and escalators installed during the project.
RUNNERS UP
Albert Sloman Library and Silberrad Student Centre
Entered by: Patel Taylor
Brutalism is not often an easy style for new architecture to complement. But Patel Taylor's additions to the University of Essex accomplish this with sensitivity, merging perfectly with their 1960s backdrop. Two buildings have been created: the first is a student centre with a pavilion-like elegance that works with its lakefront setting. The second, the library, evokes the strident monumentality of the original blocks.
Borders Railway
Turner & Townsend
Few projects could ask for a more prestigious accolade than being opened by The Queen on the day she became the longest serving monarch in British history. But the honour is a fitting reflection of the determination and expertise required to complete a project of this scale. The £294m 30-mile Borders Railway links Tweedbank to Edinburgh, the longest domestic rail line to open in the UK for a century. It required a Herculean engineering effort, with 42 bridges built and 50km of fencing put up.
City of Glasgow College, Riverside Campus
Michael Laird Architects / Reiach and Hall Architects
The Riverside Campus of the City of Glasgow College is sandwiched between the Gorbals district and the River Clyde, which still retains stretches of post-industrial blight. The project delivers physical regeneration by creating a building of architectural excellence that revitalises its locale, by the use of a colonnade that is threaded through the scheme's individual blocks as well as the local streetscape. It also provides social regeneration as a beacon for local learning.
Crossrail Place
Foster + Partners
Crossrail has been such a prominent feature of public and political debate for so long that it is possible to feel almost nonchalant about the enormity of its significance. Crossrail Place is the first element to open and a reminder of the project's achievement. Built over what will be Canary Wharf station when the Elizabeth line opens in 2018, Crossrail Place is a vast tubular funnel that provides garden, retail and leisure space above platforms. Submerged under a 310m long ETFE and timber lattice roof, the space is open at each end offering spectacular views.
Plymouth School of Creative Arts
Feilden Clegg Bradley Studios
Architect Feilden Clegg Bradley has carved a niche for itself as a designer of superlative education buildings and this school is no exception. Taking its cue from its brownfield site in a formerly industrial area, the building sports a ribbed metallic envelope and simple, linear massing. But a clue to the radical teaching strategies inside is evident in its red cladding, a nod to the colours adopted on the nearby dockyard and harbour sites. The school provides a fully immersive learning environment designed to stimulate creativity.
Sainsbury Wellcome Centre for Neural Circuits and Behaviour at University College London
Ian Ritchie Architects
This building matches scientific excellence with high quality architecture. The new 14,000m2 facility provides adaptable neuroscience teaching and lab space. With a brief tested by a historic context protected by two conservation areas, the building's rippled glass facade mitigates its impact on the surrounding area. Scientists are encouraged to write on the internal glass surface, essentially a giant whiteboard devised to stimulate discussion.
The Francis Crick Institute
Turner & Townsend
The Francis Crick Institute in London is the largest medical research facility of its kind in Europe, and one of the biggest in the world. Conceived on a gigantic scale, it has a 130m-long full-height central atrium resembling a cathedral nave. Air ducts are large enough to accommodate a London double-decker bus and flues are wide and long enough to host a fleet of transit vans. Of its 12 levels, four are underground. All of this has been achieved on a residential inner-city site next to St Pancras.
The Whitworth Art Gallery
ISG
The Whitworth Art Gallery in Manchester is more than an extension to a formerly tired cultural institution. It is a reimagining of what an art gallery is that breathes new life not just into the building itself, but also the surrounding area. Redesigned galleries reveal formerly hidden Victorian glories behind which a network of services have been threaded. Impressively, the gallery is naturally ventilated. Culturally-led regeneration is rarely achieved with this success.
Turnmill
Piercy & Company
Office architecture is not commonly associated with inspirational design, but Turnmill bucks the trend. Built on the site of a former nightclub from which it takes its name, the project marks an expansion of office space into a part of London identified with creative industries – and sets a benchmark for how the two can be combined. The facade, featuring handmade bricks, is a well-judged application of the local light-industrial context onto a standardised commercial template.