Places for People increased the number of homes built by 60% while continuing to manage more than 150,000 mainly affordable homes
Sponsored by ALUK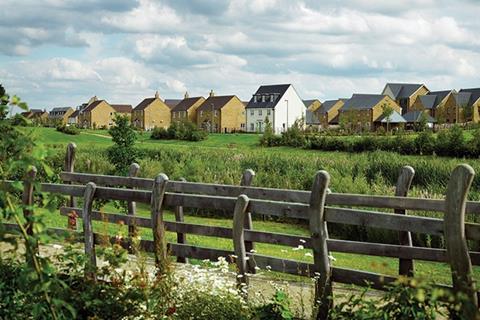 Places for People
Now in its 51st year, the former housing association made huge strides this year towards becoming one of the leading residential developers in the UK. The purchases of contractor Allenbuild and housebuilder Zero C were made as it doubled housebuilding turnover and increased the number of homes built by 60%. Innovative partnerships, such as with Balfour Beatty on the Olympic Park and Urban Splash for private rented housing, show it is not resting on its laurels after these acquisitions. In Aberdeen, a partnership with the local authority is seeing it build 300 affordable homes without government grant, while its commitment to making great places sets it apart from traditional housebuilders. All of this has been achieved while continuing to manage more than 150,000 mainly affordable homes for tenants.
RUNNERS UP
Berkeley Group
In its 40th year, Berkeley Group has built some of the housebuilding industry's most iconic developments, including One Tower Bridge and South Quay Plaza, while delivering more homes than ever before.
It launched a joint venture company, St William, with National Grid, as well as its "Urban House" design at the Kidbrooke Village development in Greenwich. The design doubles standard terrace densities while providing rooftop gardens and off-street parking. The company unveiled plans to become the UK's first carbon positive housebuilder.
Churchill Retirement Living
Retirement home developer Churchill in 2016 delivered an industry-leading profit margin of over 30% while keeping its clients so happy that 93% would recommend the firm to others. It grew the number of homes it built by more than 50% to almost 800, with nearly all of those delivered on brownfield sites. This year the firm set up the Churchill Foundation, designed to raise £250,000 for charities that help older people, expanding its role as a campaigning force for the over 60s.
Countryside
Housebuilder Countryside returned to the stock market in 2016, with a successful IPO raising £114m, enabling it to accelerate the development of key sites. It reported a third year of growth, with a 16% increase in homes built to almost 2,500 and a near doubling of underlying profit.
It is maintaining quality while it grows, with the company being shortlisted for a record nine projects in the Housing Design Awards. Customer satisfaction remains high despite its quick expansion, not something achieved by all its industry peers.
Crest Nicholson
The last year has been a record one for Crest Nicholson, with nearly 3,000 homes built, generating a 25% increase in turnover and 30% increase in pre-tax profit. Nine out of 10 customers would recommend the firm, which was ranked the best UK housebuilder in the Next Generation Sustainability benchmark, and which is one of few to have a post-occupation evaluation programme. It recorded a 90% engagement score on its employee survey, and invested more than £1m in its apprenticeship programme.
Hill
A former housing association contractor, Hill continued its recent transformation into a major force in the industry this year with an 18% rise in turnover and a 69% jump in profit. The company is now a top 20 housebuilder, winning plaudits for its approach to design and sustainability, with construction systems able to deliver Passivhaus performance. The firm set up a bespoke project business and life sciences joint venture this year, evidencing its desire for continual innovation.
Larkfleet Homes
The last year has seen strong growth for Larkfleet, which launched two new brands to deliver homes in the west of England and East Anglia. The firm received design awards, bringing its tally to over 45 in the last six years, and continues to fit Solar PV as standard. It made the first payments from its £500,000 Community Fund set up to back community projects around Larkfleet developments and is developing lakeside properties that can "float" when water levels rise.
Redrow Homes
Redrow has reported another stellar financial year, with turnover passing the £1bn mark and profit rising by more than 50%. It launched two new outlets and diversified its approach in London as the market changed. It has also received 11 design awards in the year as it continues to refine its New Heritage and Regent collections outside London. Innovations include post-exchange "welcome parties" where residents of a new development can meet each other before moving in.