The Whitworth Art Gallery's refurbishment is an excellent example of culturally-led regeneration
Winner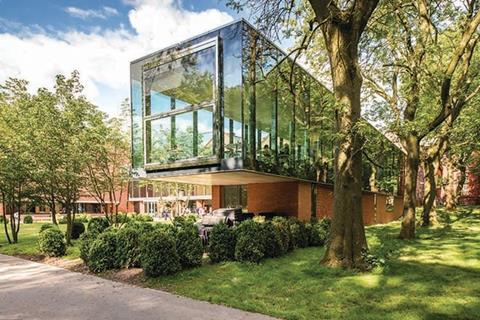 The Whitworth Art Gallery
ISG
The Whitworth Art Gallery is a radical refurbishment that marks a fundamental reimagining of what an art gallery is and also breathes new life into its surrounding area. Throughout, sensitively redesigned galleries have revealed formerly hidden Victorian glories and a series of bold new architectural interventions rejuvenate both the gallery's image and its relationship with its surroundings. Culturally-led regeneration is a tried and tested formula but it is rarely achieved as effectively as this.
RUNNERS UP
Academic Wing, Wolfson College
Entered by: Berman Guedes Stretton Architects
A carefully crafted treatment of historic buildings is the overriding design approach to this project for the University of Oxford. The new wing provides an entrance to the original 1970s Powell and Moya building but trades on the historic Oxford typological traditions of courtyards and enclosure. The original buildings have also been restored with new facilities in the north wing.
Adams Row EnerPHit
Sturgis Carbon Profiling
Upgrading a former 18th-century Georgian coach house in one of the country's most tightly prescribed conservation areas into a modern, energy efficient home is either a massive environmental design headache or an opportunity. This pilot scheme in Mayfair for Grosvenor's Passivhaus Retrofit scheme is the latter, and embarks upon a series of aesthetically discreet but effective low energy solutions to prove it.
Houses of Parliament Building Services
WSP | Parsons Brinckerhoff
Unbeknown to most, one part of the massive overhaul of the Palace of Westminster has already been completed. The upgrade to the Houses of Parliament's electrical, heating, cooling and power systems was the result of a detailed survey of its services infrastructure and carried out while the buildings were fully occupied. Its execution prioritised the protection of parliament's historic fabric.
Lews Castle
GRAHAM Construction
Set in one of the most remote locations in the British Isles, Lews Castle vies with its dramatic Hebridean coastal setting for visual impact. Prior to the refurbishment the 1840s Scottish Category A-listed building had been unoccupied for four years but had presented various conservation and usage challenges for the previous four decades. As well as the restoration of its grand historic interiors, the project created a new museum building and reception spaces.
Midland Goods Shed
Bennetts Associates
King's Cross solidifies its status as the inner-city urban regeneration project of our generation with this imaginative train shed refurbishment that extends the scheme into a retail amenity for the first time. As so often on the site, original Victorian industrial character is retained and restored amid a series of careful contemporary insertions that add dynamic new functionality into a formerly derelict historic structure.
Royal Hospital Chelsea, Long Wards
Peregrine Bryant Architecture and Building Conservation
Prior to this refurbishment, the standards of much of the accommodation of Christopher Wren's Royal Hospital Chelsea were rooted in the 17th century. The project offers modernisation of facilities while employing sensitivity for the historic fabric, embodying its core principle that the best protection for a historic building is a viable use.
The David Attenborough Building
Nicholas Hare Architects
Refurbishing concrete 1970s brutalist buildings does not present the easiest of challenges but this scheme realises its objectives with aplomb. The David Attenborough Building project in Cambridge introduces an array of environmental solutions to improve the building's formerly woeful thermal performance and energy efficiency. But it also makes a real design effort to soften and humanise an originally oppressive exterior.
The Lighthouse
Latitude Architects
The astonishing success of the King's Cross Central redevelopment resonates in this adjacent scheme which enjoys the ripple effect of local regeneration. Derelict for years, this grade II-listed Victorian corner building has its local landmark status fully restored by a radical facade retention refurbishment programme with historic sensitivity with searing design, structural and environmental inventiveness.
Wilton's Music Hall
Max Fordham
London's East End has few historical landmarks as culturally significant as this gloriously restored Victorian music hall.
The architect, whose Hackney Empire renovation also helped transform another revered east London entertainment institution, has crafted an exceptional artistic and environmental response that restores the historic fabric and imbues it with an array of sustainability features.