Shaftesbury Theatre's stunning new design rewrites the rules about historic conservation
Sponsored by Clement
Winner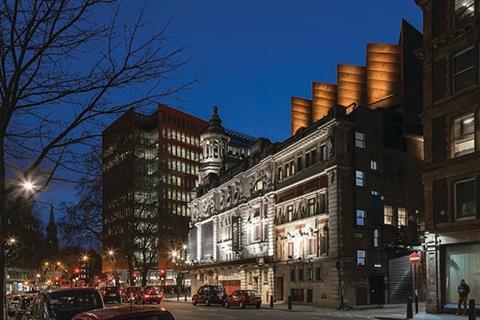 Shaftesbury Theatre
Bennetts Associates
This stunning new fly tower rewrites the rules about historic conservation. The original theatre is an Edwardian baroque pile whose terracotta facades are brimming with carvings and ornamentation. A conventional response might have been to cast any new intervention as a restrained supporting act to the riotous melodrama already in place. But instead this design transfuses the energy of the original into an extraordinary serrated box that now crowns the building, its exterior clad in a rusty weathered steel to reference the terracotta below.
HIGHLY COMMENDED
Mellor Primary School
Entered by: Sarah Wigglesworth Architects
This beautiful project provides a reminder that it is not costs that determine quality but design. Located in the Peak District, the architecture expresses the Forest School ethos on which the school is based. Accordingly, the building comprises a variety of timber cladding types, but best of all is the external habitat wall where a timber frame presents compartments into which recycled materials are stacked like sweets.
RUNNERS UP
32 Cleveland Street
Make architects
Make has transformed a former underground car park in London into a light-filled and stylish workplace. Using the utilitarian character of the former car park this refurbishment takes a minimalist approach to finishes and retains the exposed concrete beams and columns of its previous incarnation. Not only does it complement these with a polished concrete floor and restored pavement skylights but it constructs a spacious office around them.
Drawing Studio, Arts University Bournemouth
Morgan Sindall
This colourful pavilion is the first purpose-built drawing studio to be constructed at a British art school for more than a century and is CRAB studio founder Peter Cook's first building in the UK. It responds to the weight of expectation brilliantly. Outside, its bulbous form comprises bright blue monocoque steel cladding plates curved over a ribbed steel frame. A 30m2 oculus admits light into a whitewashed GRG-clad interior.
Hitchin Square
PRP
Sites don't come much more challenging than this, a bleak row of former garages appended onto a 1970s council estate.
The response imports the urban typologies of central London into the East End by creating a mews lined by six affordable rent homes grandly conceived as terraced townhouses. Hitchin Square shows how low income social housing can attain high quality.
Le Petit Fort
Hudson Architects
Occupying a spectacular shoreline location on a bay, this extraordinary private home in Jersey embraces its context by restoring and re-using the retained granite walls of a demolished farmstead. This gesture sets the defensive tone of the exterior with its strong horizontal lines, swooping overhangs and Corten panelling suggesting a fort-like resilience as defiant as the winds and waves that batter the shore.
London Bridge Staircase
bere:architects
Prior to this project's completion, the public stairs that led down from the north-eastern corner of London Bridge Station to the river walkway below were a grim exercise in civic mean-spiritedness. Not so today as bere:architects' elegant pirouetting new steel staircase creates a vertical catwalk suspended dramatically over the Thames. This offers users a more generous, cosmopolitan encounter with the bridge.
Richmond Adult Community College
Duggan Morris Architects
This scheme represents an inspiring response to a complex brief and difficult site. The conservation area project consolidates two former college sites and retains several existing buildings. Yet it crafts a convincing new architecture of pale, sepulchral and cubic brick volumes that respond well to the more ornate Edwardian blocks and are woven into the site to create a rejuvenated courtyard cluster of old and new.
The Portland Collection
AECOM / Hugh Broughton Architects
This elegant, pavilion-like new art gallery enjoys a historic location within the Victorian walls of a former racehorse training paddock itself located within the grounds of grade I-listed Welbeck Abbey in Nottinghamshire. Therefore the architecture adopts simple geometries and a honed material palette of sandy brickwork and stone in order to relate to its protected heritage context.
Wilton's Music Hall
Max Fordham
Most music halls have now gone which is why those remaining, such as Wilton's, are a precious link between the past and present. The architect recognises the weight of this responsibility by crafting an exceptional artistic and environmental response that not only restores the historic fabric to its magnificent original state but imbues it with an innovative array of sustainability features.