Read about the winner and runners up for this year's Building Performance Award

Winner: Big Data Institute
Entered by Make Architects
The Big Data institute is a 7,500m² building designed for the University of Oxford to store, analyse and process large quantities of data to provide insights into illnesses and treatments worldwide. Employing extensive passive design, using assisted natural ventilation and varying facade solidity to reduce solar gain, air in the 600m subterranean labyrinth is drawn from outside, and is either cooled or warmed by the structure's concrete walls, which remain a relatively constant 12°C, to regulate temperatures in summer and winter.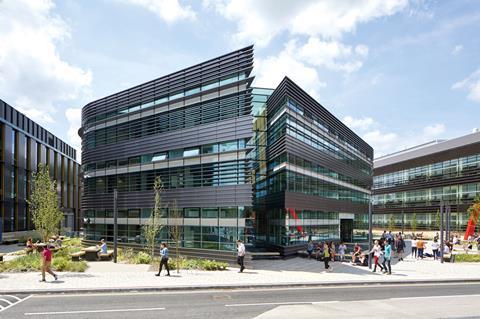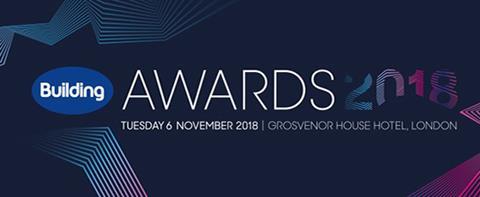 Runners-up
David Attenborough Building
Entered by BuroHappold Engineering
Named in honour of Sir David Attenborough, the 17,000m² building at the University of Cambridge, built in the 1960s, is a focal point for conservation research, with a museum, laboratories, lecture theatres and offices. This major refurbishment reduced operational CO₂ emissions by 35%. Biodiversity roofs equivalent to 61% of roof area have been provided, while the main foyer features a four-storey green wall with tropical plants to reduce stress and improve air quality.
Dudley College Advance II
Entered by Dudley College Advance ll Alliance
Advance II provides advanced construction skills training at Dudley College for 16- to 18-year-olds, including apprenticeships. The building has an engineered natural ventilation system that includes trickle ventilation for wintertime and manual control of opening vents and windows to adjust for fresh air and avoid overheating in summer. The building achieves 99% of the targeted success criteria, while exceeding targets on 23% of KPIs, including an EPC A rating, reduced carbon, and energy below 80% of notional building baseline targets.
ISTeC Building
Entered by Nottingham Trent University
The university's in-house construction team completed the £11m Interdisciplinary Science & Technology Centre (ISTeC) on budget and ahead of programme. The three-floor, 3,210m² world-class facility – which includes teaching and research labs, including for robotics research and a bioscience "superlab" – incorporates a range of sustainability features, including variable air volume technology. It inspires students through its exceptional sustainability credentials, supporting the university's commitment to carbon reduction.
Number One, Kirkstall Forge
Entered by CEG / Hoare Lea
This 110,000ft², seven-storey building is the first phase of the £400m Kirkstall Forge redevelopment in Leeds. A grade A high-performance commercial workspace, Number One has been adapted to respond to evolving working practices in a rural location. The design reduces energy use by optimising the building's envelope, good daylight levels are provided and lighting is zoned and linked to daylight sensors to reduce the need for artificial lighting. The building also provides high levels of filtered and tempered fresh air to the office spaces.
The Engine Shed
Entered by Max Fordham
Created and managed by Historic Environment Scotland, this conservation centre in Stirling educates people about the skills and materials required to conserve and maintain traditional buildings. Max Fordham was asked to help define the sustainable design criteria during the briefing process and brought various stakeholders together, creating a bespoke sustainability matrix to highlight the building's sustainability aspirations. The firm gave continuous support through the project and is providing a second year of aftercare.
Urban Sciences Building, Newcastle University
Entered by Turner & Townsend
Completed on time and within budget, the £46m centre is used daily by 1,500 students, researchers and staff from the School of Computing. BIM delivery was a major element in the university's mechanism to undertake its research into urban sustainability. In addition to BREEAM principles, a bespoke sustainability framework was put in place to drive sustainability beyond BREEAM, with an auditable approach designed to enhance targets during construction and operation.