Read about this year's winner and runners-up of the Offsite Project of the Year award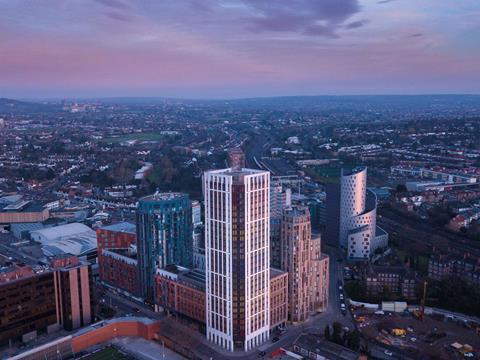 Winner: Apex House
Entered by HTA Design
Europe's tallest modular building, Apex House is a student block in Wembley, west London. The 29-storey tower was built in less than a year and required many technical innovations. HTA designed the project in Revit from the outset and co-ordinated the model with other disciplines. The 679 modules were made at Vision Modular Systems' Bedfordshire factory and installed, up to 11 a day, fully furnished.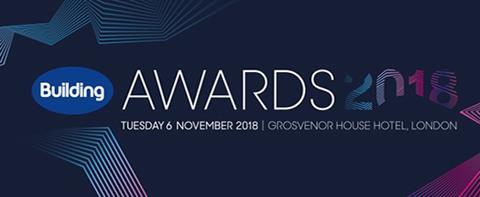 Runners-up
Arborfield Green
Entered by Crest Nicholson
The housebuilder trialled three prototypes from its new core range of offsite manufactured homes – using one timber-based and two light-gauge steel-based structural frames from UK factories – at Arborfield Green, a garden village on a former Ministry of Defence site in Berkshire. It took eight working days from starting to erect the frames to being fully weatherproof. Sustainability criteria were fully met.
Ashville College Sports Centre
Entered by DLG Architects
A long-time collaborator with the Harrogate-based college, DLG was charged with developing new sports facilities. Time pressures led the move to offsite with Caledonion Modular, so building work could start during demolition, site clearance, groundworks and foundations, slicing months off the programme and saving the college money by enabling neighbouring facilities to remain open. The project finished within the 20-week construction programme and on budget.
Project Capella
Entered by Curtins
On this biomedical research lab for the University of Cambridge, Curtins and hybrid frame contractor PCE needed to simplify construction logistics to meet the university's requirements, so 80% of the frame and facade was manufactured offsite as precast units. Curtins developed a hybrid form design for construction comprising composite steel Delta Beams, precast concrete units and in-situ concrete, saving on the structural depth compared with an in-situ concrete flat slab.
Highpoint
Entered by AKT II
One of the UK's tallest build-to-rent developments, Mace's Highpoint in south London is a 47-storey octagonal precast concrete tower with an accompanying eight-storey podium block of cross-laminated timber. The focus was on innovative techniques that would allow a quick turnaround while being sustainable, high-quality and cost-effective.
Holiday Inn Express, Trafford
Entered by Chapman Taylor Architects
This 220-bedroom hotel was built in 39 weeks versus 60-75 weeks for traditional methods. Money was saved on build costs and nearly six months on the programme, letting the client realise an early return on investment. The modular installation allowed the scheme to install all 220 rooms within a three-week window.
Quadram Institute
Entered by SES Engineering Services
This state-of-the-art building will house research teams from the Institute of Food Research, the University of East Anglia, and Norfolk and Norwich University Hospitals NHS Foundation Trust. The use of offsite resulted in a reduction of 8,000 on-site man-hours and saved 1,000 days on the programme. SES' collaborative approach to decision-making and efficient offsite manufacturing ensured this £19m M&E project was completed to programme and within budget.
Riverside Campus
Entered by Portakabin
Designed by architect Surface To Air, this is the largest offsite free school in the UK and the seventh project to be built by Portakabin for the London borough of Barking and Dagenham. Manufacturing and partial fit-out offsite ensured the whole campus could be completed up to 50% faster than with traditional methods, allowing simultaneous on-site foundation and landscaping works and offsite construction.
The Import Building
Entered by Galliford Try
The redevelopment of this building in London's East India Dock included insertion of a 10-storey internal timber structure to add commercial floor space, a two-storey extension with a timber black-glazed facade and a timber entrance way. Construction combined modular timber-framed glazed facades with an internal glulam and CLT structure wrapping the walls, floors and roof panels, as well as CLT stairs. Galliford Try believed offsite manufacture was the only way to get the product required to meet project key performance indicators.
Urban Sciences Building, Newcastle University
Entered by NG Bailey
Newcastle University's 135,000ft² Urban Sciences Building comprises open-plan office and teaching accommodation, light workshops and laboratories, and associated administration and collaborative spaces. NG Bailey's designers, BIM co-ordinators and engineers worked with the university to design and build offsite 18 plant rooms with interconnected smart metering that predicts building need rather than response. Offsite also played a role in substantially improving energy consumption, building running costs and overall energy efficiency levels.