Read about the winner and nominated entries for this year's Product and Technical Innovation award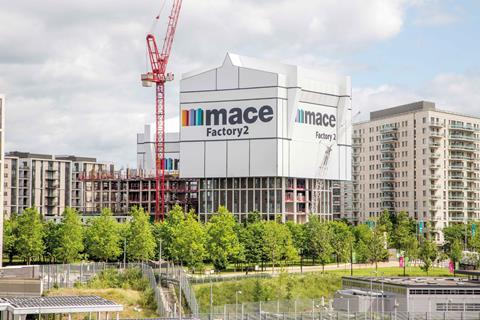 Winner: Rising Factory
Mace
Developed by Mace, the Rising Factory has the volume of the Tower of London, giving it the capacity and flexibility to construct any building with a floor plate within these dimensions. The product is a steel-framed structure with gantry cranes operating inside it, built around the parameters of a normal tower block footprint. The entire factory sits on four corner columns, with a special bracket fitted to each column and attached to the "factory" using 75mm bolts. A hydraulic jack sits above a small metal plate on top of the bracket, meaning the whole weight of the Rising Factory is held on about two inches of steel in each corner. Each jack can lift 300 tonnes. The factory eliminates the need for working outside the structure and enables cladding installation, one of the industry's most hazardous processes, to be performed inside it.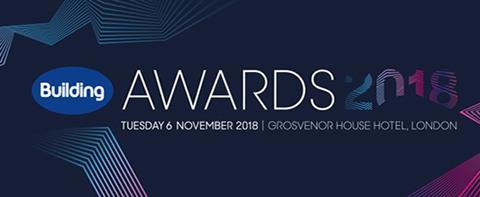 Runners-up
CFRP
Eckersley O'Callaghan
Carbon fibre reinforced polymer (CFRP) is a popular material in sport, motor racing and aerospace, but is still a relatively new material in construction. Eckersley O'Callaghan's relationship with Apple has allowed it to progress the development of CFRP as a structural material across several projects, including the design and completion last year of the Steve Jobs Theater at the tech giant's California HQ, featuring a CFRP roof 47m in diameter, the largest of its kind in the world. It comprised 44 radial panels that were assembled on site before being raised into position in one lift. At 40.7 tonnes, the CFRP structural mass is only 51% of the roof's overall mass, the rest being made up of ceiling, services and paint. CFRP was also used on two earlier collaborations between Eckersley O'Callaghan and Apple, in China and Turkey.
Corefix
Metex Online
Corefix is a heavy-duty wall-fixing solution for modern homes, allowing extremely heavy loads such as boilers, radiators, and kitchen and bathroom wall units to be quickly and safely secured to plasterboard or drylined cavity walls. All products in the range have been tested to more than 250kg on four fixings and independently laboratory tested to give a safe working load of 100kg. The product was designed by Metex director Daniel Bamford, a product design engineer, and was born out of his frustration at being unable to find a suitable, easy-to-use fixing to safely secure wall-hung kitchen cabinets while embarking on his own self-build project. Unlike plastic versions, the Corefix's steel core transfers the load from the plasterboard to the solid blockwork or masonry material behind the plasterboard, which allows heavy loads to be securely supported without reliance on the board.
Etorch
Imperial Thermal Engineering
The use of gas torches to dry roofs prior to repairs cause fires that can cost the economy hundreds of millions of pounds every year. The Etorch has been developed as a safe means of undertaking roofing works without a naked flame. Most roof fires are caused by naked flames at 1,100ºC, and the Etorch produces only 24kW of energy versus the 75kW used by an equivalent gas torch. The Etorch rapidly dries all types of surfaces, including new and old felt coverings, with zero risk of fire. It has also been tested on petroleum fuel spillages, which can be rapidly dried without ignition or resulting fire. The Etorch costs less than 4p/m2 to dry wet concrete, compared with liquid propane gas at 36p/m2. And as soon as the trigger is released the power consumption instantly stops, further enhancing the safety aspect of the product.
SuperFlex20 Asphalt
Aggregate Industries
SuperFlex20 is a single-layer asphalt – binder and surface course in one – that uses low-temperature mixing technology and a 20mm aggregate, not traditionally used in a surface course mix design, to enable very thick lifts to be laid in a single pass. It removes the need for laying two separate layers – a binder course and a surface course – so the asphalt can be laid faster than with other methods. Benefits include high fatigue resistance, enhanced durability and a lower carbon footprint. Working on the A3 Kingston bypass, AI collaborated with Transport for London and Kier to design a unique 20mm SuperFlex mixture, incorporating 20mm aggregate in order to increase the profile capability with enhanced compaction. Using the product sped up resurfacing work from nine to just four weeks, alleviating disruption for the public and nearby residents.