Read about the winner and shortlisted entries for this year's Digital Construction Award
Winner: 7D BIM
Entered by Cartwright Pickard
Cartwright Pickard has finished a two-year research project with Glasgow's Mackintosh School of Architecture to create the world's first prototype 7D BIM model. 7D BIM integrates whole-life cost and carbon estimation with BIM, assisting designers' decision-making with accurate building performance data and revealing long-term environmental impact and running costs. The firm believes this prototype software has the long-term potential to create a major step change in the UK construction industry's efficiency and productivity.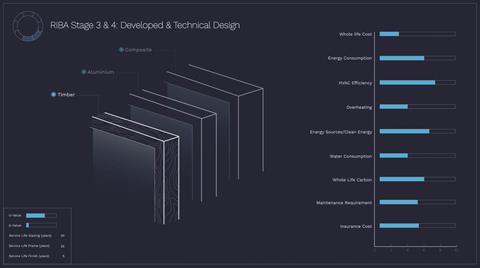 Runners-up
Buildots
Buildots
Buildots' product combines cutting-edge artificial intelligence with simple, wearable technology. It uses lightweight hard hat-mounted 360° cameras that unobtrusively capture data as staff go about their work, so can be adopted without intrusive training sessions or downtime. Once data has been collected it is automatically analysed to build a complete and up-to-the-moment snapshot of every aspect of construction. Combined with BIM, Buildots creates an always-accurate digital twin that enables effective remote monitoring of the project.
HOOMCTRL
4PS UK
HOOMCTRL is a cloud-based collaboration platform for homebuyers and housebuilders. It streamlines the homebuying process from registering interest in a new development, through to selecting buyer options such as specification of flooring, kitchen appliances and electrical options, including the relevant additional costs, then acceptance and digital sign-off. Following build completion, the buyer can use the portal for aftercare and snagging, which can be integrated with a housebuilder's own customer relationship management system and website.
London Screen Academy
Willmott Dixon Interiors
Central to WDI's approach to this project was the implementation of BIM Level 2. To produce more accurate quantities more quickly during the tender and construction stage, 5D quantities take-offs software was used. The firm also introduced Dalux Field software on the project, allowing the whole team to access the latest model, drawings and data from their mobile devices. The project demonstrates effective delivery of BIM requirements according to the agreed standard and digital tools with minimum support and supervision.
Lucas app suite
Lucas UK Group
A long-term technology partner with Formula 1 and engineering firm McLaren, Lucas Group has long been aware of the need to introduce new technologies into construction. This suite of bespoke apps, created mostly in-house – Site, Team, Client and HQ – allow the firm to work seamlessly with its clients' construction management programmes. Lucas can thereby operate compatibly, streamline its administration functions, make its workflows more fluid and become a leaner operator.
Mayhew Theatre
Gilbert-Ash
The brief was to transform an unused space within a courtyard of the grade I-listed Foreign and Commonwealth Office in London into a state-of-the-art virtual learning facility for the Diplomatic Academy. Due to the complex design and restrictive site logistics, the project required the very latest technology. Digital construction methods provided a platform for sharing detailed design information, leading to a more streamlined co-ordination of subcontractors as well as improved communication between contractor, client, architect and structural engineer.
New Science Building, University of East Anglia
FBM Architects
For this state-of-the-art science building, the design team used BIM to co-ordinate complex laboratory M&E and fit-out. The project included 55 fume cupboards, 10,500m of linear pipework, an 890m² super-lab for teaching 140 students at once and a 28m-high chimney. A transparent digital design process using Dalux BIM Viewer with a user-friendly interface let clients be involved at all times, while FBM produced a Revit model that de-risked the tender process, delivering the scheme well under budget.
Thoughtful Design Toolkit
HLM Architects
Comprising three elements – Insight, Healthcheck and Impact – HLM's Thoughtful Design Toolkit is a suite of digital tools that enable designers and commissioning clients to define, develop and assess their building projects in an evidence-based way. Used on construction of Keele University's innovation centre and student accommodation at the University of St Andrews, the toolkit enables a social return on investment calculation to be undertaken, based on the data outputs.