As you can see, most of the heavy lifting is done at Terminal 5. Now, BAA has to get all the systems, from baggage handling to security systems, integrated by March 2008.
Heathrow's Terminal 5 is looking great. Now that 5 million m3 of earth have been shifted, 1.2 million m3 of concrete have been poured, 105,000 tonnes of steel placed and 30,000 m2 of glass positioned, you get a very good idea of how the huge building will look when completed. It's already the most imposing structure at Heathrow, with its sweeping waveform roof and glazed facade. The frame of the multistorey car park and its swooping entrance and exit ramps on the western side of the main terminal are complete and work is progressing well on the plaza between the two buildings. Inside, you can stand in the departures lounge on the top floor, marvel at the dramatic roof and look out through the all-but-complete cladding to the airport beyond. It doesn't take much to imagine this is April 2008 and you are checking in at the start of something even more exotic.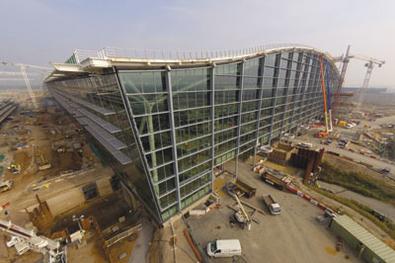 Right now, Andrew Wolstenholme, BAA's T5 projects director, can afford to feel optimistic. "We find ourselves in a very healthy state. T5 is 72% complete, we have spent a total of £3bn, including £1bn in the past year, which is bang on target," he says. "Most other projects would be in a defensive position at this stage. It's a great place to be on a project of this size and scale."
But Wolstenholme is all too aware there is still a lot to do before T5's (very precise) opening time of 4am on 30 March 2008. The heavy-duty work may be largely complete but the project is now entering the critical phase of getting all the elements to work together, thereby transforming the building into a fully functioning airport terminal. Wolstenholme says: "At Chep Lak Kok airport [in Hong Kong] the reason why they didn't meet functionality on opening day was because they had a critical path that was under severe stress. The focus now is very much on the elements that could go wrong."
These elements fall into three main categories. First, all the individual building systems have to be commissioned and integrated for the building to function properly. For example, the security systems have to interface with CCTV and public announcement systems (see "Bringing it all together", page 56). Second, the fit-out phase brings with it many more on-site specialists than previously, and their work has to be carefully managed to ensure it is good quality, integrates properly with other elements and is finished on time. And then there is the possibility of industrial action as the building nears completion; even the groundbreaking T5 agreement and generous pay haven't prevented strikes. There is a fourth issue, but it's one the project team steadfastly refuse to discuss: what impact a takeover of BAA by Spanish contractor Ferrovial might have on the scheme.
Commissioning of building systems has already begun and will soon become the primary focus of the project. The key is to start commissioning well in advance of opening to allow time to sort out problems, ensure systems are integrated and train people in how to use them. Particularly critical systems, including the energy centre, are being commissioned 1000 days before opening and the baggage handling systems 900 days before - indeed, the baggage handling conveyors and sorters have already been started up. Because these systems are up and running early, a facilities manager has already been appointed and the operational team is being built up. "In terms of managing risk, having the operational team in early takes much of this away," says Wolstenholme.
This change in emphasis has driven a change in the way the project is programmed. Until now, the emphasis has been on getting the terminal built by simply maximising the construction output on site. Now this has changed to working backwards from that all-important 2008 deadline. This involves working out what the critical elements are and when these need to be finished, then adjusting the programme to ensure they are finished in time.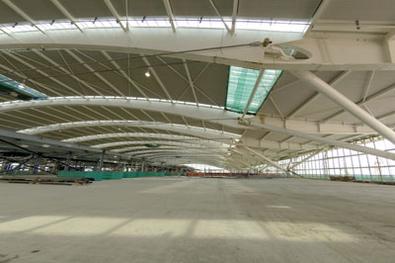 A tool called the completions management system has been borrowed from the oil-and-gas industry to help work out the critical dates from installation to final integration. "It allows us to see clearly how we are going to complete the job," explains John Milford, head of the buildings team at T5. The tool relies on four stages, called Authorisation to Proceed. The first stage, ATP1, is the date by which the construction of an element, such as a pump, must be finished; ATP2 is the date by which it has to be commissioned with other immediate components; APT3 is the date by which all these subsystems are linked together as a functioning whole; and ATP4 is the date on which this and other systems are integrated. The systems integration team sets the ATP3 date, which in turn drives the ATP2 date and the ATP1 dates.
The buildings team is also managing the army of fit-out specialists. "We've gone from a small number of large suppliers to a large number of small suppliers," explains Milford. "A lot of them come from a hard-nosed, lump-sum environment. Here it's all about integrated team working." Milford says that, unlike the large specialists, they need training before coming on site on issues including health and safety, minimising environmental impact, the materials and tools they can use and even car parking.
Ensuring specialists work efficiently to deliver a "right first time" product is also vital to smooth project delivery. BAA has come up with a facility called QBIC, which stands for quality, benchmark and integration. This is a space in which specialists can physically build part of their system, such as glazed screens, ceiling tiles and doors, before going on site. This gives them an opportunity to sequence the work for maximum productivity and to ensure it interfaces with the other specialists' work. It also allows stakeholders, which range from the police to British Airways, to check they are satisfied with quality and functionality.
The focus now is very much on the elements that could go wrong

Andrew Wolstenholme, T5 projects director, BAA
Getting the remaining heavy construction work completed early also helps ease the pressures of these critical last phases. An example is the driverless train tunnel used to link the main terminal with its two satellite buildings. This will be handed over in eight months rather than the originally planned 11 months (see "Phase two", left), giving the track transit system team an extra three months to complete their work. "By bringing operations forward we are 'de-risking' the project. We are not trying to hand it over early," says Wolstenholme.
Elsewhere, sophisticated tools are being used to help manage complex construction interfaces. "What we are now facing are some fairly complex interfaces on the project as we bolt all the elements together," explains Rob Stewart, head of infrastructure and commissioning. "It was always going to be a challenging piece of work to integrate these."
A computer modelling tool is being used to ensure work progresses as efficiently as possible on the interface between the multistorey car park, the cladding on the main terminal 30 m away and the railway station that sits in between these two buildings. The tool allows the team to model the construction of these elements step-by-step so the details, the sequencing and logistics can be optimised and any clashes eliminated. "It means you can be very confident you will meet your programme," says Stewart.
As the project progresses, completed areas are used to help speed up work. For example, workers can now enjoy driving down their own private (for now) spur road from the M25 to temporary car parks on completed aircraft hardstanding right next to the terminal. The welfare area where workers get changed and the canteen are now right inside the main terminal. This means workers no longer have to face being bussed in from the edge of the development and don't waste time on long walks to canteen facilities away from the main building.
But could all this effort be laid to waste by strikes at the project's closing phases? Wolstenholme has already had a taste of this over issues including how much bonus contractor Laing O' Rourke's workers should enjoy on top of their £55,000 a year wages. Wolstenholme says labour relations are good, the strikes only affected about 900 people out of more than 7000 on site, and work on the critical path was unaffected. But he is sanguine about the possibility of further action.
"We recognise this is a risk towards the end of the programme, that's why we have the T5 agreement. Also we are not in a defensive position so we can manage this risk," he says. "We wouldn't be where we are today without it [the agreement]."
Given the combination of effort, technology and foresight that is being devoted to finishing T5 on time, Wolstenholme should feel confident about booking a very long holiday, kicking off at about 4am on 30 March 2008.
Bringing it all together
The phrase "systems integration" may conjure up visions of nerds with thick glasses crouched behind computer screens but, in reality, it is the single most crucial element in ensuring T5 opens on time. "The technologies that drive T5 are the biggest risk to its success," warns Nick Gaines, BAA's head of systems for T5. "There is one common theme with megaprojects: they open late, over budget and often without the original, planned capabilities. My wife gave me a book on megaproject failures as a present and the first page I looked at was on the failure of the baggage systems at Denver airport."
The reason systems integration is so important is that all the systems - including baggage handling, fire, public announcement systems, radio and cellular communications, building services, security and access systems, and passenger information - need to linked together: baggage handling systems are linked to passenger information systems so people know where to find their bags; if there is a fire, the CCTV needs to be linked to the fire alarm so controllers can see what is happening in the area where the alarm was set off, the PA system has to be linked so controllers can make localised announcements, and the controllers must also be able to release secured doors so people can escape. If the baggage handling links aren't up and running in time, there will be chaos when the terminal opens. If the fire-related systems don't work, it won't be able to open at all.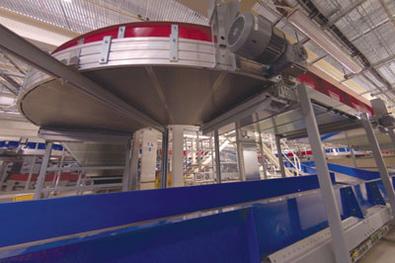 The other crucial element is ensuring that these systems are robust so problems don't materialise unexpectedly. It must also be possible to update parts of the system without causing disruption. The final challenge faced by Gaines' team is ensuring they have time to install and test the system.
The key is simplicity. A good example is the approach adopted for the mobile telephone network equipment. "We didn't want to leave this to the providers as it would mean five separate networks. This would be disruptive and they would duplicate each other," explains Jim Read, director at consultant Arup, which is designing T5's IT, security and information systems. The answer is to install one cellular network that is rented out to the five network providers. This also has another key advantage; according to Read the building will enjoy better mobile coverage than if the systems had been installed by the providers.
How the different systems communicate with each other is also important. If a number of different electronic "languages" are used, it makes integration far more complex and potentially unreliable. A common language called Internet Protocol is being used to link all the systems at T5. "A common IP infrastructure is much simpler," says Read. "The industry has a number of robust and proven systems, plus this is what the users expect of us." It also makes adding new systems later much easier.
Only tried-and-tested systems are being installed at T5, which minimises risk. "My first principle is simple, which is that I don't want any innovation," says Gaines. "This is a difficult thing to say in a market dominated by innovation." Nevertheless the team still want to install the latest tried-and-tested systems at T5. "It would be folly to install the active systems at the same time as the cabling as this was done three years ago," says Read. "We will install the active systems at the last possible moment so we can take advantage of the latest technology."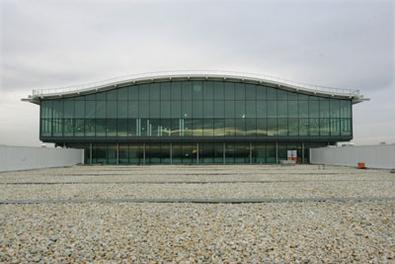 Limiting the amount of communication between the systems is also important. "We have been involved in programmes where people have tried to integrate everything whether it is needed or not," says Graeme Stacey of Ultra Electronics Airport Systems, which is supplying the integration systems. A hub called the airport integration broker is the answer - it only links systems when necessary. "It's like a waiter in a restaurant," explains Stacey. "They don't bring all the food on the menu but only what you have ordered."
The system has also been simplified for the controllers managing it. Instead of a control room stuffed with individual PCs for each system, controllers will use one interface called the building systems integration platform. "Separate interfaces cause training problems for the users and they won't be able to remember the passwords for the different PCs," explains Stacey.
All the individual elements and systems will be tested in a dedicated building called the interface test facility before being installed. Different types of flatscreen information boards are tested as well as completed systems. But all these precautions aren't enough for Gaines, who is haunted by an early warning. "When I started I was told everyone who had done this job on previous projects had lost their job afterwards," he laughs. "Our strategy is to finish T5 in September next year to give us six months of testing and commissioning to make sure we can open on the day."
We are now facing some fairly complex interfaces as we bolt the elements together. It was always going to be a challenge

Rob Stewart, head of infrastructure and commissioning, BAA
Phase two: better and cheaper
T5 may be the most progressive project in the UK but it is already being superseded by its smallest sibling, T5C, which is being constructed separately from the main terminal. BAA is using the lessons learned at T5 to inform this second, much smaller phase of the project.
The first phase consists of the main terminal, T5A and a much smaller building in front of it, T5B. These open in 2008. The second phase consists of T5C, which is virtually identical to T5B but won't open until 2011. T5A and B are racing towards completion but, at the moment, T5C is nearing the end of the piling stage.
Carl Devlin is the project leader for phase two. "We spent a lot of time looking back at T5. We looked at the below-ground works to learn the lessons of phase one so we could come up with an even more efficient production unit for phase two," he says. Phase two is being constructed using the T5 agreement wherein BAA takes the financial risk away from its suppliers and promotes integrated team working. The difference is that BAA has set even higher performance levels for its suppliers. "We have a very high performing team which is built around that of phase one, so they are used to the T5 environment," says Devlin.
"We've learned that a lot of it is about understanding the end result and why we are doing it," says Devlin. "We have put processes in place over and above what you would normally do to get it right first time. It's an ever-evolving process. We had a good result on phase one; here we are doing it better and getting a better result for less money."
The tunnels used for the driverless trains that get passengers to the satellite terminals are a good example. The team went through what Devlin describes as an already well planned job to see if the tunnels could be delivered even more quickly. They managed to cut the original 11-month schedule down to just eight months.
This has been achieved by resequencing work, opening up more work fronts and bringing more plant on to site. Devlin says there is real enthusiasm for this job: 2000 m3 of concrete were poured in the week before Christmas, "which is a hell of a lot of concrete" for a time when most people would be winding down for the holiday. These lessons will be carried on to inform the next BAA projects – and there are plenty of those in the pipeline.
Terminal 5, Heathrow key points
Heavy construction drawing to a close at T5
Change in emphasis from construction to commissioning the building systems
Integrating the systems is crucial to ensuring the project opens on time
Team now working from the completion date backwards to ensure all the systems function
What's done
Twin rivers running across site diverted
Structure and roof finished on main terminal building. Cladding completed apart from some small areas left unfinished for access
T5B, the first of two satellite buildings next
to the main terminal (T5A), is watertight
Car park frame and exit ramp complete
1.3 km airside road tunnel linking T5 to rest of Heathrow handed over
Tube and Heathrow Express tunnelling done
M25 spur road finished
Ten aircraft stands handed over to Heathrow
Aircraft taxiways on southern side complete
What's left
Installation of the bridges linking the drop-off points on car park and T5A starts this month
Roof structure and ETFE covering to concourse above Tube station to start this year
Installation of escalator, lift and baggage handling systems in T5A under way. Fit-out and services on T5A and T5B will be completed by the end of this year
Track and M&E equipment being installed in the Piccadilly Line, Heathrow Express and the track transit system between terminals
Piling started on 600-bed hotel on the site
T5C substructures well advanced
Air traffic control tower being fitted out.
Will be handed over this month
Downloads
Other, Size 0 kb

Other, Size 0 kb