It will be elbows out for places at the next £7bn construction framework
Scape, which will award up to £10bn of construction work under its frameworks in the next 18 months, ranks as one of the most significant sources of public sector jobs in the UK.
It is looking for individual firms and consortiums to bid under its new £1bn consultancy frameworks, which will run from August for four years. But there is an even bigger prize to be won this year when it launches its next national construction framework, widely expected to be worth more than £7bn, the value of the current programme for major works. Its other frameworks include civil engineering, minor works and regional construction.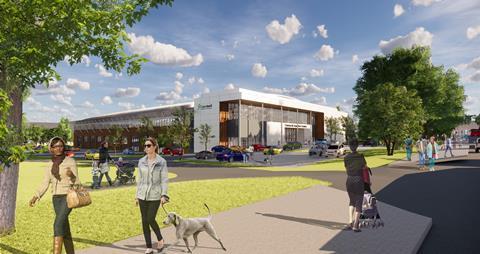 Led by chief executive Mark Robinson since 2009, the procurement group – which employs about 80 people and is headquartered in Nottingham and with a London office – has seen rapid growth in the past decade. Last year it reported a turnover of £12m and pre-tax profit of £2.4m on the back of fees generated by the volume of construction work procured – up on the previous year from £11m and £1m respectively.
As the industry braces itself for major disruption in the face of Covid-19, public sector work procured through the likes of Scape could increasingly become a lifeline for many firms.
How contractors win work
Tier 1 contractors that bid for a place on its frameworks are evaluated on criteria that include financial standing, technical capacity and commitment to social value. It has a reputation for driving quick and easy procurement routes, claiming that its single supplier model can speed up projects getting to site by 20 weeks.
For some major contractors it has proved a useful route for increasing volume of work as well as a diversity of projects that can range from education, leisure, law and order and offices.
Willmott Dixon, Robertson, Wates and Lendlease are all on the existing national construction framework which runs until 2021, with Lendlease winning the UK-wide lot covering the largest projects worth £50m-plus. Wates is on the lot covering the next tier of projects down, worth between £10m-£50m, and under this scooped the Sandwell aquatics centre for the 2022 Commonwealth Games. Willmott Dixon bagged two regional lots covering England and Northern Ireland and Wales, while Robertson has won the Scotland lot – all the regional lots are for projects worth between £2m-£20m.
One source said all major contractors would be vying for work in the next round and would be eager to hear how the project values will be structured in future.
Scape's competitors
The public sector frameworks market is becoming increasingly sophisticated and there are many different routes now available to clients. Since it started trading in its current form in 2006 Scape has taken a leading role, saying over 600 public bodies use its services.
While it is owned by six local authorities (Derby city, Derbyshire county, Nottingham city, Nottingham county, Gateshead and Warwickshire county councils) it has moved beyond its origins and now covers the whole country.
A growing trend of individual councils wanting to award contracts through their own mini competitions
Local authorities in different parts of the UK have also come together to form frameworks such as the Southern Construction Framework and YORbuild. There is also the central government-led Crown Commercial Service which runs a £30bn framework for construction. New entrant Pagabo broke into the market in 2013 and now has a national framework for professional services and one for major works, worth a combined £10bn and both running from April for four years. Pagabo also launched a refit and refurbishment framework in 2019. Meanwhile there is a growing trend of individual councils wanting to award contracts through their own mini competitions.
Challenges and growth plans
Scape, and other framework providers, are under pressure to show that smaller firms are not locked out of the procurement process, hence it says under its national construction framework 85% of subcontract spend has to be with SMEs and they have to be paid within 19 days. It also says it has engaged nearly 37,000 SMEs and brought more than £1.3bn of spending within 20 miles of each project.
It is also developing its digital offer, saying that it is working on its ability to exchange data and to improve the digital experience for clients.
The amount of volunteering time firms dedicate to green infrastructure
Measuring social value is a key focus. It uses a TOMS (themes, outcomes and measures) approach in its tender documentation that it developed with the Social Value Portal, but it is considering how to include wider environmental factors. Sustainability factors currently measured include the amount of volunteering time firms dedicate to green infrastructure and the percentage of subcontracts that include sustainable commitments.
The organisation says the industry as a whole is now facing dual pressures of losing staff in the short term due to the impact of covid-19 and in the longer term due to tighter immigration policy post-Brexit, which will affect project pipelines.