The opposing forces of opportunity and uncertainty are keeping construction salaries in balance. And while employers are no longer offering skilled professionals mega pay rises, they are refining non-financial benefits.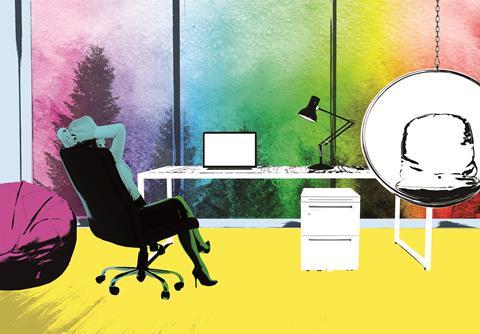 It's time to ask yourself whether you're paid enough. Each year Building's salary survey of key professional construction industry roles, compiled with data from recruitment firm Hays, uncovers the salaries that QSs, architects and engineers can expect to command at various points in their careers. This year the picture is strikingly similar to last – with consultants benefiting from a headline modest average pay rise of 2.8% over the last 12 months, exactly the same as in 2017.
In fact, the survey is the latest data to confirm the continuing uneasy truce between opportunity and uncertainty that has characterised the UK construction industry since the 2016 EU referendum. Clients' nerves in the face of Brexit have largely been overcome by a recovering global economy and the continuing fundamental demand for new infrastructure, homes and other premises. This steady growth has translated into ongoing strong demand for skilled professionals, albeit without the feeding frenzy atmosphere seen immediately after the recession abated in 2013.
But look closer at the survey: subtle changes are afoot in how the market for skilled professionals is changing in the "phony war" atmosphere since Brexit. Employers are finding skilled workers harder and harder to prise from their jobs, forcing them to both turbo-charge their entry level recruitment efforts, and look inwards to their own organisations to find staff for the new challenges they face.
"There are still lots of opportunities, but it's not as crazy as it was. it's gone from being silly, to just being very busy"

Richard Gelder, Hays Construction & Property
Pinch points
The 2.8% average pay rise recorded by Hays in this survey is one percentage point ahead of what most people in the UK have seen in the last year, hinting at the industry's ongoing shortage of skilled people. But it's unlikely you'll feel much better off for it: 2.8% is still marginally below the rate of inflation. Certainly, those who joined the industry after 2013, when even the average wage rise topped 5% a year, may be somewhat disappointed by a notable lack of the double-digit increases many professionals saw around 2014-15. In fact this is, says Richard Gelder, director at Hays Construction & Property, really just a return to a much more normal market. "There are still lots of opportunities, but it's clearly not as crazy as it was. It's gone from being silly, to just being very busy," he says.
The data, somewhat inevitably, shows some variation in wage rises, with QSs appearing to be most in demand. At most levels of seniority QS salaries have increased by 4%, where architects are seeing 1-2% rises and engineers 2-3%. Hays' Gelder says: "It's the usual picture, with QSs and project managers hugely in demand. But building surveyors and general surveying roles are also really busy."
Anecdotally, other key pinch points are around roles such as data scientists that result from the increasing use of technology in the design and operation of buildings, as well as – following the Grenfell tragedy – jobs related to fire safety. Daniel Harris, senior talent acquisition lead at Aecom, which is 6,800-strong in the UK, says cost managers, project managers and anything to do with fire safety are currently most often the hardest to fill roles.
Geographically, Hays' Gelder says that London remains a very strong market, despite the commercial office and high-end residential downturn, but that growth there is now being outpaced by regional cities: Birmingham and Manchester particularly, but also Leeds, Bristol, Edinburgh and Glasgow. For example, Andrew Reynolds, UK and global board director at consultant RLB, which has grown by more than 20% to 580 UK employees in the last year, says growth has been fastest in regional cities including Manchester, where staff numbers doubled in 18 months.
"First [on staff's job priority list] is a sense of belonging and of their values being represented in the firm"

James Bryce, Arcadis
Control
Hays' survey shows more than half (57%) of organisations expecting business growth this year, slightly down on the 64% in 2017, with two-thirds planning to recruit. Two-thirds of businesses (64%) told Hays they had experience moderate skills shortages, with near a fifth (18%) citing "extreme" shortages. But whereas consultants were willing to break the bank to bring people in during the overheated market of three years ago, now employees shouldn't expect to be offered mega-money to move.
Stuart Senior, main board director at Gleeds, says: "We took on 100 apprentices and have worked hard on succession planning and in general terms we can find the people we're looking for. We like to think we don't have to throw money at people to move here."
"It's very clear that a few years ago there wasn't the level of rigour and strategic thinking about making offers as there is now," adds Gelder. "It's now about controlled growth. There's an urgency to take people on, but they're much more aware of what the market rate is and know it's better not to make the wrong decision."
James Bryce, director of strategic workforce planning at Arcadis is in some ways an example of the more controlled and strategic view employers are taking of staffing, opposed to the pell-mell rush to hire of 2014-15. Not a human resources professional, his job is to match demand, supply and staff resource in the short, medium and long term. "Three or four years ago Arcadis probably wouldn't have hired a director to do this," he says.
However, this more controlled growth can leave employees disappointed. Bryce says his firm, which had 15,000 applicants for 1,000 jobs last year, is one of many to be focusing on improving and refining the non-financial elements of its offer to employees while salaries are restrained. "The salaries that people are wanting [in order] to move are often very high. There's a bit of a mismatch of expectations between the workforce and what increases clients are prepared to bear.
"However, if you ask people, financial reward is about fourth of fifth on their list of job priorities. First is a sense of belonging, and of their values being represented in the firm. This attracts a lot of people." Gelder agrees. "Employees are now much more aware of what else a business can offer them beyond salary, in terms of experience, how the business will develop, and issues like flexibility and work-life balance.
"If an employer is not able offer these things, it's potentially putting itself at a real disadvantage," he says.
The larger consultants have now long since dusted down the graduate- and apprentice-level recruitment programmes designed to bring in the talent of the future. But to address the here and now, the need is for mid-career skilled professionals with a decent amount of experience under their belts. However, with firms no longer flashing the cash to bring in new hires, and Brexit casting a pall of uncertainty over growth prospects, it appears more staff than ever are deciding to stay put.
Retention
Hays' data suggests 48% of workers will consider looking for a new role this year, down sharply from 69% in 2017. RLB's Reynolds says: "Experienced technical individuals that have been in their roles for some time are just not really thinking about moving. Part of this is the natural appetite for risk being different at different times in your life. But there's also a level of reticence related to Brexit and what that could mean."
Likewise, Bryce says: "People are very cautious about moving – uncertainty makes them want to dig in. There has been a bit of a merry-go-round in the sector, but that's beginning to disappear." This dynamic is making efforts by employers to retain existing staff ever more important. Hays' employer survey suggests more employers are increasing training budgets (22% compared with 13% last year) and running mentoring programmes (24%), both of which show existing workers they are valued. Gleeds' Senior says: "As we've moved out of recession retention has become of paramount importance", while Gelder adds: "The focus is on retention, without a shadow of a doubt."
But simply retaining staff in existing roles isn't enough for businesses that not only want to grow, but also need to refocus into new markets and position themselves for new opportunities. Here the difficulty and expense of hiring is driving them to look inward to fill the vacancies created. Bryce says 500 Arcadis staff moved internally last year. "You can't grow your own talent immediately, so you're left with the option of working with what you have. Our answer is to create a really good resource management framework, and equip our existing people with the right knowledge so we don't have to buy in more talent unnecessarily."
Aecom's Harris is working to the same goal: "If you have people within your business that can move and learn new skills, it benefits everyone. Recruiting is expensive, there's a big saving by creating an environment where people can move and it impacts the bottom line."
This route, of course, may not be for everyone, with Harris admitting some employees are "traditional" and "rigid" in what they want from a job. But for those employees willing to learn new skills, it is likely to only make them more employable.
Building surveyors

| Region | Partner/director | Associate | Senior surveyor | Newly qualified building surveyor | Graduate building surveyor | Maintenance surveyor |
| --- | --- | --- | --- | --- | --- | --- |
| East Midlands | £60,500 | £51,000 | £44,000 | £34,000 | £22,500 | £31,000 |
| East of England | £66,000 | £50,000 | £42,000 | £33,000 | £20,500 | £32,000 |
| London | £98,000 | £75,000 | £56,500 | £42,000 | £28,000 | £38,000 |
| North-east | £52,000 | £45,000 | £44,000 | £31,000 | £22,000 | £33,000 |
| North-west | £74,000 | £50,000 | £42,000 | £37,500 | £24,000 | £30,000 |
| Northern Ireland | £52,500 | £42,000 | £33,000 | £29,500 | £19,000 | £28,000 |
| Scotland | £72,000 | £60,000 | £52,000 | £36,000 | £23,000 | £28,500 |
| South-east England | £76,000 | £62,000 | £52,000 | £36,500 | £22,500 | £36,000 |
| South-west England | £67,500 | £50,000 | £40,000 | £32,500 | £24,000 | £32,500 |
| Wales | £62,000 | £49,000 | £44,000 | £32,000 | £23,000 | £31,000 |
| West Midlands | £67,500 | £52,000 | £43,000 | £35,500 | £24,000 | £32,000 |
| Yorkshire and Humber | £66,000 | £47,500 | £42,500 | £35,000 | £22,500 | £28,000 |
| National average | £67,833 | £52,792 | £44,583 | £34,542 | £22,917 | £31,667 |
| Average change 2017-2018 | 3% | 4% | 3% | 4% | 4% | 4% |
Professional quantity surveyors
Region
Partner/director
Associate
Senior surveyor
Newly qualified surveyor
Graduate
surveyor
Claims and dispute resolution
Project manager

East Midlands

£68,000

£51,000

£46,500

£36,000

£24,000

£46,000

£46,000

East of England

£65,000

£52,000

£47,000

£36,000

£22,500

£51,000

£43,000

London

£95,000

£75,000

£60,000

£42,500

£28,000

£78,000

£55,000

North-east

£58,000

£50,000

£48,000

£31,500

£22,000

£40,000

£42,000

North-west

£78,000

£53,500

£46,000

£36,000

£24,500

£52,000

£45,000

Northern Ireland

£68,000

£50,000

£40,000

£33,500

£21,000

£46,000

£39,000

Scotland

£75,000

£66,000

£55,000

£37,000

£23,000

£47,000

£47,000

South-east England

£85,000

£68,500

£54,000

£41,000

£26,000

£50,000

£55,000

South-west England

£65,000

£51,500

£45,000

£33,500

£25,000

£46,500

£43,500

Wales

£62,000

£48,000

£42,000

£32,000

£22,000

£46,000

£46,500

West Midlands

£68,000

£56,000

£46,500

£33,000

£25,000

£44,000

£43,500

Yorkshire and Humber

£66,000

£52,000

£45,500

£35,500

£23,000

£53,500

£46,000

National average

£71,083

£56,125

£47,958

£35,625

£23,833

£50,000

£45,958

Average change 2017-2018

3%

4%

4%

3%

4%

3%

3%
Architects
Region
Partner/director
Associate
Architect
Architectural assistant,

Part II
Architectural assistant, Part I

East Midlands

£60,000

£45,500

£41,500

£25,750

£20,000

East of England

£53,000

£43,000

£41,000

£22,500

£18,500

London

£85,000

£65,000

£45,500

£31,000

£22,000

North-east

£50,500

£40,500

£32,000

£20,500

£17,500

North-west

£65,000

£47,000

£36,250

£25,250

£18,250

Northern Ireland

£51,500

£43,500

£33,250

£22,500

£16,250

Scotland

£55,000

£45,000

£36,000

£23,000

£16,000

South-east England

£65,500

£51,000

£42,500

£28,500

£22,000

South-west England

£51,000

£42,500

£38,500

£26,500

£16,500

Wales

£51,000

£40,000

£35,000

£25,250

£17,250

West Midlands

£59,000

£45,500

£39,000

£24,500

£17,500

Yorkshire and Humber

£58,000

£45,000

£33,500

£22,750

£18,250

National average

£58,708

£46,125

£37,833

£24,833

£18,333

Average change
2017 - 2018

1%

2%

2%

2%

2%
Interior designers
Region
Senior interior
designer
Interior designer

East Midlands

£34,250

£28,250

East of England

£36,000

£30,500

London

£47,000

£39,000

North-east

£28,000

£25,500

North-west

£35,250

£27,500

Northern Ireland

£28,000

£23,500

Scotland

£34,000

£27,000

South-east England

£38,250

£32,250

South-west England

£31,000

£26,250

Wales

£31,250

£26,250

West Midlands

£39,000

£28,250

Yorkshire and Humber

£28,750

£25,250

National average

£34,229

£28,292

Average change 2017-2018

2%

1%
Architectural CAD technicians

| Region | Senior CAD technician | CAD technician |
| --- | --- | --- |
| East Midlands | £36,250 | £28,500 |
| East of England | £34,000 | £25,500 |
| London | £41,000 | £30,500 |
| North-east | £29,000 | £24,500 |
| North-west | £36,500 | £26,250 |
| Northern Ireland | £29,000 | £22,500 |
| Scotland | £34,000 | £22,000 |
| South-east England | £38,500 | £28,500 |
| South-west England | £35,000 | £26,500 |
| Wales | £32,500 | £23,250 |
| West Midlands | £34,250 | £27,250 |
| Yorkshire and Humber | £31,500 | £24,750 |
| National average | £34,292 | £25,833 |
| Average change 2017-2018 | 2% | 2% |
Civil CAD technicians
Region
CAD manager
Senior CAD
team leader
CAD technician

East Midlands

£38,000

£35,750

£32,500

East of England

£40,000

£38,000

£29,500

London

£55,000

£46,750

£37,750

North-east

£35,750

£31,500

£22,500

North-west

£40,000

£37,750

£29,500

Northern Ireland

£32,500

£29,500

£26,250

Scotland

£40,000

£39,250

£30,250

South-east England

£39,000

£38,500

£31,000

South-west England

£39,500

£37,250

£27,750

Wales

£37,000

£31,000

£25,500

West Midlands

£39,500

£39,500

£31,000

Yorkshire and Humber

£37,000

£32,000

£26,500

National average

£39,438

£36,396

£29,167

Average change 2017-2018

3%

2%

2%
Structural engineers

| Region | Associate | Senior engineer | Engineer | Graduate engineer |
| --- | --- | --- | --- | --- |
| East Midlands | £56,500 | £47,000 | £40,000 | £23,500 |
| East of England | £53,000 | £45,000 | £36,750 | £25,500 |
| London | £66,000 | £53,000 | £40,500 | £29,000 |
| North-east | £49,500 | £41,000 | £33,000 | £22,500 |
| North-west | £53,250 | £42,000 | £35,000 | £24,750 |
| Northern Ireland | £46,000 | £38,000 | £30,000 | £23,500 |
| Scotland | £55,000 | £43,500 | £33,000 | £25,500 |
| South-east England | £55,000 | £46,000 | £36,000 | £25,500 |
| South-west England | £56,500 | £41,500 | £33,500 | £22,500 |
| Wales | £51,500 | £41,000 | £32,500 | £22,500 |
| West Midlands | £60,000 | £46,000 | £37,000 | £25,500 |
| Yorkshire and Humber | £49,000 | £39,500 | £31,000 | £23,250 |
| National average | £54,271 | £43,625 | £34,854 | £24,458 |
| Average change 2017-2018 | 3% | 3% | 3% | 2% |
Architectural technologists
Region
Associate

Senior
technologist

Technologist

East Midlands

£41,000

£34,000

£26,500

East of England

£49,000

£40,000

£32,000

London

£52,000

£45,000

£35,000

North-east

£41,000

£34,000

£26,500

North-west

£45,000

£38,000

£28,000

Northern Ireland

£38,000

£33,000

£23,000

Scotland

£40,000

£37,000

£26,000

South-east England

£50,000

£40,000

£32,000

South-west England

£39,000

£35,000

£25,000

Wales

£36,000

£32,000

£22,000

West Midlands

£43,000

£34,000

£27,000

Yorkshire and Humber

£43,000

£34,000

£27,000

National average

£43,083

£36,333

£27,500

Average change 2017-2018

n/a

n/a

n/a
Postscript
Methodology
Salary data has been compiled using information gathered during 2017 from Hays offices across the UK, it is based on job listings, job offers and candidate registrations