The government's Green Deal needs to retrofit around 600,000 homes a year - but it seems unlikely that current incentives can persuade enough people to make alterations to their homes. Ike Ijeh asks if the promise of a style makeover could be a more effective way to win over homeowners
It is not often that the word "revolution" is associated with the ideologically conservative and institutionally risk averse British housing industry. But according to communities minister Andrew Stunell, that is exactly what the coalition government's flagship Green Deal incentive is poised to unleash. The £14bn Green Deal aims to entice householders into improving the environmental performance of their homes "at no upfront cost" and with the potential added bonus of a £94 (average 7%) saving on their energy bills every year.
Simple? Not quite. The Green Deal is ambitious, rightly so, but it has a mountain to climb. In order to hit its target of making Britain's 26 million homes more energy efficient by 2030, it needs to retrofit around 600,000 houses a year. The government hopes that the removal of the initial investment barrier and the prospect of lower energy bills will be enough to entice householders into a mass take-up of energy efficiency installations such as boilers, double glazing and loft and cavity wall insulation. Other sweeteners, such as a possible £150 cash-back and the initial loan being tied to the property and not the owner, are designed to make the deal more attractive.
Why shouldn't lifestyle changes drive energy efficiency rather than the other way round?

David Birkbeck, Design for Homes
The fact remains that carbon savings, however worthy, are a less glamorous and tangible domestic commodity than a kitchen or conservatory. Even with the 2013 Part L consultation proposal to make householders improve the energy performance of their home when building an extension, the so called "consequential improvements", there remain genuine concerns as to what exactly will motivate millions of householders to endure the debt and disruption of refurbishment works for little more than the possibility of a marginally less exorbitant energy bill several years down the line.
Accordingly, a 2010 online poll by YouGov found that only 13% of the general public found the Green Deal proposals very attractive while 44% deemed them unattractive. Furthermore, only 3% would commit to implementing the scheme in their own homes within six months of it being made available and only 8% within a year. It is perhaps telling that it took somebody outside the construction industry to succinctly sum up the Green Deal's image problem. According to Richard Lloyd, executive director at consumer magazine Which?, two of its "biggest barriers to consumers are simply cost and hassle".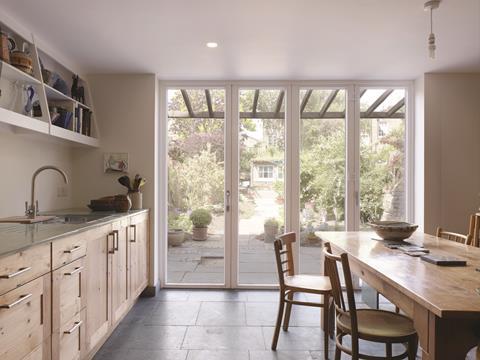 A style choice
So how to make the Green Deal more attractive? Largely thanks to the huge expansion in the home improvement market in the past 15 years - bolstered in no small part by a proliferation of television makeover shows - there is one commodity that the average British consumer covets with ever increasingly alacrity: design. Could this be the added incentive required to sell the Green Deal? In other words, could there ever be a Stirling Prize for retrofit?
David Birkbeck, chief executive of Design for Homes, thinks there can. "For the vast majority of householders, there are few things stronger than the desire to house your family well. Realistically, carbon performance is very much a secondary consideration. The desire for new space during the life cycle of a house is already well established, it's a very strong traditional driver. Why shouldn't lifestyle changes drive energy efficiency rather than the other way round?" Architect Robert Prewett, partner at Prewett Bizley, who is experienced in Passivhaus refurbishments concurs. "Environmental improvements alone are not enough of a carrot, well judged design can certainly help."
Sunand Prasad, former president of the RIBA, is a champion of the idea that spatial improvements could well be the incentive required to boost take up of the Green Deal - but with conditions. "Money for retrofit is already limited so it can't just be another cash-back add-on to the Green Deal" he explains, "it's something that should be looked at over the long-term through the perspective of increased asset value of the property, something the Green Deal doesn't consider at present. Over a 20 to 25 year cycle, a property is more than likely to be renovated at some point. By infusing those renovations with energy improvements, particularly if a contractor is already involved, the capital costs will be able to benefit from economies of scale and eventually pay for themselves in the increased asset value of the house."
Prasad cites the case of his practice's recent refurbishment of a terraced property in east London where this principle of energy and spatial improvements side by side was realised. As well as the standard energy additions such as improved insulation and glazing, by carving a giant skylight into the previously inaccessible attic space, the owner (a prodigious smoker) could benefit from fresh air, light and extra space in which to hang washing. Consequently, the retrofit was realised in a manner that responded to lifestyle and design as well as energy.
Birkbeck and Prasad say this principle could be applied to larger projects also. At the Cruddas Park estate in Newcastle's West End, development partners Gentoo, Bellway and Wates Living Space's £31m refurbishment programme has seen a slew of design related energy improvements such as the enclosure of open balconies on tower blocks and their replacement with winter gardens.
The commercial sector might be even more receptive to a "spatial" Green Deal than the residential market, due to the potential to realise liquid assets from the benefits more quickly via higher rents. Penoyre & Prasad's refurbishment of London's Guy's Hospital provides a compelling non-residential precedent. The tower is being re-clad in a thermal skin to arrest degradation of its concrete envelope and provide improved environmental efficiency. However, in the process, the spatial layout of some internal areas is being improved and the tower's pugilistic visual impact on London's townscape is being softened.
Prewett sees the Green Deal as only one aspect of the solution to retrofit. "There needs to be a cultural change in the way we look at delivering energy improvements. Skills need to be enhanced across the industry, including among architects and designers. More grants should be made available to fund improvements. The 20% VAT penalty for refurbishment needs to be removed. And stronger legislation is required. Part L needs to work much, much harder. People are always keen to re-fit their bathrooms, kitchens and living areas. That's the trigger point and that's where the opportunity to introduce energy efficiency lies."
Impact of Part L
The draft revision to Part L may indeed be a game changer along the lines that Prewett would like to see. The consultation recommends that "consequential improvements" - the requirement to upgrade the energy efficiency of existing buildings when making even small upgrades to your house - should be made mandatory. It represents a subtle reversal of legislative psychology. While the Green Deal focuses on energy efficiency to provide the "carrot", Part L imposes the "stick".
David Adams, head of retrofit at Willmott Dixon, believes it could work. "The Part L proposals play to the strengths of the Green Deal, namely providing costs upfront, but mitigate its problems by giving people an incentive - albeit a compulsory one - to adopt its principles. Together, they could be a powerful combination." Does the fact that home improvements may now "trigger" Part L undermine the rationale for a design perspective to the Green Deal? Prasad thinks not. "The emphasis on home improvement could be something that provides a strong synergy between the Green Deal and Part L. Although it doesn't address the fundamental problem of how you leverage more finance into retrofit, it's a step in the right direction."
However, there is one body that remains unconvinced about either the effectiveness of using design to incentivise Green Deal uptake or the impact of the new Part L recommendations. When the Federation of Master Builders (FMB) last surveyed its members and customers about the introduction of "consequential improvements" at the last Part L consultation stage in 2010, 40% of homeowners responded that it would compel them to change from an accredited builder to a "cowboy" one while 40% claimed they would cancel building work altogether. Peter O'Connell, policy manager at the FMB says, "People can't be frogmarched into making energy improvements" he insists, "they have to be stimulated into wanting it. Real incentives would be the reintroduction of feed-in tariffs and the removal of the 20% VAT rate for refurbishment. Either of those measures would have a much bigger effect."
So while there appears to be consensus in the industry about the wisdom of harnessing design to incentivise Green Deal uptake, the methods by which this might be achieved remain uncertain. Design undoubtedly remains a recognisable and desirable commodity but the challenge - cultural and economic - is to find a pragmatic and cost-effective way to embed it into the Green Deal brand. Prasad sums up its potential as thus: "No one invites you round to their house to admire their new glazing or insulation. It's the new kitchen, living area or extension people are interested in. Any mechanism that binds the two considerations together has got to be a good thing."