The young-at-heart chairman of ISG says the spectre of retirement is a long way off yet - first he needs to grow the firm, starting with increasing overseas revenue to 50% of the business. Emily Wright probes David Lawther on his plan for the future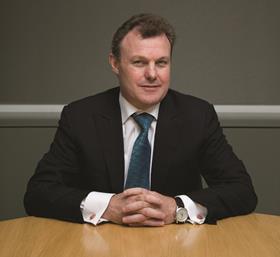 When David Lawther imagines himself in 10 years' time, he is pretty sure that neither an armchair nor a pair of slippers will be part of the picture. The 53-year-old chief executive of ISG can't imagine a life beyond the hustle and bustle of running a construction company and he has no intention of sloping off into retirement: "Ten years is a long time from now," he laughs, "But I know lots of people who have retired and then, after three years, they have done everything they wanted to do and they get bored. Yes, it would be nice to have the time to do things at a gentler pace in a decade but I certainly don't see myself sitting quietly in a cottage somewhere by the seaside."
Indeed, an idyllic coastal retreat would be a huge step away from the day-to-day life Lawther is used to. For a start, he has plans to bump up contractor ISG's international revenue from the present 15% to 50% of the entire business. And the company has had a rollercoaster of a recession so far, with results showing a £74m drop in turnover for the year ended 30 June 2010 and surging to a 31% growth in the following six months. The group had to contend with a shrinking construction business thanks to a 68% weighting in 2010 towards the now-ailing public sector, which it has reduced to 45% of its 2011 order book for that part of the business. On the other hand it is recruiting in every other division: "Some parts of the business will continue to contract," says Lawther. "But when ISG floated in 1998 we were doing £100m worth of turnover. Today we are turning over more than £1bn. So we have grown in a recessionary period and we will continue to grow."
The group, once seen as specialist in fit-out works, has developed a breadth of services that now places it firmly in the major contracting league. This has been cemented by its results for the year ended June 2011, which show revenue at £1.2bn, 23% up on the £972m reported in 2010. And although profit before tax, exceptional items and amortisation of goodwill was £11.5m, slightly down on the £12m recorded in 2010, ISG's order book as of 30 June this year stood at £750m. Then there is the string of high-profile projects that have helped raise the firm's profile, including the construction of Hopkins' London Olympic velodrome - on time and on budget. So how does Lawther intend to build on this position?
UK to US and beyond
A major part of Lawther's growth strategy will be to take ISG global - or rather, more global than it is at the moment. With just 15% of revenue coming in from overseas work, the plan is to increase this to the point where half of the company is international. "We are working with core clients on commercial and retail projects overseas," he says. "But not on new-build construction jobs." The firm works across Asia in China, Singapore and other parts of Malaysia: "We have been building up a profile in this part of the world for seven years now," says Lawther. "We are now working in Singapore doing Louis Vuitton's biggest South-east Asia store; we did parts of the fit-out for the Marina Bay Sands casino in Singapore and we built and acted as project manager on the Saudi pavilion for Expo in Shanghai."
Lawther is keeping a close eye on India but says it remains a longer-term opportunity as far as he is concerned. He doesn't feel the country's infrastructure is developed enough yet to support the sorts of schemes ISG could offer. As for office work, the Middle East, he says, is coming back in leaps and bounds as there is an abundance of office space to fit out in Dubai and Abu Dhabi.
Potentially the biggest growth market for ISG overseas, however, is the US. Lawther is cagey on the details saying only that he "regularly sends people out to meet with the group's core client base." ISG is currently working with Apple, building a flagship store in Hong Kong, as well as Abercrombie & Fitch and Hollister. "We have looked at whether we'll need an operation out there," he says. "North America is a big space and so we'll continue to look."
So ISG could move Stateside on a more permanent basis? Lawther says not for now at least: "No - we send people out to keep up regular contact, there is no further step planned at the moment to move out there."
So what kind of an operation will it be there? "There is nothing in particular on the horizon." And that's all he says. He won't be swayed into pursuing the US idea any further, so it's on to the next topic up for discussion - growth.
'We will continue to grow'
Lawther reiterates that ISG, once known as solely a fit-out specialist, has many more strings to its bow these days: "We still do around 25% of all the commercial fit-out work in London," he says. "And that's what people recognise us for, but it's certainly not all we do. We now have a regional construction business, a retail fit-out division including food retailers and banks, and of course the overseas business."
This means there are plenty of opportunities to expand. Apart from increasing international revenues, Lawther says technology is top of his list of growth areas - particularly in the UK. "We have been recruiting into the technology division over the last 18 months," he says. "We now have a separate division focusing on this - though it falls under the London and South-east operation. But this skillset really is vital, from data centres through to banks, where huge infrastructure is required technologically for maintaining banks and trading floors. And the retrofit agenda is also predominantly technology-led too - another growth area."
And there are plans to grow through acquisitions. Lawther is happy to confirm that ISG is always looking at other companies to buy. Indeed, the group announced it had bought an 85% stake in Shanghai-based project management specialist Realys Group back in April and Lawther says the group "continues to have conversations with a number of different organisations worldwide".
Not all rosy
Growth plans are all well and good - but no recession comes and goes without leaving difficulties in its wake - and ISG, of course, has not been immune. Lawther admits that, in the UK, things outside of London look bleak and that everyone still had to "deal with the reduction in public sector work as it will take a while to digest through the system". Of ISG's plans to combat this, he says: "We have clearly predicted that this side of the business, the pure construction and public sector side, will contract - by around 10%. Some of that will be replaced by private sector work but with all parts of the business there are times when we have to reduce staff. And we have had to reduce staff in this division. We are recruiting in the South-east, which means we can move as many staff as possible - but sometimes people don't want to move, which is understandable. And other times they don't have the skillset we're looking for."
Lawther adds that while he thinks the UK market will remain tough and "extremely competitive" through 2012/13, the London commercial market is not dead: "The lengths of leases have reduced, meaning more churn," he says. "Typically this is the time people choose to fit out as it's a decision-making point. And technology has changed so dramatically, even in the last four years, that quite often if big institutions are having to have their technology upgraded, by the time they have had their floors and ceilings ripped out to have that done, they may as well do the whole fit-out package."
What next?
Over the coming year, Lawther says he wouldn't be surprised if firms continue to eye opportunities outside the UK as the economy is clearly not growing at the same rate as other countries'. He also thinks that, in the UK, it will be all about the Olympics: "The excitement over the next 12 months will be driven by London and the South-east, and the Olympics will really boost this area. These locations continue to show a positive outlook; margins are tight but there is momentum and recovery."
So a positive outlook overall - but one that will keep Lawther busy for a long time to come. You can see why the slippers and the armchair feel like such a long way off.