Put it this way: would you rather inspect the slipform of a tall tower by dangling off the 45th storey or by sending up a drone to do the job? Tim Clark reports on the commercial use of drone technology in construction and asks whether it presents a threat to professions such as surveyors or a safety net of new business opportunities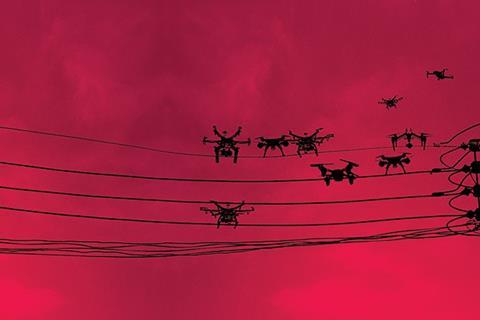 Hyped as the Back-to-the-Future-style technology that can fly a pizza to your door or an ice cream to your sun-lounger, drones have been widely touted as the answer to consumers' wildest delivery dreams. While the likes of Amazon hog the headlines, the technology is also delivering a revolution in construction, with clients such as the Environment Agency, Network Rail and HS2 beginning to take the use of unmanned aerial vehicles (UAV) seriously for large-scale surveying.
A report in 2016 by PwC into commercial drone use placed the value of labour or services that could be replaced by a global market of drone service applications at over £100bn by 2025, with £36.6bn of that in infrastructure alone. At present the technology, while representing a step change in certain capabilities, is mainly used in construction for large site surveys that are followed up at a later date with more accurate, traditional techniques.
However, as with many of the automated technologies that affect people's working lives, the fear is that the disruption it brings can threaten to leave entire professions obsolete. While in the past technological changes mostly affected blue-collar workers, now the media is full of dire predictions that the rise of robots threatens white-collar occupations such as accountancy, auditing and law to such an extent that we could be facing a jobless future.
As for construction, an industry dogged by low margins and low productivity, when it comes to a technology capable of delivering data at speeds vastly superior to human measurement, the question on many surveyors' lips is "will a drone take my job?" The answer may not be clear cut – while the technology is changing professionals' roles and required skills, many feel this is largely having a positive effect on productivity and on safety and is even opening up exciting new business opportunities for consultants. However, there are concerns about how drones are regulated and of course nobody in the profession can really know the full implications of future and even more radical innovations in this field.
The robot surveyor
The present situation is that firms such as Autodesk and 3DR have developed direct UAV-to-cloud solutions which can perform site surveys, scans and inspections and create 3D models of real-time environments to inform design or help with quality control of construction.
According to Phil Southgate, head of building surveying at consultant Gleeds, the introduction of drones has led to a 30% saving on one project alone. He says: "We do major scanning linked to GPS systems. Drones are not as accurate as laser scanning but do give data on large volumes quickly. They also cut out the entire need for an access tower or scaffolding."
Gleeds is currently putting six staff through a drone training programme to qualify as pilots, which represents 10% of the firm's building surveying staff. Aecom is also investing in drone technology, with three staff now qualified to pilot commercial drones among the UK staff. Aecom's lead drone pilot and senior operations manager Ross Manship says the firm is "dipping its toe" in the technology: "At the moment we are in a fledgling stage. We've submitted an operational safety case to the Civil Aviation Authority and we expect to get permission this month."
What is less certain, however, is whether this new technology will compete with QSs or complement their toolkit in the future. RICS land group director James Kavanagh is bullish over the profession's prospects: "Surveyors are professional magpies. We didn't invent drones or GPS, BIM, laser scanning or even CAD, but we are good at adapting technologies.
"For a land surveyor, the old instrumental topographic map work was mind numbingly boring. The use of drones will democratise data capture and surveyors of the future will operate in a data management, rather than data capture role."
It's not a fad. Drones are not going to go away

James Kavanagh, RICS
Kavanagh's views are echoed by Richard Gelder, director at Hays Construction & Property: "The role of the quantity surveyor is still vitally important. New technology such as drones, often instead of making job roles obsolete, can help bridge skills gaps, especially within construction. There is a lack of talented quantity surveyors within the industry, and new technologies which help them do their jobs more efficiently can only help, not hinder, productivity."
Certainly the signs at the moment are that the introduction of drone technology is not denting the market demand for surveyors. According to the latest data from Hays consultant salary guide, published in Building last month, roles of senior QSs and senior building surveyors benefited from average increases of 4%, demonstrating the roles are still in peak demand.
Indeed with the RICS warning earlier this month of a possible exodus of 175,000 construction workers after the UK leaves the EU, drone technology could actually prove crucial in coping with a serious skills shortage. Alistair Watson, partner and head of planning and environment at law firm Taylor Wessing, says construction has little option but to embrace the technology: "The Brexit outcome forces us to be more efficient and see drone tech for what it is. With HS2 you have a 250-mile route that can be surveyed by six staff based in Birmingham. If you are trying to understand the state of a 1 million ft2 industrial building, do you rely upon a whole team or three people who can map without a portfolio of cranes?"
Drones also offer the construction industry the means to drive business opportunities through exploiting more and better quality data. Lee Mullin, construction technical specialist at 3D design and engineering firm Autodesk, says some consultancies are looking at drones as a business opportunity: "The increased amount of data being captured by drones requires more attention to be paid to survey controls and tolerances.
"Some surveyors are capitalising on this opportunity to provide drone imagery or models, while others are able to demonstrate more value in how they meet strict survey controls, pulling together their existing survey and light-detection and ranging data captures alongside the drone deliverables."
Iain Parker, partner at Alinea Consulting, said: "We see the use of drone technology as an aid to enhance the practice of reducing waste and inefficiencies, thus freeing up time to add value to the project in other ways.
"We do not see many (if any) surveyors becoming obsolete as the right information will need to be fed into the BIM model, which is where the real potential for drone technology lies. The industry is still struggling with BIM."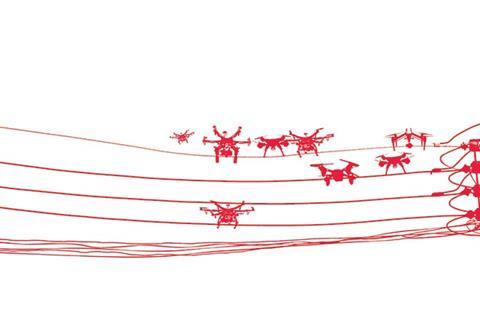 Health and safety implications
However, while drones may solve some of the industry's skills headaches and even open up new opportunities, there are some safety and business concerns about the regulations surrounding their use. The media has been quick to pick up on stories of near misses and collisions with aircraft by amateur drone pilots, which are clearly serious matters of public health and safety. So it is logical that the use of drones on sites would be a concern for workers' safety. Unite, the largest union for construction workers in the UK, believes the commercial use of the technology should also come with a public warning attached. National health and safety adviser for the union, Susan Murray, says drones on sites should only be used after thorough assessments: "Workers need to be made aware of the presence of drones. Companies must ensure that drones do not distract or obstruct workers in any way, especially those working at height, as this could create very dangerous situations."
According to the RICS, no member has faced prosecution for drone use – yet. The RICS' Kavanagh adds: "We haven't had any evidence of people being convicted but some have had warnings over flying them within 50m of buildings."
Regulation is the single biggest hurdle at the moment […] in the future once that is in place

Really the world is the drone's oyster

Ross Manship, Aecom
But the more optimistic view is that drones can have a positive impact on the health and safety of people working in construction. Kavanagh says "Looking back at when I was on the slipform for Canary Wharf, using a drone instead of dangling off the 45th floor for an as-built inspection would have been much more useful, and less dangerous."
Drones have also been drafted in to do other tasks where humans fear to tread. In February, drone firm Eyeup Ariel Solutions was drafted in to inspect an asbestos warehouse roof 500 yards from Heathrow's south runway because the structure was deemed too fragile for humans to walk on.
Aecom's Manship says: "If you have a boggy marshland, then engaging a drone is a no-brainer. Similarly, asbestos or fragile roofs can use the tech to complement what an existing workforce can do. If you had an old Victorian roof, you have to ask whether you really need someone up there just to look at it."
Regulatory hold-back
Perhaps a more basic obstacle to the wider use of drone technology on construction sites is a regulatory one. According to Watson, the limitations of drone use come from the Civil Aviation Authority (CAA), which is more strict compared with other countries such as the US as to what commercial operators can and cannot do. Drone flying is banned in winter months here because the CAA considers them too light to risk flying in windy weather and dim light, and CAA rules also forbid flying drones over or within 150m of any congested area, within 50m of any vessel, vehicle or structure which is not under the control of the person in charge of the aircraft.
Manship adds: "Regulation is the single biggest hurdle at the moment. Thankfully the CAA no longer think drones are as dangerous as a Boeing 747, but until recently we were classed as the same.
"As soon as someone is able to demonstrate that collision avoiding sensors work, then it will blow large area of surveying wide open. We can then compete with a full-sized helicopter on a scheme such as HS2's entire track.
"It's not quite there yet, but in the future once that is in place then really the world is the drone's oyster."
In the US, regulations have already been relaxed and commercial drone use is much more widespread. Kevin Sartori, product marketing manager at Californian-based drone firm 3DR, says that rather than replacing manpower, surveyors are using drones to keep a closer eye on their projects: "One of our clients can now survey all of their 14 sites in a week instead of a month and they've seen the value of the extra data when it comes to conflict disputes. They document much more thoroughly and by spending much less time in court, as they have the data to prove their work."
To capture a slice of the £100bn global drones market, the government has looked at changing the legislation and in December launched a consultation on unlocking the UK's high-tech economy to "create the right conditions for new uses of drone technology to emerge and grow, placing the UK at the cutting edge of new technologies and capture a significant portion of the global drones applications market".
The RICS' Kavanagh says that the rise of drones is all but inevitable and firms will be quick to partner up in the coming years with suppliers:
"I would put money on the Aecoms, Atkinses and Arups of this world going into partnership in this area. It's not a fad. Drones are not going to go away."
3DR's Sartori predicts that by 2018 every major construction site in the US will be served by drones. The UK may not see that level of intensity just yet, but the next step for the technology will be to go beyond surveying sites and actively participating in the build programme.
According to Autodesk's Mullin, in the near future drones will be 3D printing parts for building projects on site: "It's only a matter of time before construction firms consider using smaller piecemeal assembly by drones on site, rather than large formwork or prefabricated items. To ignore the possibilities of drone technology would be naive as it will unlock more opportunities for the construction industry, including the ability to 3D-print large objects."
It looks likely, then, that the drone effect will be increasingly felt in the future and not just by the surveying profession but right across the sector.