From solar powered transport to timber structures and the latest in urban design, Ecobuild is showcasing the very best in sustainability. So what's taking centre stage this year? Andy Pearson reports
Solar technology
The changes to the feed-in tariff mean that it is more important than ever to understand the options, implications and performance of solar photovoltaic systems, which is why a visit to the Solar Hub at Ecobuild is a must. The Hub has information on the practicalities of generating solar electricity and the current situation regarding the government's feed-in tariff. On show will be a range of solar systems: from on-roof to semi and fully building integrated systems featuring the latest models from a variety of manufacturers as well as state-of-the-art inverters and monitoring systems.
Through a series of talks and presentations, plus one-to-one advice, visitors to the Hub will be offered practical guidance on how to specify the most appropriate system for best output while maximising return on investment. Solarcentury will also be unveiling the latest edition of its C21e solar electric roof tile at the Hub.
SunBloc uses the latest photovoltaic and solar thermal technologies to generate enough energy to power itself
For an example of the optimum use of solar technology you need look no further than the prototype solar powered house at this year's Ecobuild. SunBloc is London Metropolitan University's entry into Solar Decathlon Europe 2012 - a global competition in which universities from all over the world compete to design, build and operate a house that is self-sufficient in energy using the sun as the only energy source. SunBloc uses the latest photovoltaic and solar thermal technologies to generate enough energy to power itself and also the surrounding buildings.
Constructed from innovative lightweight materials and utilising a Passivhaus strategy the SunBloc house has been designed to be adaptable to any environment including unused rooftops in cities, where it could help power the building hosting SunBloc and the building on which it is located. For the final phase of the competition, the prototype will be assembled in Madrid where it will be assessed under 10 criteria including architecture, engineering, energy efficiency and industrialisation and market viability.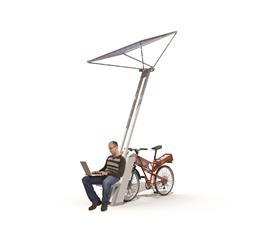 How do you travel to and from your solar-powered house? By solar powered transport of course. Bill Dunster's ZEDfactory display will include solar powered E-trikes (pictured right) that can be charged from SolarZED, a tree-shaped solar support for photovoltaics that can generate up to 3kW of electricity. Dunster says the development will put solar powered transport at the heart of a sustainable development which will "challenge thinking on high density living around public transport infrastructure by promoting zero carbon personal transport as a viable option for individuals and companies at a fraction of the cost of providing public transport".
SolarZED is one of a number of integrated renewable solutions being showcased by ZEDfactory: other solutions include ParkZED - a high density mixed-use development with a park on the building's roof and photovoltaic clad walls and the energy roof, a photovoltaic solution for buildings that need a new roof.
The government's drive to increase the uptake of sustainable technologies, in addition to feed-in tariffs, involves another incentive: the Renewable Heat Incentive or RHI. In place of photovoltaics, the Renewable Heat Focus area will feature interactive demonstrations of renewable energy products such as solar thermal, ground- and air-source heat pumps and biomass. The demonstrations will be accompanied by talks delivered by industry groups including the Micropower Council, the Heating and Hot Water Industry Council and the British Electrotechnical and Allied Manufacturers Association on how to benefit from the RHI.
Having selected your renewable system how do you then set about installing it? Micro-renewable technologies will be presented in the Practical Installer area of the show.
Here a series of daily live demonstrations will explain all installers need to know when dealing with micro-renewables including advice from how to flush a solar thermal system to understanding rainwater harvesting and even how to retrofit a heat pump.
Renewables at the Ecobuild conference
If you're interested in renewables these highlights could be useful:
Tuesday 20 March, 12.30 - 13.30 All build is Ecobuild: mainstreaming low carbon construction
Thursday 22 March, 12.30 - 13.30 From megawatts to negawatts: taking the energy out of buildings in use
Thursday 22 March, 14.15 - 15.15 Making renewable generation happen: getting the scale right.
Think fabric
Fabric first has become the mantra for designers looking to get both new build and retrofit schemes to comply with current Building Regulations and to future-proof these schemes against rising energy costs.
For new build schemes, the Fabric First area will include six typical external fabric solutions for new build residential developments. The focus will be on the use of existing construction materials. Through a series of demonstrations, experts will show that using best practice installation and building techniques can result in significant improvements in energy performance and also overcome the problem of fabric cold bridges. The Fabric First area will also include an "Ask the Experts" helpdesk hosted by Saint-Gobain, Isover, Weber, British Gypsum and Pasquill.
Improving the energy performance of existing buildings is the focus of the Renew area. The importance of improving the energy efficiency of existing building stock is underlined by government initiatives such as the Green Deal. Renew will incorporate demonstrations to show the application and installation of a range of products and systems to help meet the huge challenge of refurbishing existing buildings including external wall insulation, glazing, flooring, and loft and cavity wall insulation. Renew will also offer practical advice on how to achieve an air-tight building envelope.
Fabric at the Ecobuild conference
Want to know more about building fabric improvements? Check out the following conference presentations:
Tuesday 20 March, 10.45 - 11.45 Green expectations: is the Green Deal the real deal?
Tuesday 20 March, 12.30 - 13.30 The road to zero carbon: the future for housebuilding
Wednesday 21 March, 13.45 - 14.45 One home every minute - the great refurbishment challenge
Wednesday 21 March, 15.15 - 16.15 Don't generate, insulate: changing our relationship with energy
Wednesday 21 March, 16.30 - 17.30 A Stirling Prize for retrofit?
Sustainability and the City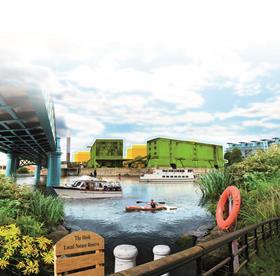 Cities are responsible for up to 75% of the world's carbon emissions so the need for a solution that means they will consume less energy is increasingly important. Energy is only one part of a truly sustainable solution; cities need to be socially and economically successful too. The Sustainability and the City seminar stream will examine how cities work, what can be done better and who should be driving change. The seminars will also look at current initiatives at various scales, from sub-regional to neighbourhood level. For more details check out the seminar programme; sessions take place in rooms 15, 16 and 17 of the South Gallery.
Creating a sustainable city community was the theme for this year's Isover Student Architectural Design Competition. The students had to create a community for 12-15 families living within the Trent Basin area of Nottingham, which borders the city and its industrial zone. Design solutions had to be based on the Passivhaus concept of highly insulated homes and had to take into account the wider regeneration of the neighbourhood and the reutilisation of existing buildings to create workplaces, leisure and recreation facilities and the infrastructure to integrate the area into the city.
The national finals of the Isover competition will be taking place at Ecobuild. The three winners will go on to compete in May's international finals taking place in Bratislava, Slovakia. Judges include Professor Wolfgang Feist, founder of the Passivhaus concept, Professor Julian Marsh, partner at Marsh:Grochowski Architects and Nick Ebbs, director of Igloo Regeneration and Blueprint, the regeneration specialist, which is playing a key role in the real-life redevelopment of the Trent Basin. Over 30 teams have entered and all the shortlisted schemes will be on display at Isover's Multi Comfort House stand at the show.
Urban design at Ecobuild
If you want to know more about sustainable urban design these highlights could be of interest:
Tuesday 20 March, 14.15 - 15.15 Creating an energy efficient property sector
Wednesday 21 March, 11.00 - 12.00 Collaborative consumption: the future of building strong communities
Thursday 22 March, 11.15 - 12.15 Architects, planners and the post-riot city
Thursday 22 March, 13.00 - 14.00 From earth to water - the sustainability of floating habitats.
Timber
Timber appears to be the sustainable material of choice at this year's Ecobuild. It will feature in a replica construction of a Japanese bridge, in a shelter built using recycled shipping pallets and in the student designs for a demountable timber pavilion and, as if that's not enough, there's even a tour to take in all the new timber products
at the show.
The one-third scale reconstruction of a single arch of Japan's 17th century Kintaikyo Bridge, built by students from Kingston University's School of Architecture and Landscape, will be one of the highlights of the show. The original structure, situated at the foot of Mount Yokoyama in southern Japan, consists of five wooden arches constructed from hundreds of small components and supported on stone piers set 35m apart in the Nishiki River. According to course tutor Takeshi Hayatsu the experience of building the arch has "helped students learn about structure, proportion and also about the building process and project management". The wooden structure for this version has been refined by consulting engineer Price and Myers; its numerous small components have all been manufactured from sustainably sourced timber. In keeping with the principles of sustainability, the replica will be relocated to temporarily span the River Hogsmill at the university's Knights Park campus.
The Nottingham Shipping Shelter is another timber structure designed by architectural students. This time the students are from the Department of Architecture and the Built Environment at the University of Nottingham and the structure they've created uses recycled shipping pallets and bits of scaffolding strapped together to create a shelter. The structure can be adapted for a variety of purposes and locations; at Ecobuild it will be used to create a contemplative space for visitors.
TRADA's stand too is based on timber designs by architectural students - literally. The association's stand is Stephanie Lewis' winning design in TRADA's competition for students at Oxford Brookes University. The pavilion is capable of being deconstructed, transported and used as a temporary shelter. At Ecobuild, it will house models of the shortlisted entries in the Timbmet sponsored design competition.
For those who cannot get enough of wood, TRADA has also devised a timber tour in which its technology specialists provide the commentary for tours around the event hourly on each day of Ecobuild that will focus on new timber products and innovations.
Timber is also one of the natural materials featured in the daily interactive demonstrations of how to use traditional materials. Along with traditional carpentry, there will be displays of dry stone walling, straw bale construction, rammed earth, cob brick making and lime rendering taking place throughout the show.
Design at Ecobuild
Highlights on architectural design include:
Tuesday 20 March, 11.15 - 12.15 The city after now
Wednesday 21 March, 14.45 - 15.45 Designing buildings for the next century
Thursday 22 14.45 - 15.45 The place of art in sustainable architecture.
Olympics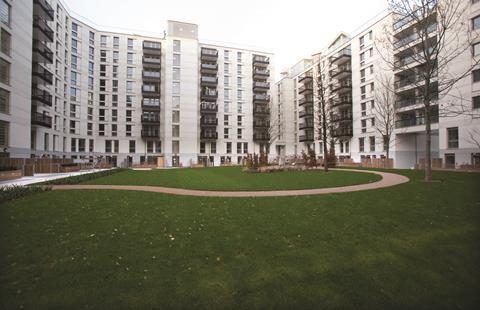 London is hosting the Olympic and Paralympic Games with ExCel, the venue for Ecobuild, hosting various events including: boxing, fencing, table tennis, judo, weightlifting and wrestling. This makes it the perfect venue in which to share knowledge and discuss lessons learned from the enormous construction project, which was completed on time and on budget, with a range of people on different project teams.
Sustainability has been a key word throughout the design and construction of the Olympic site and its buildings, from the methodology of the on-site remediation through to the long-term legacy of the Olympic park. The Olympic Development Authority (ODA) has talked about this being the greenest Games ever but has it really set new standards for sustainable design? Has the ODA achieved its sustainability targets? And what lessons can the rest of the industry learn from this project? These issues and many more will be discussed at the conference.
Olympics at Ecobuild
Conference and seminar Olympic highlights include:
Tuesday 20 March 13.00 - 14.00 London 2012: The greenest Olympics ever
There are also a series of seminars on the Olympic legacy running over all three days of the event
Seminars include:
Reducing the carbon footprint of the Olympic park
Sustainable water consumption on the Olympic park and
Turning waste into a resource at the Olympic park
Managing the environmental impacts of construction
The ODA's work on equality and inclusion.
Conference highlights
The Ecobuild conference sets out to showcase new thinking as well as challenge conventional ideas; it looks at issues affecting government policy, solutions for a low carbon environment and how to keep construction profitable in a changing world. It will run over all three days of the show.
There are three main conference streams:
Beyond construction: achieving a sustainable future
Making sustainable construction happen
Design, architecture and sustainability
Tuesday 20 March sessions include:
11.00 - 12.00 Geoengineering: can we affect the climate change conundrum?
14.15 - 15.15 Architects and architecture in straightened times
14.30 - 15.30 A flavour of the future: food security and justice in a resource constrained world
Wednesday 21 March sessions include:
11.15 - 12.15The future of design and the role of architects as localism gains teeth through the National Planning Policy Framework
14.30 - 15.30 Rio 2012: 20 years on - what have we achieved since 1992's Earth Summit?
16.45 - 17.45 Smart technology for a smarter planet
Thursday 22 March highlights include:
10.45 - 11.45 Solving the housing crisis: towards a sustainable housing strategy
11.00 - 12.00 Growing out of trouble - how social enterprise can help restore society.
12.45 - 13.45 The biodiversity crisis: can we end the economic invisibility of nature?