In this week's Ecobuild special, we take a look at five top trends to find out about at the show on 1-3 March. And there are some surprising suggestions to help you get more green
Straw
Ooh-arr, straw appears to be the sustainable material of choice at this year's Ecobuild. The natural material features in board form in the latest home design from eco-architect Bill Dunster, in prefabricated panels in a turnkey retail building from Modcell and there is even a series of straw bale workshops for those planning to build homes, schools and offices from the readily available agricultural by-product.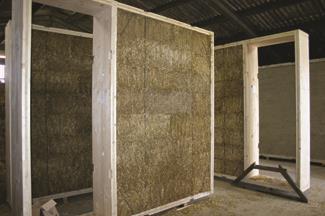 For the StramitZED house (right), Dunster has teamed up with straw board manufacturer Stramit to produce an eco-house in two-, three- or four-bedroom configurations, all of which meet the latest Lifetime Homes and London Housing Design Guide standards. Its design is based on Dunster's code level 6, RuralZED development at Upton in Northampton. The homes are assembled from cassettes of strawboard combined with Welsh timber and recycled newspaper insulation.
Hot water and electricity are generated by solar photovoltaic and solar thermal panels, with surplus electricity sold to the grid. The homes costs upward of £135,000, a figure claimed to be £20,000 less than the normal cost of constructing a code level 6 house.
Straw bales are at the heart of Modcell's retail solution too. This uses prefabricated panels (left) made near the costruction site, in a leased workspace or barn. The panels are assembled from untreated, locally sourced straw set into a panel frame assembled from sustainably sourced timber, which is then plastered with a protective lime render. The turnkey solution is claimed to save energy, money, carbon emissions and build times.
For those that want their straw raw and not pre-assembled, there will be plenty of opportunities to learn all about both load bearing and non-load bearing straw bale construction techniques at the straw bale workshops, which take place twice daily at Ecobuild - for further details and timing check out www.ecobuild.co.uk.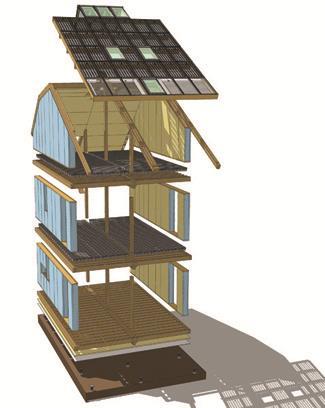 Phase change materials
If straw is too rustic and high-tech is more your thing, then check out the various phase change materials (or PCMs in techie-speak) at this year's show. A good starting point is the Cool Workspace, which is one of the interactive attractions on the exhibition floor. Sponsored by Capita Symonds, the attraction has been designed to showcase how cutting edge materials and technologies can be used to create a more sustainable workplace.
PCMs are just one of the technologies on show. The advantage of these materials is that they can be used to store both heating and cooling energy. In the Cool Workspace, PCMs are embedded in the walls and ceiling tiles where they will absorb heat to help keep the workspace cool and reduce the need for air conditioning.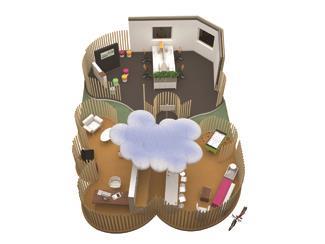 If you want to know more about the technology visit both the BASF and DuPont stands.
BASF's Micronal PCM has been incorporated into the Racus ceiling tile system for both new build and retrofit applications. Developed by Datum Phase Change, the tiles feature microcapsules of a special wax developed to store latent heat as it absorbs heat during the day, changing from a solid to liquid - . At night, when the temperature drops, the wax gives out heat and returns to being solid. The tile system has been used in the Victorian terrace refurbishment project at BRE in Watford.
DuPont's phase change offering is called Energain. It is available in lightweight panels developed to enable thermal mass to be added to lightweight structures. The company claims that using the material can reduce indoor temperature peaks by up to 7ºC, optimising comfort and decreasing air conditioning costs.
Sustainable towers
With the world's population becoming increasingly urbanised, the need for a fast, economic, high-rise, sustainable solution is becoming ever more urgent. One solution could be to build upwards using timber. As part of the fringe session, Advantage Austria is presenting a case study of a modular high-rise timber construction system designed for energy-generating buildings of up to 20 stories. Not sure about timber high-rise? Hear the discussion at South Gallery 10 at 12.30 on Wednesday 2 March.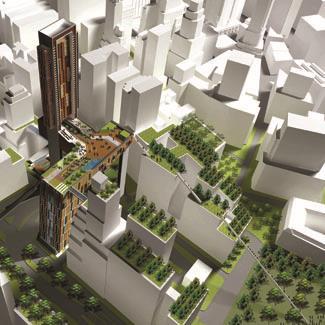 The results of a student competition to design sustainable towers located in the Greenwich South district of Lower Manhattan, New York will also be announced at the show. The design must encompass Isover Multi-Comfort principles, which are based on Passivhaus ideas of high levels of energy efficiency and comfort for the occupants. Wolfgang Feist, founder of the Passivaus concept and the Passivhaus Institut in Germany, will judge the competition and will attend the award ceremony on Isover's stand N260, where the winners will be announced at 3pm on 2 March. See below for the shortlisted designs.
Shortlisted designs
Manhattan Sky Podium: a design which aims to connect Greenwich South with its surroundings through a series of elevated pedestrian routes which meet to form a significant green podium in the sky.
Social Tower Experiment: a tower designed to foster vibrant communities and social interaction at height.
The Green Ramp: a design which aims to integrate Lower Manhattan's green spaces into the city fabric with a building that forms a ramp from Battery Park to theGreenwich South site, culminating in a Passivhaus skyscraper.
Solar Slice: a tapered tower that evolved through consideration of New York's sun paths, it respects the solar rights of the existing 88 Greenwich Street tower to the north of the site by carving a huge slice out of its mass.
Green Canyons: a prototype to counter the depleting quality of life in vertical urban sprawl.
Green Tower: a design which takes into consideration the forms of surrounding towers and icons such as the Statue of Liberty.
Windgate (below): a tower which aims to make maximum use of wind energy while also utilising the building design to form a new gateway into Manhattan.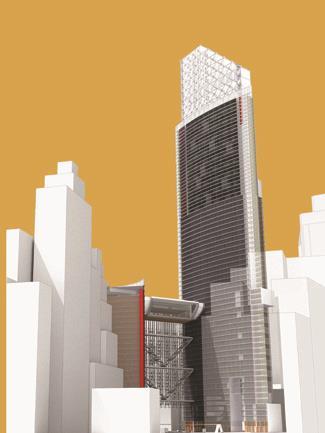 Vertical Sunspace Tower: taking inspiration from the Denby Dale Passivhaus, this design features a series of stacked, south facing sunspaces to maximise passive solar gain, daylight penetration and to create social spaces at height in the city.
The three winning UK teams will receive cash prizes of up to £1,000 and will go on to compete in the seventh international final, which takes place from 18-21 May 2011 in Prague and features a top prize of €1,500 (£1,263).
Wolfgang Feist will also be participating in two fringe sessions taking place on 1 March from 4pm to 5pm (North Gallery Room 9) and 2 March from 4pm to 5pm (North Gallery 6 & 7). The sessions will provide an insight into the Passivhaus and Isover Multi-Comfort House concepts.
Bees and biodiversity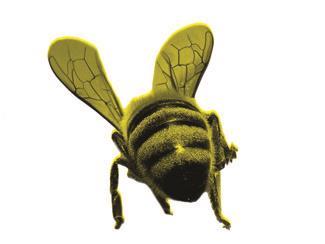 With wild bee populations facing a growing number of threats including pests and diseases such as the varroa mite as well as a growing lack of wild flowers to provide food and habitat, is it time for the urban beekeeper to come to the rescue? A small back garden or access to a rooftop is all that is needed to keep bees. What's more, there is a rich variety of plants in urban gardens, parks, railway sidings and tree-lined roads, all of which can be turned into delicious honey by our pollen and nectar eating friends.
The idea is not as crazy as it first sounds - probably the most exclusive address for bees anywhere in the world is the roof of upmarket grocers Fortnum & Mason in London's Piccadilly. Even the beehives have been given a distinct architectural style and some rather elegant gold details (www.fortnumandmason.com/fortnumbees.aspx).
Honey bees rely on a diverse range of garden and urban flowers for their diet, which means it is important to create an environment in the city that not only safeguards existing wildlife but also encourages further diversity and food for bees. Helping designers and planners incorporate biodiversity and meet new regulations is just one of the topics in the Cityscape programme, along with a biodiversity surgery.
For further details and timings, check out the Cityscape area on the Ecobuild website www.ecobuild.co.uk.Alison Benjamin, co-founder of Urban Bees, will be offering top tips for potential urban beekeepers on Wednesday 2 March, in Cityscape theatre two, at 11am.
Sustainable materials
In addition to the hundreds of products already made from recycled materials that are on display at Ecobuild, Kingston University will be looking for the construction industry to use sustainable materials seen in other sectors but little used in design and construction.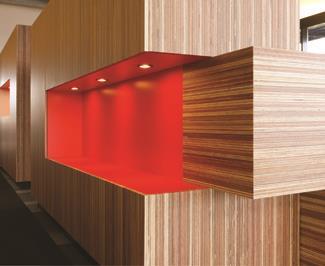 Rematerialise, a library of 1,200 samples of sustainable materials from 15 countries, is being launched by Kingston University. The materials have been selected to provide an environmentally responsible alternative to more resource-hungry materials and include post-consumer and post-industrial waste streams, scrap and refuse otherwise destined for landfill. The library holds information on a material's recycled content and its sustainable attributes along with technical data and examples of current applications for each material. The database was recently used to advise retailer Marks & Spencer on the use of appropriate sustainable materials for its new headquarters.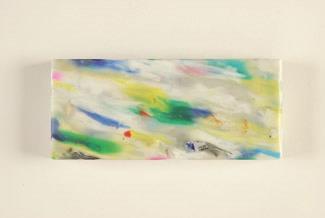 Part of the collection - including finished products manufactured from sustainable materials - will be showcased at Ecobuild to inspire further collaboration with industry and to bring to designers' attention to sustainable materials not yet used in construction.
This article was originally published under the headline Your 5 a day
Sign up now for Building's virtual event Sustainability Now which takes place on May 18-19