Poor, dangerous and corrupt is the image many of us have of Colombia, so why would anyone want to go and work there? Because the country is changing fast and needs UK firms as badly as UK firms need the work it can offer.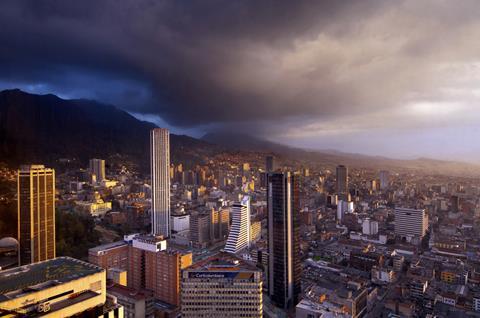 As soon as you arrive in Bogotá - Colombia's capital perched high in the Andes mountains - you are greeted with a sight that says everything about the country's economic ambitions.
You fly into the brooding concrete hulk of the city's badly dated fifties El Dorado Airport, a structure every Colombian business leader is keen to apologise for, but just minutes away the new El Dorado airport is under construction. This vast gleaming glass and steel passenger terminal will triple the capacity of Bogotá's international airport, enabling it to transport 20 million passengers a year.
This is a state of affairs being repeated throughout the country: evidence of Colombia's past and future, often sitting side by side. For Colombian and UK firms alike, it's the future that everyone is keeping a close eye on. The country is set for 4.5% GDP growth this year after clocking up 5.8% in 2011, fuelled by a mining and oil boom and record levels of foreign direct investment. Consequently it is rapidly outgrowing its creaking infrastructure.
In January the government passed a new public-private partnership (PPP) law designed to attract private investment and quadruple the country's spending on infrastructure projects to £5.3bn by 2015. It admits that to achieve this it will need outside expertise and is calling on western and UK firms to get involved in the expected building boom, particularly in the rail and urban regeneration sectors. And there is a real need for firms and individuals with expertise in sustainability, PPP projects and facilities management -
areas not historically covered by local companies.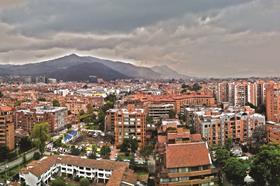 But do the opportunities outweigh the challenges of working in a country all too often associated with drug gangs, guerrilla violence and corruption? Or are these problems now largely in the past? With companies such as Aecom, Foster + Partners and Steer Davies Gleave already operating successfully in the region, and firms such as McBains Cooper lining up to enter the market, the evidence suggests that Colombia could well be one of the brightest emerging hotspots in Latin America, and one crying out for UK expertise.
Building took a trip to Bogotá to try to separate myth from reality.
A step change
Colombia's wrinkly topography - two Andean mountain ranges dominate the country - has always made providing transport links in the country seriously challenging. But the Colombian government has, for years, failed to provide adequate infrastructure investment to overcome the country's natural challenges. Over the past decade Colombian infrastructure investment has hovered at or below just 1% of GDP a year, leading the World Economic Forum to rank Colombia 85th out of 142 countries for quality of transport infrastructure in 2011.
But this is all set to change. Spurred on by the country's continued economic growth, president Juan Manuel Santos' government has vowed to invest at least 3% of GDP in infrastructure a year over the next decade. This equates to a total spend of $27.9bn on roads, $10.5bn on railroads and $11.1bn on other infrastructure projects including airports, ports and urban transport networks by 2021, according to the Colombian Chamber of Infrastructure.
"We are talking about a step change in transport infrastructure," says Luis Andrade, head of Colombia's National Infrastructure Agency (ANI) - which is leading delivery of the major increase in spending. And the government readily admits that to achieve this rapid expansion in infrastructure it will need external help, particularly PPP expertise, facilities management, rail, urban regeneration and sustainability.
"Here in Colombia we don't have PPP experience," says Luis Niño, co-ordinator of private participation in infrastructure for the National Department of Planning (DNP), which has control of the government's entire investment budget. "We want to create a PPP industry and would welcome UK firms with that experience to enter the market."
The PPP law also introduces a new role to Colombian infrastructure projects - that of facilities manager. María Patricia Sandoval, an adviser at the DNP, explains the law introduces longer-term contracts with an emphasis on "paying for services rather than works". UK firms - many of which have many years of experience in facilities management - may see opportunities here.
Andrade says private oil and mining investors have already expressed interest in funding the entire cost of a $3.7bn government scheme to construct and overhaul 1,752km of its freight rail network. The problem is that the Colombian construction industry's expertise in rail has been lost over the past decades as the network has fallen into disrepair. "Just two" of its freight rail routes are working, Andrade admits. "Because the railways weren't maintained, [the rest] simply don't work any more." So the opportunities for UK firms are widespread.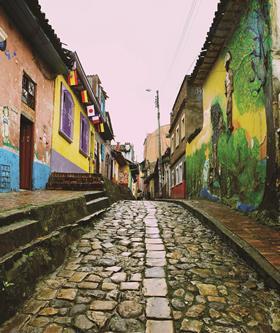 Bogotá, in common with the rest of the country, also has major transport problems. Apart from the city's guided busway system, the Transmilenio, the capital is a maze of clogged up highways reverberating to the sound of blaring car horns. Which is why the next thing on the city's to-do list is building a new urban transit system, although there is disagreement over what this should be. UK transport consultant Steer Davies Gleave has already completed a feasibility study for the first phase of a $2.5bn subway system for Bogotá (click on Projects To Look At table above), but the newly appointed mayor of Bogotá, Gustavo Petro, said last month that he would prefer to see a tram system built. Colombia has little domestic expertise in either form of transit system and could benefit from UK help.
The emphasis on an improved transport system is just part of a much-needed urban regeneration in Bogotá. The capital's urban sprawl has almost reached the limit of the available space in the Andean plateau 2,600m above sea level in which it's built.
"If the city is going to continue to develop, it has got to build up," says Jaime Niño, a director of PPP at Aecom. "The biggest challenge in Bogotá is the lack of land. Almost the whole city is very low density - there's scope for regeneration schemes on the level of the Olympics and east London here."
The government will soon be launching an international architectural competition to masterplan the redevelopment of its federal buildings district in central Bogotá - a potential 1.7 million m2 scheme. This should prove attractive to UK architects looking to get a foothold in the market.
So how sustainable will all this regeneration and infrastructure renewal in Colombia be? Cristina Gamboa, chief executive of the Colombian Green Building Council, says sustainability awareness has increased significantly over the past year in the wake of a series of devastating floods in parts of the country. "There is growing awareness of sustainability as we have been disproportionally affected by climate change," Gamboa says, "which I believe will lead to a greater drive towards adoption of sustainability measures."
This is another area where UK firms can make a major impact, particularly in the housing sector. Colombia has an acute housing shortage, with 3 million of its citizens homeless. The government plans to build 1 million homes by 2014, half of which will be social. But by the beginning of next year these new homes will have to meet robust sustainability criteria. The Colombian government is drawing up its first regulatory code for sustainable homes, which will come into force early next year. "We are looking for technologies and sustainable ideas for low price sustainable homes," says Néstor Preciado, economic director at the Colombian Chamber of Construction.
Challenges
Despite a wealth of opportunities, Colombia is not without its problems. The country was written off by the world business community for much of the eighties and nineties because of widespread drug gang and guerrilla violence. But successive Colombian governments have waged an armed campaign against the drug gangs and guerrillas and major cities are now safe.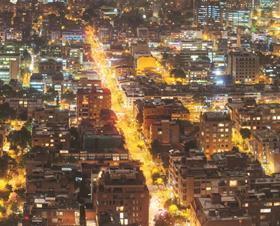 Aecom has been operating in the country for five years, running the US government's USAid programme, and hasn't had a single security issue in all that time. Santiago Angel, secretary general of ANDI, Colombia's equivalent of the CBI, says that in 2000 a survey of ANDI members chose security as their second biggest problem. Last year not one member even mentioned it as an issue.
Corruption is more of a problem. But the National Infrastructure Agency's Andrade argues the government has learnt from past mistakes. He says the PPP law will leave no wriggle room for corrupt firms and officials. "There'll be a lot of eyes watching these projects, with greater oversight from private investors and auditing companies. We've also improved insurance coverage, compliance terms and we have taken the discretionality out of the system."
Jorge Hernández, a partner at Deloitte's Bogotá office, is less sanguine: "There's still a lot of corruption but we are fighting against it. It depends [to an extent] on who the politicians are and the ministries." But he adds that the Colombian business and political cultures have now swung against corruption. "The government has increased the penalties. Where there's corruption today, the politicians will go to jail."
Winning work in Colombia
You might be surprised at how open the Colombian market is to Western entrants. Nonetheless, many Colombian construction firms are still family owned and a joint venture with a local firm is the best way to get started in the market.
Preciado says the market is particularly welcoming to UK firms. "Historically there's a lot of respect for UK firms in the market," he says. He claims Bogotá is "modelled on London in many respects" in terms of its design and professionalism. A Colombian government delegation visited London last month to tour Whitehall and learn more about how UK construction projects are run.
But apart from Aecom, Foster + Partners and transport planner Steer Davies Gleave, there are still few familiar UK names operating in Colombia. Foster + Partners has been commissioned to design a 60,000 m2 cultural centre in Bogotá, with construction expected to begin in 2013. McBains Cooper says Columbia is its next target in Latin America. The upside is that the market is far from saturated with rival UK firms, meaning now could be the best time for British companies to make their move.
Edward Dallas, head of UK Trade and Investment, warns UK firms not to miss the boat. "The Spanish, Brazilians, Koreans and French are all here - if UK firms dawdle they may miss out." Aecom for one is not in the mood for dawdling. It has identified Colombia as its second target for expansion in Latin America after Brazil, highlighting "uncertainties" in Mexico, Chile and Argentina. "The difference is that in Colombia you know the rules of the game and people will meet contracts," says Aecom's Niño. "The contracts might not be as big [as in Brazil], but they're more secure."
Niño - a Colombian born and bred - had the chance to join the UK construction industry after completing a PhD in London five years ago. He opted instead to return to his homeland to get involved in building a better Colombia. At the time he says he had no idea how drastically the two countries' economic fortunes would vary. "I think I made the right decision," he says with a smile. Whether UK firms come to the same conclusion will become evident as the regeneration of Colombia gathers pace.
Doing business
As a rule do not expect companies to be bilingual, so brush up on your Spanish.
Even if you don't form a joint venture with a local firm to get started in Colombia, you need legal representation in the country to trade - either a local lawyer or an office.
Edward Dallas, head of UK Trade and Investment in Colombia, says most UK firms have Colombian-born managers.
The country's investment budget is split off from day-to-day spending and is allocated by the National Ministry of Planning (DNP). The relevant government departments procure public projects, but the DNP has the final say.
Civil engineers typically take the lead on projects. They will allocate the budget and subcontract the other consultants and contractors. However, all this could change with the introduction of the new PPP law, which opens up the possibility of investors, a bank or a special purpose vehicle heading a project and subcontracting the construction work in any way it likes.
There are no QSs in Colombia - the nearest equivalent are auditors, which inspect projects that are under-construction to check if they are on time and on budget. However the Colombian Chamber of Infrastructure for one is keen to see the profession enter the market. The trade federation has contracted Pricewaterhouse Coopers to assess how construction projects can better keep cost under control.
Key contacts:
Edward Dallas, head of UK Trade and Investment in Colombia - Edward.dallas@fco.gov.uk
Santiago Angel, secretary general of ANDI - sangel@andi.com.co
Cristina Gamboa, chief executive of Colombia Green Building Council - cgamboa@cccs.org.co
Vicky Osorio Sandoval, executive director foreign investment at ProExport Colombia - vosorio@proexport.com.co
Adriana Suarez, executive director at Invest in Bogotá - asuarex@investinBogotá.org
Ana Carolina Ramirez, economics director at Colombian Chamber of Infrastructure - aramirez@infraestructure.org.co
Néstor Preciado, economics director at Colombian Chamber of Construction - npreciado@camacol.org.co