We take a look back to 1990 when a Labour government was a real possibility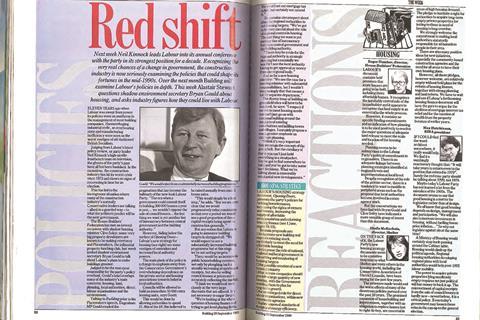 Red Shift
The annual party conferences are now upon us, with new Labour leader Jeremy Corbyn a particular draw. So we take a look back to 1990, when Neil Kinnock headed the table of discussions for the party.
The mood at the time was that a change in government was a real possibility, and so Kinnock's policies for construction were being seriously examined by the sector.
Building reporter Alastair Stewart said: "Eleven years ago when Labour was swept from power its policies were an anathema to the management of most building companies. Haemorrhaging industrial strife, an overbearing state and manufacturing inefficiency were seen as the worst vestiges of old-fashioned British Socialism.
"Judging from Labour's latest policy review, or party leader Neil Kinnock's high-profile frontbench team on television, the ghosts of the party's past have all but been banished. In the meantime, the construction industry has hit its worst crisis since 1973 and shows no signs of recovering in time for an election.
"This has led to the incongruous situation where many of the construction industry's normally Conservative leaders are talking - albeit in a guarded way - to what the pollsters predict will be the next government".