The Brexit vote has ushered in a time of widespread uncertainty, but activity in the housebuilding sector has so far held up well. Joey Gardiner looks at what we can learn from this year's salary survey and and asks how long trading can remain strong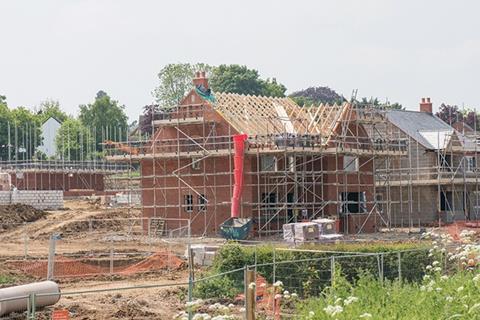 The vote to leave the EU on 23 June will no doubt be marked down as a watershed moment for the political and economic story of the UK. According to the data from Building's latest annual housebuilder salary survey, however, it is not, so far, any kind of watershed for the housing industry.
Housebuilder share prices fell by up to 40% after the referendum, given Treasury forecasting that house prices would be hit by up to 18% by a leave vote. The reality is that the sector has largely carried on trading unaffected, with most builders reporting continuing strong sales.
The salary survey data shows this dynamic is translating into a continuation of the strong demand for housebuilder staff seen in recent years, with big salary increases and skilled and experienced staff at a premium.
So, if you work in the housing development industry and were worried about what Brexit might do for your career prospects, the message so far is don't be.
But with some fearing that longer-term economic impacts from the EU vote may start to filter through in the new year, and a combination of factors leading to a slowdown in construction in London, is it credible that the sector will escape without any impact at all?
Salary rises
The data from the survey, undertaken by recruitment firm PSD Group on behalf of Building, shows average salaries for directors increasing in nearly every region and discipline (see table, opposite), with an average increase of 3%.
With the steepest rises still occurring in London, despite the recent slowdown in workloads there, the average MD's salary in the capital topped £200,000 for the first time, a 3% rise on the figure last year.
Regionally, average director salary increases ranged from 6.3% in London and 5.5% in the South-east at the top end to 0.4% in the North-west, the weakest region overall.
By role, many of the highest salary rises were captured by those on the construction side of housebuilder businesses. Technical directors did best with an average 4.6% salary increase, with commercial and construction/build directors not far behind.
In the high-demand regions of London and the South-east, several of these roles – alongside highly sought after land and planning jobs – saw double-digit salary increases.
PSD used placement data from throughout 2016 to inform the figures, but its sentiment survey was wholly conducted in September, after the Brexit vote. The responses support the idea of a continued shortage of staff, particularly in construction-related roles.
Outside of London, Brexit has essentially had no impact whatsoever. Production is going up

Kevin Cammack, Cenkos
A balance of 75% of respondents identified skills shortages as a threat to their business – by a huge margin the biggest threat facing them. When asked where the skills gaps were in their organisations, technical and building/construction roles were both identified by more than a third of respondents.
This is more than double the proportion highlighting skills gaps in any other area, reflecting housebuilders' current focus on building out the development pipelines built up since the post-credit crunch recovery.
Elliot Course, associate director at PSD, says that despite all the talk of post-Brexit catastrophe, very little has changed. "Clients did have a pause. But in most cases now it's back to business as usual," he says. "I have a number of clients with ambitious growth plans. There is still an acute shortage of people."
This view is supported by Karen Jones, group HR director at listed housebuilder Redrow, a firm whose 2,000-strong headcount has increased by a spectacular 25% in each of the past three years.
Jones says that immediately after the vote, the firm had a momentary pause, but quickly realised it wasn't experiencing any change in the market. "We never stopped recruiting. We looked around but realised it was no different," she says.
Hence the firm is continuing to grow, albeit Jones estimates that this year's expansion will be in the region of 5% to 15% rather than the 25% previously experienced.
While the continuing strong housing market is good news for Redrow overall, it also means that expanding the business with new people is as hard as ever. "We're trying to grow outlets and sites. [Brexit] has not made it easier to recruit, and at the moment we're having people approached by competitors at the same rate as before the vote. It's not what I thought would happen at all," Jones says.
As both she and the survey confirm, recruiting technical staff such as QSs and engineers is particular cause for concern.
Redrow's story of continued but more controlled expansion post-Brexit appears to be typical, given the lack of any significant impact thus far on sales rates. The salary survey found 56% of respondents seeing an increase in job opportunities in 2016, down from the 75% who saw an increase in opportunities last year.
So there's expansion, but not at quite the same pace. Cenkos analyst Kevin Cammack says: "Outside of London, Brexit has essentially had no impact whatsoever. Production generally is going up, and most housebuilders will have net new hires over the next 12 months, though probably they'll do it a bit slower than last year."
Hence skills shortages remain the big concern, with 83% of survey respondents saying the government wouldn't be able to hit its build target.
Former Countryside regional MD Chris Crook, now a consultant and a non-executive director at 1,800-home a year housing association Orbit, says he saw no pause post-Brexit. "The executive team at Orbit are still finding it a challenge to get the right people with the right skills and experience – the same factors are at play. As a consultant, I see an awful lot of large-scale development on the cards and the level of experience of people carrying it out is often woefully inadequate."
Steve Turner, director of communications for the Home Builders Federation, says the issue remains the sector's "biggest challenge".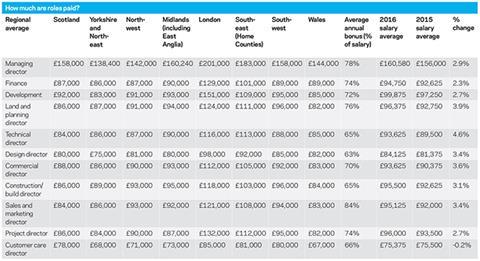 Recruitment puzzle
However, if the housing market's resilience post-Brexit vote has been a bit of a surprise, then the recruitment market in London could be seen as downright perplexing. In the capital there has been an undoubted hiatus in work.
The NHBC reports that starts on site are down by anything up to 60% in the second quarter of the year – a combination of the Brexit poll, stamp duty changes on high-value properties and second home purchases, and the cancellation of mortgage tax relief for buy-to-let landlords.
It hardly seems like the kind of market that should be seeing double-digit salary increases, but both the survey findings and the testimony of those working in the capital suggest the hiring market is as strong as ever. How so?
"A lot of housebuilders held back sales launches pre- and post-Brexit," says Cenkos' Cammack, which he says accounts for the drop-off in starts. "But I don't see this as necessarily a clear indication that will translate into the number of units delivered in the next two years."
Cammack's point is that while starts were paused by London developers such as Berkeley and Telford Homes, many have already started launching schemes again, and few expect the current pause to turn into anything more permanent.
Everyone's standing on the sidelines. No one's pulling schemes, everyone's postponing them

Jim Martin, Martin Arnold Associates
Jim Martin, executive chairman of residential QS Martin Arnold Associates, says: "Everyone's standing on the sidelines. No one's pulling schemes, everyone's postponing them."
Given the anticipation that this is merely a temporary situation, housebuilders are holding on to their staff. "I don't hear any stories of people being laid off," Cammack says.
This is an experience corroborated by Redrow, which also works in the capital. "I haven't heard on the grapevine about people being let go," Redrow's Jones says.
In fact, contrary to the idea of the labour market freeing up because of a drop-off in sales, ambitious plans by several housing associations to boost their development businesses mean staff are more in demand than ever.
Martin says: "Bizarrely, you have a housing association sector with almost unlimited money – as long as they don't spend it on affordable homes. Every single one is talking about more homes. They don't have enough QSs, mechanical engineers, electrical engineers, construction managers."
He says construction managers particularly – the tier below construction directors – are at a premium for everyone, commanding director-type salaries in excess of £100,000 or even £150,000. "They can come in and more or less pick a number," says Martin. "Even if the big builders don't have something for them to do right away, they're happy to pick up good people and just hang on to them until they do."
All of which spells good news for those working in the sector.
Fear of the unknown
All this positivity, however, does come with a caveat of continued uncertainty about how the post-Brexit economy will pan out. While trading is good now, survey respondents identified this as the second biggest threat to their businesses, more than planning issues.
PSD's Course says: "In 2007 no one had any money to do anything. The difference now is that firms have stronger balance sheets – but they're not 100% confident in the market and don't know whether to invest, particularly given fears raised before the referendum. So far the industry is defying the pre-referendum critics."
The HBF's Turner says: "Brexit has had no real impact on sales rates and people are still planning to increase output further and are recruiting. However, clearly it is still early days and the industry is obviously monitoring the situation closely."
While so far the pause in starts seen in London has meant that few are able to accurately predict the state of the market because of the lack of activity, this "phoney war" period will not last too much longer.
"It all depends how the sales launches happening now go," says Cammack. "If they're disastrous, then maybe housebuilders won't bring to market what they've got in the pipeline. If the market stays depressed they could sit on them."
Fortunately for now, those fears remain in the future. Enjoy it while it lasts.
Do you rate the following as threats or opportunities?
Results are presented as a balance of the percentage of those asked, with threats registering as negative and opportunities as positive
| | 2015 | 2016 |
| --- | --- | --- |
| Skills shortage | -86% | -75% |
| The leave vote | 0% | -35% |
| Planning | -36% | -25% |
| Acquisitions and mergers | -5% | -5% |
| Foreign investment | 33% | 14% |
| Mortgage lenders | 3% | 23% |
| Increase in population | 41% | 41% |
| More mortgage products available | 53% | 52% |
| Government incentives | 58% | 52% |
| Current low interest rates | 79% | 82% |
Where can you see growth in the residential sector coming from other than the top 10 housebuilders?
| | 2015 | 2016 |
| --- | --- | --- |
| Privated rented sector | 24% | 27% |
| SME developers | 18% | 23% |
| Development arm of a main contractor | 10% | 13% |
| Registered providers | 19% | 12% |
| Other | 6% | 10% |
| New entrants into the market | 9% | 6% |
| Government land releases | 7% | 6% |
| Overseas investments | 7% | 3% |
Methodology
The survey was undertaken in September by PSD Group, which specialises in senior level search and selection across the residential & property sector. There were two elements to the research: an attitudinal survey that targeted approximately 7,000 individuals at senior management to director level across the residential sector and data from placements made by PSD in 2016.
For further information on the survey please contact Elliot Course, Associate Director at PSD Group on either 0207 970 9792 or elliot.course@psdgroup.com