Nobody has yet come up with a convincing way to solve the housing crisis, and now the problem has got so big we need a plan on a national scale to tackle it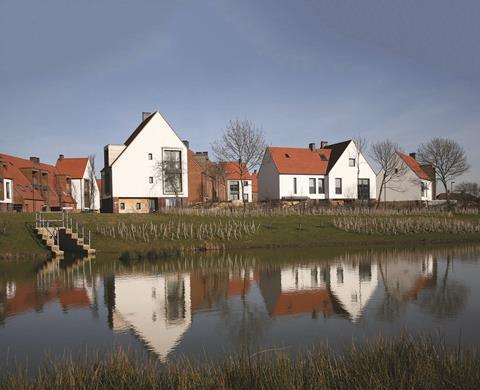 The UK is unique in Europe in that buyers prefer second-hand homes. This is no surprise considering we build the smallest houses in Western Europe despite many studies demonstrating new homes are far too small for families to live in. Unlike much of Europe, the design of modern homes is bland, with the market dominated by a small number of housebuilders. The Good Homes Alliance research shows many new homes don't match up to predicted energy performance and can suffer from problems including poor ventilation and overheating.
The Georgians, Victorians and Edwardians left us a legacy of well designed, spacious homes close to town centres. There is the story of Danish planners flying out to the UK, to view our Georgian and Victorian placemaking and good homes, only to be met at the airport by British planners going in the opposite direction to see ordinary modern housing in Denmark, which the Brits consider exemplary in terms of contemporary design and place making. It is no surprise that many people resent plans for new housing in their neighbourhoods.
A good home is sustainable, healthy, well designed, spacious, attractive, quality built, durable and efficient. A source of pride and satisfaction
High prices mean many people cannot afford to buy a home. This situation is caused by a planning system that stifles development, leading to high land prices. The costs and risks of obtaining planning mean only well capitalised housebuilders and some housing associations can afford to pursue medium and large sites. The Good Homes Alliance (GHA) believes the only way to tackle these issues is a national good homes debate leading to a plan to address once and for all our housing crisis.
It wants also to stimulate free enterprise - as well as a strong and viable alternative to volume housebuilders - by initiatives, incentives and obligations on local authorities and land owners to facilitate a massive custom build and co-housing programme.
The GHA has formulated a 10-point plan, which it believes could help tackle the problem. This is summarised below:
To seek the adoption of the GHA charter defining the qualities that make up a good home and apply a statutory duty on local authorities to require that "good homes" are developed in their jurisdictions. This process should start with defining what a good home is. A good home is sustainable, healthy, well designed, spacious, attractive, quality built, durable and efficient. A source of pride and satisfaction, it is comfortable, safe and assured. A home includes the community that surrounds it so that a good home is located in a friendly, sustainable and resilient community. It is a pleasure to live in a good home. It will have been designed and built in a highly socially and environmentally responsible manner with particular regard to the health and wellbeing of occupants and those involved in its design and construction. Access to a good home is the right and privilege of all in a progressive and civilised society.
Create a national good homes plan, a 10-year plan to build 3 million new homes. This would require radical planning measures including the creation of simplified planning zones where the planning process is relaxed in exchange for design quality and sustainability commitments. Ideas to consider include large-scale city expansions along the model adopted in Copenhagen where the city was extended into adjoining low-grade farmland by 600m, reducing the need for new infrastructure and with a need for a high proportion of green space. This plan should be backed by a national referendum with at least 50% of voters agreeing to its adoption.
Develop a new generation of new towns and large settlements. A national programme of new towns would be driven by a national body with the power to award planning permission to these developments. A proportion of the uplift in land value would be recycled back into the development to produce high quality homes and infrastructure.
Encourage a massive scale up of alternative forms of housing delivery including self- and custom-build homes and co-housing. This includes substantially increasing the government's fund to promote custom building and the creation of a new fund to stimulate co-housing schemes. Planning approvals for sites of over 200 homes to require 20% of the homes to be allocated to custom-build, self-build and co-housing with a figure of 25% on simplified planning zones and a cap on the land value for each plot. Stimulate competition by inviting European developers to get involved in UK housing provision, and by creating a partnering service between small developers, financiers, land owners and local contractors.
Adopt minimum space standards and integrate sustainability requirements into the Building Regulations. Establish new legislation giving new home buyers the same protection as with other consumer purchases.
Improve design quality by educating people and especially the young to become more aware of the role of good design and alternative forms of housing delivery. A working party will create policy measures with the objective of creating a design quality and sustainability literacy, which enables informed purchaser choice as well as knowledge of how one could undertake a custom homes or self-build process as an alternative to buying an existing home or a home from a housebuilder. Create a pattern book of designs based on features and characteristics of existing homes. Encourage young people to make a career in good homes development with obligations on apprenticeship schemes on the industry.
Encourage greater community involvement in the planning process by investing in models, tools and communication programmes to build the capacity of communities to participate in the design and planning process.
Create fiscal and other incentives to facilitate the regeneration of existing neighbourhoods, towns and cities. Enable the use of tax incremental financing for otherwise unviable medium and large scale developments and create investment schemes that give preferential tax treatment for regeneration developments. Create incentives for pension schemes to invest in new housing.
Set up a national housing development and research body to improve the technical capability of the housebuilding industry funded by a sales levy to support and fund R&D in the new homes sector. Require that housebuilders constructing over 50 new homes a year carry out rigorous inspections and checks of the energy and building performance of a statistically significant number of their new homes, using third party independent testing bodies, and with an obligation to publish the results.
Appoint a housing tsar to deliver this plan with cross-party support.
GHA Conference 2013
These issues will be discussed at the GHA Conference 2013 which is held on 24 October at Senate House, University of London, WC1E 7HU. For more details go to www.goodhomes.org.uk