The third of our quick-fire guides to changes at major contractors looks at Morgan Sindall
Recent changes: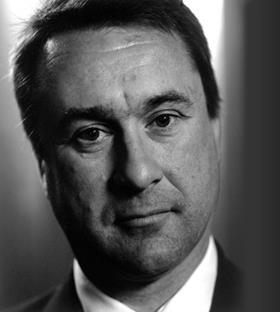 Last year Morgan Sindall underwent a restructure, which saw it close a number of regional offices last year and reshape its business around four regions.
The shake-up also saw the departure of chief executive Paul Smith, with executive chairman John Morgan returning to take charge of the business in November.
Smith's departure was then followed by the surprise resignation of long-time finance director David Mulligan, who was replaced by Steve Crummett, most recently group finance director at Filtrona Plc. The firm said Mulligan had left in order "to pursue new challenges".
The firm says the restructure, which cost £10m in one-off redundancies payment and property charges, will save it around £15m in annualised savings, as well as ensuring the firm is a "more flexible business that is able to move with market demands".
Morgan says there are no further restructuring plans - albeit with the usual caveat that he is "always keeping an eye on what's happening in the market".
By pulling together two or three of our businessess for certain pitches we can punch well above our weight

John Morgan
However, this month the firm warned that its operating performance had fallen short of expectations in the first quarter of the year, following difficulties in its construction, infrastructure and affordable housing divisions.
The firm said overall revenues came in as expected but its performance had been hit by "margin contraction".
It said its affordable housing business Lovell was experiencing "significant pressure on construction revenue and margins."
Morgan says he wants to improve the performance of the housing arm by focusing on large, mixed-tenure schemes, and expects margins in the fit-out business and the affordable housing arms to improve.
But he warns that the firm's construction margin of 1.7% is "more likely to worsen than get better in 2013".
He says he wants to focus on "tighter" implementation of the firm's strategy.
"The biggest thing I'm looking to do is we've got lots and lots of businesses where, on their own, they compete very nicely in their markets.
"But by pulling two or three of them together for certain pitches we can punch well above our weight and win jobs where other competitors can't put forward such strong propositions."
Latest results:
In February the firm reported a 15% fall in pre-tax profit for 2012 to £34.2m from £40m the year before. It also reported an 8% drop in revenue to £2bn from £2.2bn in 2011. The construction and infrastructure arm reported an 8% fall in revenue to £1.2bn over the period.
It said it had incurred one-off costs totalling £10m in redundancy payments and property costs from restructuring its construction and infrastructure and affordable housing divisions.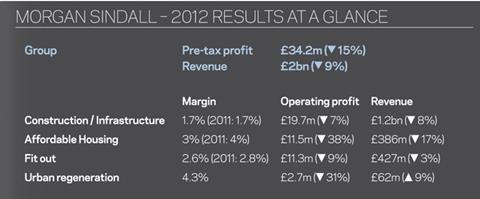 What the company says:
"In construction and infrastructure, the markets continue to be highly competitive, with the operational focus being on careful contract selection, cost and overhead management, and management of cash in a challenging working capital environment.
"Margins continue under pressure across all sectors, however the full impact of this has been mitigated in part by the overhead cost savings derived from the restructuring announced in November 2012.
"General market conditions are expected to remain difficult throughout 2013 and no significant short-term improvement is envisaged. With positive momentum in the business evidenced by order book levels and the operational focus on deliverable margin, the board is confident that the business is well-positioned to benefit from profitable opportunities as they arise, with a strong bias towards the second half of the year."