The energy secretary on the Green Deal, nuclear, and George Osborne's climate change scepticism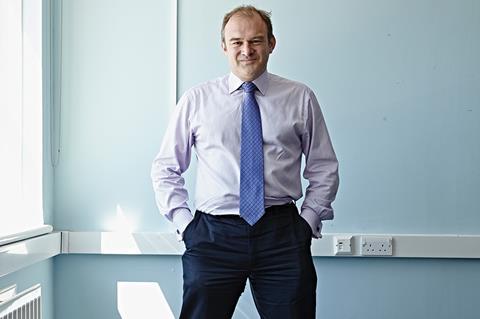 Being a Liberal Democrat secretary of state for climate change in a Tory-led coalition government cannot be the easiest brief. In post for a little under 18 months Ed Davey has already had to to face a number of challenges. In May, he watered down commitments on the amount of electricity to be generated from renewable sources (under pressure from the Treasury). He had already had climate change sceptic John Hayes appointed to his department by prime minister David Cameron. He even suffered the indignity of having his choice for the department's permanent secretary - sustainability champion David Kennedy - blocked, again by Cameron.
Does he concede that things have not worked out quite as his party might have hoped? Not a bit of it. "This government is and will be the greenest ever," he says, echoing the prime minister's infamous Rose Garden pledge - and goes on to list a series of environmental achievements, from the Green Investment Bank, the launch of the Green Deal, and the ongoing investment in railways.
But since 2010, those in the construction industry hoping for government leadership on sustainability have seen a series of policy U-turns and delays - on feed-in tariffs, Display Energy Certificates (DEC) and zero-carbon housing - and increasingly ambivalent rhetoric from some parts of the government over the importance of tackling climate change. Capping it all has been the delayed and uncertain introduction of the government's flagship domestic retrofit programme, the Green Deal, during which time the installation of cavity wall insulation has plummeted by 97%.
A recent YouGov poll found that just 2% of the public believe the government has met its pledge to be the greenest ever. So will Davey be able to tackle his coalition critics, repair the problematic Green Deal, and convince industry sceptics that the government is serious about promoting green growth?
Going green
I meet Davey in Sutton, south-west London, as he is about to join construction apprentices for an afternoon at Carshalton College. Students are learning the skills necessary for servicing a low-carbon construction industry, such as solar panel installation and energy efficiency retro-fitting - key skills for the future UK construction industry, if he has his way. The 47-year-old Nottingham-born and Oxford-educated politician is both polite and polished, and disarmingly free of the ranks of The Thick of It-style advisers and media managers so often in tow when cabinet ministers descend to Earth. So when he hesitates over whether or not to wear a tie for the photos, there is no Malcolm Tucker on hand to manage his image strategy. Still, the quick-fire, well-honed responses to the interview questions leave me with the uncomfortable feeling that, at 1.30pm, I'm the one thing standing between the secretary of state and lunch.
Davey is also in Carshalton to promote a Liberal Democrat campaign to create one million jobs, a strategy in which apprenticeships form just one part. The campaign's main focus, he says, is ensuring that the UK takes advantage of the opportunities created by the country's energy needs. First there's the need to replace its ageing energy generation capacity with low-carbon alternatives, and then there's the small matter of retrofitting the existing built environment for a low carbon future. "There's a massive opportunity that we have to take - we have to take it because 20% of our power stations are closing in the next 10 years, so we've got to invest because we've got to keep the lights on.
"If we go down the green route, as I'm pushing as a Liberal Democrat minister in government, we'll have more secure energy, [and] we won't be so exposed to high and volatile fossil fuel prices. These are very strong economic arguments, very strong value for money arguments, very strong affordability arguments, for going green."
Like all politicians, Davey is quick to get into a flow of rhetoric, and evidently enjoys relaxing into lists of UK opportunities and coalition achievements. Certainly, he appears relaxed for a man whose flagship retrofit policy, the Green Deal, which launched three months late in January this year, is perceived to be in real trouble. The latest figures show just 36 Green Deal agreements have been signed, next to a public target of reaching 10,000 by the end of the year, and no work has been completed despite a target of creating 65,000 jobs. This is despite the fact that government and local authority programmes have actually funded many assessments. Furthermore, questions have been raised in the last month over the scheme's basic premise - that users will be able to pay back the full cost of retrofit work through lower electricity bills.
We're creating the world's first-ever low carbon electricity market
But Davey is bullish, pointing out that the public response to the programme has actually been unexpectedly strong, with over 44,000 assessments undertaken, "probably more than most people expected", a figure he says demonstrates demand. With four-fifths of those who have carried out assessments telling the Department of Energy & Climate Change researchers that they either have or will undertake some form of retrofit work, he says it is merely a matter of time before this translates into actual work on the ground. "I've had my assessment," he says, to exemplify the problem, "but I haven't acted on it yet, because I've been a bit busy. But I'm going to act on it."
So is he confident of meeting the 10,000-home target? "I think so, yes," he says - but implies it might not be met directly through the Green Deal finance package itself. "Seventy-eight per cent [of people who undertook assessments] have either had work done, are in the process of getting the work done, or intend to get the work done. [But] that doesn't mean they're all going to go down the Green Deal finance route.
"The Green Deal is not just about finance; it's about assessment, it's about having a framework that people and industry can trust in to help people understand what the opportunities are in their homes to save money. A lot of people are either financing it themselves or using ECO [the Energy Company Obligation]. Now is that a success or failure? It's a success."
Teething problems
In the meantime he puts the plummeting insulation installation figures down to an expected "difficult transition period".
But his optimism is not completely unqualified. He admits to "teething problems", particularly around IT and the finance agreements, the first of which were delayed until May. "There's not been very many plans written, let's be honest," he says. "But let's understand why that is. There's been a delay in getting the Green Deal Finance Company and Green Deal providers to make their legal agreements, and then there were a few IT issues that had to be dealt with.
"So yes, there have been some teething problems, and I've been as candid and frank as I can be. But people shouldn't lose heart because it's happening, the assessments are going out the door, ECO's going out the door, the supply chains are building up."
In that vein he doesn't rule out introducing further measures to stimulate demand in the future, as called for by Building's Green for Growth campaign, but says the number of assessments being undertaken means this is not his current priority. Instead, he insists, some of the problems are actually the industry's to sort out. He issues a challenge to the construction sector to expand its capacity to install solid wall insulation - one of the key target areas of the Green Deal. Providers who geared up to deliver Green Deal work for its original launch date, may look sceptically upon that call. "The demand for Green Deal, which people thought would be a problem, isn't proving a problem. But the supply for some things that people are wanting is not there.
"If you look at the figures […] we're not seeing enough people who are out there offering solid wall insulation. I know there are some, but in terms of the build-up we want to see, we do get […] quite a lot people who cannot access green deal installers providing solid wall [insulation].
"We're monitoring the Green Deal extremely closely, day by day. We have to exercise the judgment of Solomon because… the judgment is how much do you push demand if supply isn't there."
Certainly construction is an industry of which Davey can claim to have some knowledge. MP for Kingston and Surbiton since 1997, he spent three years shadowing John Prescott's department from 2002. He was promoted from a junior ministerial post at the business department to become energy and climate change secretary after predecessor Chris Huhne was charged with perverting the course of justice in February last year. In June he hit out at "blinkered" climate change sceptics in the Tory press who he said were "giving an uncritical campaigning platform to individuals and lobby groups", in a speech widely interpreted as a dig at his Tory coalition partners for a lack of enthusiasm on green issues.
So does he have the support of the whole government for backing green growth? "I'm not going to pretend that every green issue that comes up we've agreed on. But the outcome of this [debate] has been a very green outcome," he says. "The chancellor, the prime minister, the deputy prime minister all realise that energy is the huge opportunity, and the whole government's come behind my policies."
The Green Deal is not just about finance; it's about assessment, it's about having a framework that people and industry can trust in to help people understand what the opportunities are
But is he not disturbed by chancellor George Osborne's open lack of enthusiasm, telling the Conservative Party conference that "a decade of environmental laws and regulations and regulations are piling costs … on households and companies," and that there was no point "saving the planet" if it put the UK out of business? Davey responds: "I've no problem with the Treasury asking tough questions, that's their job. And I also have no problem when the chancellor said we don't want to price British carbon intensive companies abroad - that's called carbon leakage."
But he can't resist emphasising the Lib Dems' role in keeping the government honest on sustainability. "We are massively increasing our incentives for renewables. We're creating the world's first-ever low carbon electricity market.
I could go on. These are things Labour never did. The Conservatives before them never did. They're happening because the greenest party in British politics, the Liberal Democrats, is part of a government."
When I remind Davey that the government's own Low Carbon Routemap for the built environment, launched at EcoBuild earlier this year, concluded that the policy and regulatory environment was not yet in place to meet the government's legally binding carbon targets, he simply counters that "we are on course to meet our targets," rejecting the idea that further measures are required. "We've got the right policies, there's no doubt about that. Don't tell me we're not doing great stuff."
The reality of coalition politics means Davey has to defend the government's record even where the Lib Dems haven't secured the measures they would ideally like. The real record is one of compromise - there are many successful green measures, and the Green Deal still has the potential to become, in Davey's words, "over the next two decades the most significant energy-efficiency measure ever". But this progress is being tempered by an instinctively de-regulatory Treasury and political pressure from Tory grassroots over wind farms and rising energy bills. Davey may have to go further to convince an industry keen to see a trajectory of green growth that the coalition means business.
DAVEY'S DILEMMA: NUCLEAR NEW BUILD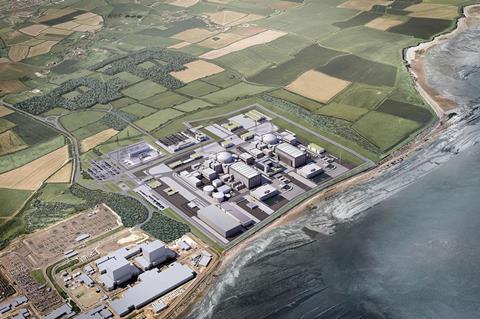 One of Davey's toughest challenges is in reaching a deal with EDF to enable construction of the first nuclear power station, Hinkley Point C, to be built in the UK for 30 years. Costing between £10bn and £14bn to build - with a consortium of Laing O'Rourke and Bouygues already selected for the main civils contract - EDF's final investment decision has been delayed until the end of this year while it haggles with the government over the deal that will guarantee the price for the power generated - the so-called "strike price."
Sources say an attempt to belatedly pull together a deal in time for this year's March Budget simply served to highlight how far apart the two sides were. But if you're hoping that Davey, who hails from a political party which still officially opposes nuclear power, would be able to reassure the industry that the vital negotiations are on track, you'd be wrong. Asked if he could say when a deal would be signed he says: "I can't give you a timetable for that particular negotiation. I wish I could," adding that "intense and constructive negotiations with EDF" were ongoing, with some "rather critical" issues remaining around the strike price.
He says he is willing to see the project fail rather than strike a deal at too high a price. "I've made my position clear within government and to EDF," he says. "I want value for money for the consumer, I want an affordable price, I want something that is fair for British business. I'm not prepared to sign a deal in order to sign a deal.
"Nuclear is a mature industry - it's been around 50 years or more. It's got to compete with other low-carbon technologies, and if it can't we won't sign a deal."
This may be a bargaining position, designed to prompt a deal sooner rather than later. But he also highlights the plans being made by alternative providers; plans which are at least four years away from a start on site. This does not bode well for a quick resolution to the Hinkley situation. "Some people think it's all to do with EDF and Hinkley Point C, it's not," he says, pointedly. "We're talking to Hitachi, who bought the Horizon project, and those negotiations are going really well, they're into their Generic Design Assessment with the Office of Nuclear Regulation, and Hitachi have got a very strong track record of building on time and on budget. And let's see what happens with the third consortium GDF Suez and Iberdrola, I'm quietly confident we'll see movement there.
"So we've got different options with the nuclear programme, I'm optimistic that we can get it happening but it has to be at an affordable price."
ED DAVEY ON …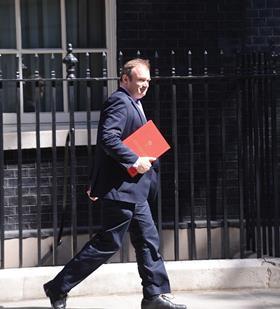 DECs
"I've got a lot of sympathy with the case for DECs, but we need to work with our colleagues in CLG [Communities and Local Government] to get agreement about how it's done and when
it's done."
FITs
"The reform of feed-in tariffs will mean there is going to be more solar panels, for less money, than there would have been. There has to be a fixed budget for these things, there's no blank cheques for any industry - green or otherwise. "
New energy economy
"Look at the astonishing increase in renewable electricity we've seen. Look at the go-early contracts for difference with electricity market reform. We had 57 applications, much more than we anticipated. If they all came to fruition that'd be 18GW of electricity. Don't tell me there's no interest in what we're doing.
In my first week as energy secretary, I opened the world's largest windfarm. A few weeks ago the prime minister and I opened the new world's largest windfarm [and] a week ago I gave planning consent for what will be the next world's largest windfarm. So am I bullish? You bet I am."