Architect BDP has had a miserable few years, with offices closing and a good many staff redundancies. But as John McManus, the new chief executive, takes over the reins, things are finally looking up - just don't expect any sudden changes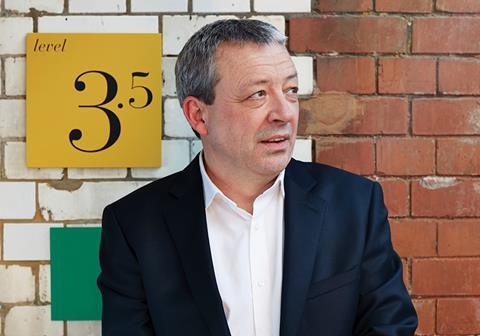 BDP's new chief executive John McManus is highly committed to his work but is rueful when asked how many hours he puts in every week. "I have no idea," he says, shaking his head. "I'd rather not think about it and I'd rather not say in case my wife sees it."
Pushed on whether it's more than 60, McManus pauses before conceding "yeah …probably" but balks at the idea that it's upwards of 80. "I mean, one tends to try to achieve a balance and it changes over time … I can't remember when I had a full weekend off unless you're counting holidays. That's in the nature of our business."
BDP - whose board of directors elected McManus to the role in December after incumbent Peter Drummond decided to "pass the baton on" and focus his efforts elsewhere in the business - will no doubt welcome the new boss' Stakhanovite qualities. After all, BDP has been through a torrid few years and only now is beginning to claw its way back to growth. Working solely in the UK when the recession hit and heavily dependent on schools and heathcare projects, the multidisciplinary architect and engineering firm was knocked off its perch as the country's biggest architect employer and endured a particularly miserable year in 2011 including closing four offices and making 100 people redundant that October.
Its latest set of accounts - in the year to 30 June 2012 - reflected continuing difficulties, with pre-tax profit down by 44% to £1.5m and turnover also dipping 15% to £68m.
Now, with BDP boasting five international offices and hiring in Manchester, London and Glasgow, things are finally looking up just as McManus - a veteran who will celebrate 30 years with the practice next year - takes the reins.
But, loyalty and hard work aside, how has this affable Glaswegian become the first-ever architect chief executive in this firm's history and what does his plan to return it to "sustainable growth" involve?
Glasgow, Manchester, London
Seated in a glass-walled meeting room in BDP's busy London office in Clerkenwell, McManus comes across as a warm and straightforward character albeit with a nose for avoiding controversial topics beloved of journalists.
Promoted from the role of chairman of the Glasgow studio, he now intends to spend three out of five days a week there with the remaining two divided between the London office and the firm's "spiritual home" in Manchester, where the 800-strong firm's accounting and IT functions are situated.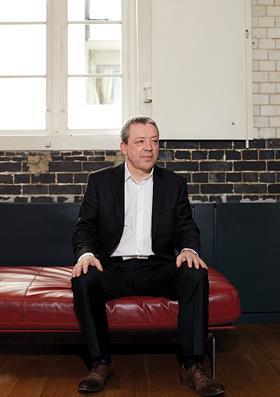 Much of McManus's success was cemented in the architect-dominated Glasgow studio so it should come as no surprise that he sees no reason to move south. "Glasgow has unquestionably punched above its weight in terms of work-winning and financial contribution to the bottom line," he says.
Part of this success, observers claim, is down to the Glasgow outfit's ability to make design decisions quickly and stick to them, something McManus concurs with. He says: "There's a small group of people who are allowed to design, to develop a concept diagram that informs the whole process. There's nothing worse than someone who is continually changing their mind."
Under McManus's leadership, the Glasgow studio won a succession of major education projects at home and abroad. This included its first high-profile scheme in China, a 70,000m2 scheme at Nanjing Medical University in Jiangsu province. This project was won in 2010 in competition against two rivals: Pritzker prize-winning French architect Christian de Portzamparc and a firm of local architects.
"We now have a very established Shanghai office with 30 people, but when we started that project, we only had three," he says. "That area of Nanjing has a high concentration of universities so we're hoping it will be a flagship project."
The experience of working in China seems to have made a real impression on McManus, who recounts an anecdote illustrating the university client's ability to make a key decision perhaps even faster than he can. "When we did the presentation for that particular project, I'll always remember we were on at 12 noon," he says. "The Chinese team were on at 10, the French team at 11 and we were on at 12.
"We finished about one o'clock and me and my Chinese colleague were walking back to the hotel and they phoned us to say 'you've won the competition, can we have our first meeting at two o'clock today?'
"In the UK, a university project of that scale has a gestation period of about five years …there's a lot we can learn."
McManus has always been hands-on as a project director and says he plans to remain hands-on as chief executive, working closely with clients and main contractors to make sure the firm is "aligned" with what they want.
He says: "Part of the value of what I bring to this role is that I'm typically in the middle of the situation in a way Peter [Drummond] wasn't as a town planner; where you're not at the cutting edge of what people need from the process."
Plans for business
Back in 2011, BDP was ranked in the top 10 of the World Architecture 100, the list of the largest global architects compiled by Building's sister title Building Design. So given that it had slipped down to 34 in this year's table does the firm remain a big player in international terms? "We're a medium-sized multidisciplinary group," McManus says. "When you compare us to the massive engineering-led practices, we're mid-range and we still see the UK as being our base market."
BDP's turnover split is now something like 80% UK work to 20% international work. But while the international slice of the cake may swell to around 30% of the whole over the next three years, McManus says the firm's history and expertise in this country means there is no desire to "flip the whole thing over" and see overseas work dominate.
We're putting together a five-year plan based on 5% growth in turnover this year, rising to 10% in year five. We've always been wary of growing too fast … I don't see steep growth , I see sustainable growth
Overall, the ambition is to grow modestly, he explains. "We're putting together a five-year plan based on 5% growth in turnover this year, rising to 10% in year five," he says. "We've always been wary of growing too fast … I don't see steep growth, I see sustainable growth."
BDP has acquired smaller firms over the years but McManus says its current growth plan is organic. The upshot is that the firm expects to increase its headcount by 5-7.5% this year, equating to perhaps 60 new jobs. "We're hiring in Glasgow and in London and hiring in Manchester in certain professions. So it's a relatively healthy situation in terms of bringing new people on board."
BDP has worked on several rail projects in the UK including the Crossrail station at Whitechapel, and transport infrastructure is one area McManus would like to see the firm expanding in. "We'd like to be much more involved in big infrastructure projects," he says. "Historically it was, in the early days of the practice, something we were heavily involved with. We did a lot of work on the Channel Tunnel terminal from this office way back when.
"We're doing bits and pieces at Heathrow and Glasgow airport but nothing of serious scale."
This may explain McManus's polite refusal to comment on the ongoing row over design quality on Crossrail. But then he is generally wary of controversy, sidestepping questions about the troubles of fellow Scottish architect RMJM and jokingly requesting that his allegiance to Glasgow Celtic Football Club is not printed in case it annoys contractor clients who support Rangers.
Perhaps wisely, he also declines to make known his opinion on the question of Scottish independence, saying he doesn't "have strong views" but is reluctant to divulge his political leanings. "I'm pretty sure BDP Scotland will grow and prosper whatever the result is," he says patly.
Hard-working, decisive and with an obvious knack for avoiding pitfalls, perhaps it is no wonder that BDP's new boss is predicting things are looking bright for the firm. He says: "There's definitely a sense that there's a gentle shift happening … we're recruiting and that's not something any of us have been doing for several years. The feeling is positive, at last."
John McManus fact file
Married to a secondary school teacher and has two grown up sons
Lives in central Glasgow
Enjoys city breaks, sport and books
Currently reading On the Map by Simon Garfield which explores the history of maps but also a fan of literary giants Hemingway, Steinbeck and Roth
BDP's key UK projects:
Lead architect on Westgate shopping centre, Oxford
Southmead Hospital, Bristol
Buchanan Galleries shopping centre, Glasgow
Technology and Innovation Centre, Strathclyde University
Alder Hey Children's Health Park, Liverpool
M&E and lighting contractor on transformation of the town hall complex, Manchester
New council HQ for Northamptonshire council