How construction's only female chief executive learned to stop worrying and build a £2bn company in the midst of a global economic crisis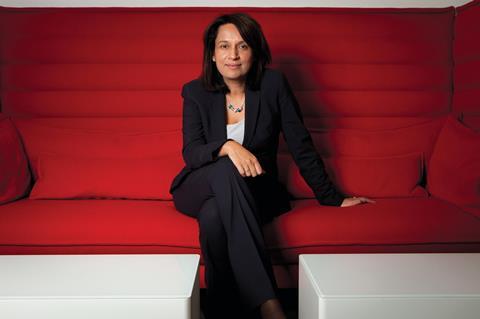 Ruby McGregor-Smith has banished overthinking from her working day. "I don't dwell any more," she says with a casual shrug. "It's the best way to do a good job."
Doing a good job is something that the 48-year-old boss of Mitie appears eminently qualified to talk about. The £2bn facilities management firm reported 10% growth in turnover and profit last year and leapt to eighth place (from 16th in 2009 and 10th place in 2010) in Building's Top 150 contractors. It is the sort of success that tends to get you noticed, and McGregor-Smith was duly awarded a CBE in the 2012 new year honours list for services to business and diversity in business.
McGregor-Smith is also the only female chief executive of a major UK construction firm, so it's intriguing that she attributes her success in business to shedding those characteristics that she views as typically feminine - such as "dwelling".
"Learning how to stop worrying - which is a natural female trait - was really hard," she says. "Ultimately it's about confidence. You have to tell yourself you are good enough. Women don't do this very well. They focus on what they have done wrong rather than what they have done right. This is completely different to the way men think and it can be that excessive worrying that really holds women back."
I don't see any reason why we can't repeat the levels of growth we have seen over the last few years
That's not to say that McGregor-Smith's approach has been to disguise herself as a cigar-chomping captain of industry. Her upfront, straightforward manner extends to talking with refreshing honesty about subjects that a typical male chief executive doesn't usually bring up: the difficulties of balancing work and home life, for example (she is a mother to her two children "first and foremost"); or why heading up a large firm means "being OK with failure".
But first, there are a few successes to talk about …
Mitie impressive
McGregor-Smith became chief executive of Mitie in 2007 after joining the firm in 2002. She has achieved what she set out to do in the top job - to turn Mitie into one of the largest integrated facilities management providers in the UK - in just four years. The firm's headcount has grown from 23,000 in 2003 to more than 62,000 in 2011.
And the financials speak for themselves. Despite a tough few years for the industry, revenue rose from £1.72bn to £1.89bn for the year to 31 March 2011, and pre-tax profit grew from £79.7m to £86.8m, as the company's energy services business took off. This part of the business now accounts for 34% of revenue, with the group's technical facilities management division, which includes energy, growing from £345m in revenue in 2010 to £437m.
Last August, Mitie announced it had already secured 85% of its budgeted revenue for this financial year. And major contract wins with high-profile firms including Rolls-Royce and Vodafone have given the group a further boost. "We are a growth company," says McGregor-Smith. "The next big thing for us will be partnering. We will work on bigger projects with bigger supply chains and with more companies through collaboration. We are already doing this sort of thing with the prison service, where we bid jointly for contracts to allow us to go for schemes we wouldn't necessarily be able to on our own.
"This is part of our plan to grow organically. I think we will look at mergers and acquisitions in the future - particularly in energy services. But that will be a slower burner over the next five years."
And it's not just sector growth that McGregor-Smith has her sights set on: Mitie is set to take on more overseas schemes with a move into Europe. Surely the timing isn't great to be looking to the eurozone? "We would do it very slowly," she says. "And we would only follow our clients. Rolls-Royce, for example, operates all over Europe and we now support them in nine regions."
As to how fast she expects Mitie to grow, McGregor-Smith won't be drawn on a timeframe, but she suggests it is likely to be fast: "I can say that I don't see any reason why we can't repeat the levels of growth we have seen over the last few years."
Balancing act
It's an impressive record to maintain, but alongside the steely ambition is a more un-CEO-like acknowledgement that things don't always go to plan. "You have to accept that things will sometimes go wrong," she says. "To improve, you need to say, 'I didn't get that right and I won't do that again'. None of us are perfect, and we're all going to get it wrong occasionally. But I think that's all right."
Something else that's all right in McGregor-Smith's opinion is asking for help to balance your work and home lives - especially if you are a woman with a high-powered job: "My children were six and four when I joined the company," she says. "I found it incredibly difficult to be away from them. You need to work with people who understand you have a family and that you are a mother first and foremost. To make it work in top jobs, women need a lot of support to allow them to do it alongside having a family. The balancing act is really hard and shouldn't be underestimated. But it's doable at the right company."
So what is the right company? "Traditional firms are bad when it comes to promoting people on pure talent without considering gender," she says. "We are a young business rather than a big traditional firm which is one of the main reasons I am here today. I don't think I would be in this role at a more traditional firm. Now, all the FTSE companies need
to get to where we are - and eventually where the technology companies have got to. Businesses where female bosses are the complete norm."
McGregor Smith pauses for breath - she's on a roll, an aspect of her personality that sometimes gets her into trouble: "I am pretty outspoken," she smiles. "And I do sometimes say, or tweet, things I later regret. That does happen once in a while."
But does she spend hours worrying about every faux pas? What do you think …