Dr Diana Montgomery has only been working in construction for four weeks and already she's preparing to take on the government and the industry's vested interests. In her first interview, the new chief executive of the CPA sets out her stall to Emily Wright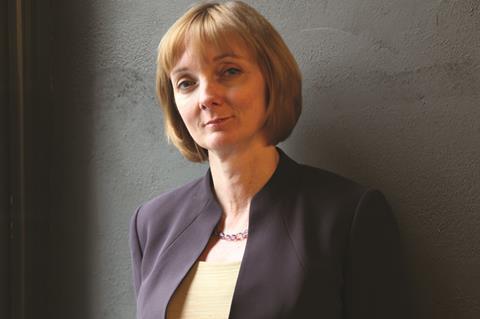 Dr Diana Montgomery is four weeks into her first ever job in construction. And the pressure is on. Last month the 47-year-old officially took over from Michael Ankers as chief executive of the Construction Products Association (CPA) and she knows how quickly she will be expected to get up to speed on the issues that he knew inside out.
At the helm of the body since its creation in 1999, Ankers has become one of the most respected names in construction - not to mention one of the most politically influential. And Montgomery, the former director of the Chemical Industries Association, says that following in the footsteps of the man she describes as "a true gentleman" has been the most nerve-racking part of taking the role.
But the fear stops there. Montgomery is in no doubt she is more than capable of taking on the job and of making a real difference. And this is where she plays her trump card - her successful background in government lobbying. "Five years ago, the chemicals sector didn't have a single voice and wasn't seen as a crucial industry by government," she says. "Now it is mentioned in speeches by figures such as Vince Cable in the same breath as aerospace and automobiles.
"We achieved this by pulling together as a sector and approaching government with one, single voice and making sure we were firm about what we wanted and finding out what government wanted from us."
And that's what she wants to achieve not just for construction products, but for the wider industry. In an exclusive first interview, she explains how she is going to set about doing it.
First 100 days …
The appointment back in January of a CPA chief executive with no construction industry background may well have raised a few eyebrows. But Montgomery insists that what she doesn't have in longstanding industry knowledge she makes up for in experience raising industry profiles and lobbying of the government through senior trade association positions.
"There are key things I can bring from my time in the chemicals sector and apply to construction products. The first is getting recognition for construction manufacturers from within the wider industry and government. There is so much focus on architects and contractors but we, as manufacturers, are such an important part of the supply chain and need to make sure we are not forgotten about. What I want eventually is for senior minster officials to be mentioning construction products in the way they now
do with chemicals, automotive and aerospace.
What I want is for senior minster officials to be mentioning construction products in the same breath as automotive and aerospace

Dr Diana Montgomery
"The other key focus point is to get a much clearer message from government about what it wants from us as a sector."
She says that both points will be easier to achieve if there is a longer-term manufacturing strategy, which she intends to implement by November.
"There is a major frustration in the UK across most sectors about how short term the government is. Every time a policy is changed, firms lose more confidence to invest in them. In France and Germany there are manufacturing strategies that go past their government's current term of office and that's what I want to introduce here. A long-term strategy. And I hope to launch it at the November CPA lunch."
In terms of what this strategy will look like, Montgomery says she needs to ask a lot more questions and visit more members before she has detailed content. "It won't be a long document," she says, "but really boiled down and specific, based on what the industry wants."
The opportunity, then, is there to approach her with ideas (see box).
Then there is the goal for a single industry voice: "I have sympathy with government on this," she says. "What do you listen to when you have so many different voices coming at you all at once? Construction comes back with hundreds of ideas, all potentially contradictory at the moment, and there is no clear message. Once we have that sorted we are in a much stronger position to go to government with what we want and work out what it wants from us."
And her message to government? "Tell us what you want us to achieve, don't tell us how to do it, and don't change the goalposts every five minutes."
… and the foreseeable future
One of the things the CPA is well known for is its data, considered one of the most accurate barometers for the state of the industry. Montgomery admits that current forecasts - the most recent released on the morning of the interview - do not bode well. CPA economists forecast a 2.9% drop in construction output for this year followed by a flat 2013, before growing 3.4% in 2014. The latest report reiterated that infrastructure is the main growth area, with rail construction set to expand by 56% over the next four years.
"Obviously everything points to the fact that, between this year and next year, everything will remain tough before moving into a slow build," says Montgomery. "I think we have all been pleased to hear David Cameron acknowledge there is a need to invest in infrastructure. But where that money comes from is the billion-dollar question."
Nuclear is another sector presenting as many questions as answers, particularly since energy companies E.ON and RWE Npower pulled out of the new-build programme.
"The big question is whether government will be able to sort out the funding to make sure this work goes ahead. And there is so little happening in the two-year immediate plan.
"But each nuclear power station is going to be the equivalent of building another Olympics - so what an opportunity for the sector. We need power, for goodness sake, so there is not an option not to deliver on this."
So the outlook remains grim, but with the prospect of brighter later. "We have a lot riding on plans due for 2016, 2018 and beyond. But we need to get there first and there isn't much happening in the immediate future. It is a really interesting time to be joining the industry and it feels like the only way is up." Here's hoping.
Waiting for your call
"What I am going to be asking member companies for more and more are examples, case studies. We can only talk to government about what you're doing if we know what you're doing. We can only be as good at promoting you as you are at giving that information in and in any sector it's hard because companies have their day jobs and are busy.
"And they probably don't always realise the value of their stories and experience. To be able to sit in front of a minister with some real-life examples really helps hammer our points home."