Almost a year ago Atkins chose German physicist and brain scientist Uwe Krueger to improve its performance and drive global expansion. Sarah Richardson talks to him about the things going on in his head. Portrait by Anthony Lycett
Ask Uwe Krueger what he wanted to be as a child, and the answer, for someone leading a construction firm, is pretty unusual. "I wanted to be a scientist," he says, his piercing eyes staring at me intently. "Calculating and finding solutions for something - that was what I liked."
There is much about Krueger that sets him apart from many within the industry - most obviously his training. Rather than having an education in construction or business management, he studied as a physicist, following his childhood passion for science to obtain a PhD in complex system theory and brain research from the university of Frankfurt in his native Germany.
This background seems to have contributed to a quiet, yet assured, directness which is immediately apparent on meeting him. It has also contributed to a forensic approach to the industry and to management which, as he approaches the end of his first year in charge at consultant Atkins, has resulted in a clear shift in the consultant's strategy.
Krueger has a plan to make overseas revenue account for 75% of the business, using his personal international expertise to drive growth at the consultant. As part of his plan to improve performance both in the UK and overseas, he is also overhauling operational efficiency to boost cashflow. Here, Krueger outlines his strategy for Atkins, and shares his thoughts on the UK and international markets with, what has to be said, is clinical precision.
Krueger's entry into the construction industry came via an early career in international strategy consulting after completing his PhD. Eventually he landed himself a client specialising in construction and engineering, which sparked his interest in the sector enough to take up an opportunity to join the management team at German giant Hochtief.
"I think it's quite natural that by having a technical or scientific background this kind of opportunity resonates with you - and so it did with me," he says. "If you think about it, what kind of industries really touch people's lives? Of course, we're all fond of our Apple equipment or whatever we use, but engineering construction is something that really shapes the environment."
Krueger spent 10 years at Hochtief, running businesses in eastern and central Europe, and becoming chairman of the firm's US acquisition Turner. He was working for private equity firm Texas Pacific Group when approached by Atkins, but knew the consultant well from his time at Hochtief - the two companies both have a strong presence in the Middle East. He says he was impressed by Atkins' "iconic brand in technical excellence", and was also strongly attracted by the opportunity to use his international expertise to accelerate the firm's global expansion.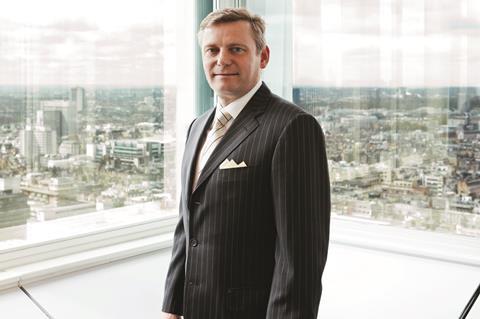 As you might expect from someone with a leaning towards forensic detail, Krueger, now 47, has spent his first few months at Atkins carrying out a detailed business review, going into what he says, with a slight smile that suggests an element of understatement, was "a reasonable amount of granularity".
Krueger's overarching aim for Atkins is to transform the business into one which operates at an 8% margin - it reported an underlying margin of 6.1% in its half year accounts to 30 September 2011, with an overall half-year revenue of £843m and operating profit of £49m. His strategy to achieve this has three strands. These are "portfolio optimisation" - ensuring Atkins' current offering is focused on markets which are growing and in which Atkins can differentiate its offering, rather than, as Krueger puts it, "trying to be all things to all people"; to focus growth on key segments and regions; and to improve "operational excellence" by working more efficiently.
When it comes to the company's existing focus, Krueger has already made his mark by selling off the asset management business, which he explains had "good people but was too small to compete with the £800m-firms in the market". However, despite an aim to reduce the proportion of Atkins' work from the UK, he says that elsewhere he is happy with the business's current performance in the region.
Atkins reduced headcount in the UK by more than 800 over the year to September 2011, but Krueger insists that the company can still grow in the market. "We had a meeting just yesterday where we identified around 1,000 vacancies in the UK that we want to fill as fast as we possibly can," he says. He adds that this decision has been based in part on the government's strategy for stimulating the economy through construction. "What the prime minister and his cabinet are doing here to stimulate the economy with infrastructure investment has a direct effect on the behaviour of a company like ours," he says, pointing to the example of HS2, on which Atkins has won a preliminary design contract. "It gives me as a chief executive the opportunity to make decisions."
Krueger is well aware that this confidence in the UK may jar with many in the sector. "Keep in mind that as design engineers we are at the forefront of the cycle," he says. "We are the first to feel that there is light at the end of the tunnel, in a literal way, so to speak. I think that not only myself but one or two of my colleagues in the same spectrum in the UK are starting to be more optimistic."
Growth opportunities
The sectors that Krueger has identified as central opportunities for growth are - in order of priority - energy (including oil and gas, nuclear and renewable), defence and aerospace. He also believes that the water business has strong potential internationally. And although he wants to grow Atkins in the UK, it is clear that the main thrust of its expansion will be international. Krueger has a "mid-term" target to generate just 25% of the firm's business from within the UK - currently, he says, this is "in the mid-40s" - with the firm's international growth outpacing that in the UK. The US, Scandinavia and India are the key target regions where Atkins plans to commit more resources.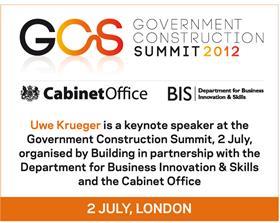 One selling point that Atkins is already taking advantage of internationally is its experience on the London 2012 Olympics, which Krueger believes gives the firm "experience on large scale brownfield projects that can be replicated around the world". The firm has a clear advantage in this respect - not only in its expertise, but also in its ability to promote it, as it has avoided the traps of the controversial no marketing rights protocol by paying to be an official Games sponsor. The issue is the subject of heated debate among other firms wishing to promote their services, but Krueger's message is typically direct. "We have decided to commit a significant amount of money to be a major sponsor and I want that to be respected. I want it to be respected that Atkins has special rights to put the fantastic work we have done on display."
On top of his stated international priorities, Krueger says that the Middle East - traditionally a major market for Atkins - "continues to be an important growth engine for the company". Krueger's predecessor as chief executive, Keith Clarke, who stepped down from the role last July, has stayed on to help advise the business in the region. Krueger says: "It is a very specific role, more or less focused on Qatar at the moment. It is to help us with client networking and sales."
Like many UK consultants working in the Middle East, Atkins has been hit by problems with payment in the region. Krueger acknowledges the difficulties, but says that this will not prevent the company pursuing further work. "The art is to be disciplined about what you are going to bid for and for whom you are working. There will always be disappointments and there will always be fantastic successes in the Middle East."
Diamonds on display
One obvious characteristic of much of Atkins' work in the Middle East, from a design perspective, has been its flamboyance - most notably the Burj Al Arab - contrasting with markets such as the UK, where the firm is known predominately for its engineering. Krueger says that Atkins' architectural capabilities are "often overlooked from the outside", saying: "People typically associate us as a pure engineering firm, which is not true at all. We probably need to do a better job in putting our diamonds on display with regard to iconic design successes."
However, he insists that despite its various components, Atkins has a coherent identity: "The overriding theme is urban infrastructure. More than 50% of the world's population lives in cities now, in many cases you have existing urban infrastructure that is dysfunctional. And I have to find a way to turn this dysfunctional urban environment into somewhere where people love to live."
Krueger says that the breadth of Atkins' multidisciplinary offering and the ability to integrate its services makes it well placed to address these issues. He also says he believes the approach can work well on smaller, more localised projects, such as the firm's standardised schools work in the UK - especially given the company's focus on improving its operational efficiency.
Atkins' longstanding emphasis on its breadth of service - it acquired QS Faithful + Gould in 1996 - in many respects pre-dated the current drivers for consolidation amongst consultants. However, Krueger says that Atkins is looking for acquisitions on top of its central strategy of organic growth. Targets are likely to be small or medium sized but adds he "will never exclude a larger one should the right opportunity occur".
He denies, however, that he feels under pressure as a result of increasing consolidation in the sector. "Scale in our industry matters, but it doesn't matter if you have 18,000 [staff] or 30,000. You just have to reach a certain size to be able to compete internationally. We are under no pressure whatsoever. We only do what we are convinced about."
Uwe Krueger is a keynote speaker at the Government Construction Summit, 2 July, London, organised by Building in partnership with the Department for Business Innovation & Skills and the Cabinet Office