Any good story has a rags-to-riches theme and James Caan doesn't disappoint. And as he makes a surprise move into property, he's keen to share the cash around. This is the Dragon who hates to follow the crowd.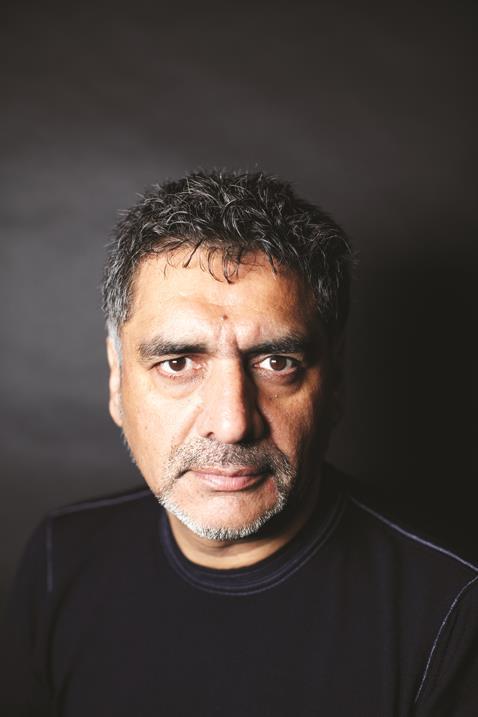 The front door of James Caan's north London town house opens up to reveal the kind of interior that many a Bond villain could only dream of. The walls of the reception room are deep red, the jet black marble floor glints as the flecks of diamond nestled within catch the light, a full sized, multi-coloured skeleton stands in a glass case in the corner of the reception room flanked by two huge floral urns and, peeking through into the living room, you catch a glimpse of a red and gold Fabergé egg resting on the table. If all of this wasn't enough, two beautiful Persian cats slink silently back and forth across the floor, winding in between the feet of anyone who enters. It's pretty high impact.
The spell is only broken when Caan comes down the spiral staircase and addresses the cats by their names: "Ah Coco! Tinkerbell! Hello Coco, hello," he coos, crouching down. "I absolutely love cats." It's entirely unexpected - particularly as Caan is so well known for appearing on the TV show, Dragons' Den, as a hard-nosed investor - to see him so relaxed.
We are looking at a new programme where we'll help property entrepreneurs. It's a bit like dragons' den but for property

Faisal Butt, Hamilton Bradshaw
Off the TV screen, 50-year-old Caan, who is worth an estimated £85m, raised more than a few eyebrows last year when he set up HB Real Estate - the new property arm of his private equity firm, Hamilton Bradshaw - to target investments in prime London residential and commercial property. He admits that even his closest friends asked what the hell he was playing at, but he stands by his decision: "I have always believed in observing the masses and doing the opposite," he says over coffee. "And that's why I have moved into property." And it looks like his decision will have a positive knock-on effect for the construction industry as he is about to launch a new Dragons' Den-style investment scheme to get residential and potentially commercial developments off the ground. Here Caan explains how he hopes to stimulate the property and construction markets all the way down the supply chain, how he caught the bottom of the market and why he only really became the man we know today after a trip to the cinema aged 16.
Golden postcodes
Born in 1960 in Lahore, Pakistan, Caan moved to England with his parents in 1962. He left school at the age of 16 and went straight into a job as a recruitment consultant before working his way up to manager and then setting up his own firm, Alexander Mann. He slowly built his business empire up from there by carefully setting up, buying and selling businesses throughout the nineties and beyond. He has a huge amount of experience behind him but even Caan admits that his decision to go into property took some courage. "In business it's always interesting to see when everyone else is bailing out. For me, that's the time to go in. That's when the market has lost confidence and when markets lose confidence, valuations tumble.
"In 2008, when the market was absolutely on its knees, I was buying property in Mayfair that had dropped a good 50%. The challenge is, you need to be brave. I decided to go for it when everyone else said 'don't'." And the industry may be pleased he did before too long. HB Real Estate has raised a £100m fund since it launched in 2010 and has recently acquired a residential trophy asset in Knightsbridge with an estimated development value in excess of £30m.
And now Caan has a whole host of follow-up plans, both in the residential and commercial sectors. Faisal Butt, associate director at Hamilton Bradshaw, explains exactly what the industry can expect from the group in the coming months: "We have some commercial to residential conversion opportunities coming up and we are looking at a new programme where we'll help property entrepreneurs who don't have funding to get their schemes off the ground. It's a bit like Dragons' Den but for property."
"We have a number of fund raisings underway and expect to introduce our next fund in the prime London market in the coming months."
Butt adds that the group is keen to open this idea up to the commercial sector too: "We'd welcome joint ventures with firms that have a stronger focus on commercial than we do."
I thought: 'If they are struggling to lend to me for absolute prime Mayfair, prices can't get any worse. We must be at the bottom'
The result for the construction industry, he says, would be much needed market stimulus: "Developers are looking for financial backing to get their projects off the ground. With us bridging the funding gap for developers and entrepreneurs, new projects, both in real estate and commercial, will start moving forward. We see this as a stimulus for the market - one that will trickle all the way down the supply chain."
For Caan, going into property last year wasn't just good timing, it was perfect: "I had just been on the phone with one of my bankers. I was talking to them about lending on a property I had been looking at on Grosvenor Street and he was being so negative. I thought: 'If they are being this negative with me - a very well known client who has been with the bank for many years - what must it be like for everyone else? If they are struggling to lend to me for absolute prime Mayfair, prices can't get any worse. We must be at the bottom.' I bought that property in January 2008 and when I look at all the graphs and trends now, I did indeed catch the absolute bottom."
But Caan concedes that the recovery will be a slow climb, as property has taken a nose dive since the Middle East crisis hit. As a result he thinks that 2011 will remain challenging. "My strategy is to continue to be cautious - I won't be aggressively buying, but I am definitely more of a buyer than a seller, as I still think there are opportunities out there."
"And the area I will be looking at, and where I was buying a lot in 2008-10, will be residential real estate in London golden postcode areas [Mayfair and Belgravia]."
Dragons' Den and Daddy's Girls
Throughout his four-series stint on the TV show Dragons' Den, up until this year, Caan developed the reputation of being "the nice one." Something he is well aware of: "That was how I was seen, certainly," he says. Was that an image he actively tried to put out there, or a decision on the part of the producers, to try and soften the panel and balance the acerbic tongues of Duncan Bannatyne and Peter Jones? "You can be the judge of that," he smiles.
"Everyone has an opinion of me before they meet me [because of Dragons' Den]," says Caan. "And that can sometimes help, sometimes not. People have a perception you are sitting there with this huge pot of cash and that price isn't an issue."
When he was still doing the TV show, Caan says he could always rely on his two biggest critics - his daughters Jemma, 24 and Hannah, 23 - to make sure he wasn't embarrassing himself in front of viewers: "They have an opinion about what I wear, what I say, my mannerisms, my sense of humour. If I am particularly hard on someone they say: 'Dad, how could you do that? She was so lovely,' and I say: 'Darling, why don't you give her money?'"
But he adds that he does take their comments on board: "I am their Dad and so they say what they truly believe because they know they can get away with it," he laughs. "And very few people can."
The Godfather
Did Caan ever imagine getting to where he is today? He looks around the room shaking his head: "Not in a million years. When I was 18, working in a recruitment agency, I thought I might end up being the manager. But I had no reason to believe I would ever end up with this. I had no university education, no money, no rich family."
Caan was born Nazim Khan. But when he went to see The Godfather at the cinema he saw "a very cool actor" who spelled his surname C-A-A-N. "Seeing James Caan in that film and seeing that spelling, which made much more sense in the UK, I decided, on impulse to change the spelling of my surname. My friend Philip said: 'I think you should just change the whole thing', so I did. It was completely spur of the moment and everyone thought it was a joke; no one took it seriously, including me."
But the name stuck. For 35 years. "It's officially changed by deed poll now and is on my passport and driving licence.
"My parents had no issue with me changing my name but [when] my Dad saw it written on my passport he was like: 'Oh. My. God. What have you done?' But by then, there was no going back."
And what about the man himself, the original James Caan? What does he think about the whole thing? "I think I get more hits than him now," laughs Caan. "Though he has Jamescaan.com, I have james-caan.com. I asked if I could buy his website." And? "He said no." Proof, then, that a Dragon doesn't always get everything he desires.
Caan in a minute
I wish I had invented … cat's eyes
Taking a risk is … what stimulates my adrenaline
What you may not know about me … is that I am quite a shy introvert
My most prized possessions are … my wife and daughters
My most extravagant purchase was … Elton John's Aston Martin at an auction. The number plate is now JC LION - because it really roars! My wife was furious when I bought it