It's not many firms that think government cuts are a good thing for their business, but Capita Symonds boss Jonathan Goring wants the outsourcing that comes with them to help him leapfrog his competitors
Jonathan Goring hardly breaks eye contact as he reels off his daily routine. The Capita Symonds boss, an ex-GB professional racing sailor for those who didn't know, gets up at 5am every morning and is in the office by seven - squeezing in an hour's gym session between emails. Work commitments and client meetings mean that he's rarely home before 9pm, at least not recently. Well, he has been the man responsible for propelling Capita Symonds forward over the last three years through a number of key acquisitions and he has just overseen a major restructure of the group. He has an energy that borders on impatience.
And it soon becomes very clear that the 47-year-old, who rose through the ranks at both Mace and Bovis before taking over the top job at Capita Symonds in 2007, is not a man who does things by halves. Indeed, he believes that his firm can "transform" the way government manages its estate and, on the way, become the UK's biggest property management company, overtaking the likes of industry giants CBRE and Jones Lang LaSalle. Goring radiates impatience to move into the "virgin territory" of the public sector and shake up the "lazy" property management industry.
Capita Symonds is certainly on the move. At the beginning of November the company restructured, turning four divisions into three. The architecture, M+E, transport and a host of other divisions became "Design & Infrastructure". Local authority and health outsourcing were tidied up into "Regions". But, as Goring is at pains to emphasise, the headline news is the launch of a "Real Estate" division that swallows cost and project management as well as £45m-turnover firm NB Real Estate, bought in February.
"Particularly with diverse organisations like ours, the clearer you are about what you do, the better. So now, we either manage, we design, or we partner," Goring explains.
"The idea is that the industry and clients should be much more joined up when it comes to delivering projects and managing the asset." The goal, he says, is that Capita Symonds will be a "one-stop shop" for property services.
Playing leapfrog
Goring says Capita Symonds is in the "premiership" of property management, but is - at the time of writing - the Arsenal to the top two in the table, CBRE and Jones Lang LaSalle (JLL). "We're probably the third-largest managers of assets. We manage a lot of the funds' property, for instance. And in that we compete with CBRE, JLL, etc."
But the plan is to leapfrog them and take the top spot, driving up turnover 30% from its current revenues of £80m over the next year, through both acquisitions and organic growth. "We have the capability to be the premier player in property management."
"It's a relatively big goal but at JLL and CBRE their focus tends to be on the transactional side, so we've intentionally focused on the management side," he says.
Current property management is "a fairly lazy support service," Goring says. "There is potential there to do it much more efficiently. It's generally been done on the back of the agency businesses that sit in expensive property, that don't necessarily employ the best technology, so we think they are two areas of tremendous improvement."
These big plans are going to need a bigger outfit, and Capita Symonds is a hungry company. One of the reasons for the restructure is to stamp its brand on the eight acquisitions it has made over the last three years. These include Andrew Martin Associates in June 2009 and NB Real Estate earlier in the year.
It takes a little nudge for Goring to admit that he expects more to come on board in 2011. "We'd like an even stronger foothold in asset management. Also the programme delivery world, so we will be looking at an organisation that does just that, and one that starts a long way up the food chain - a big, client relationship type organisation." Three acquisitions seem the most likely outcome, he admits. "But to get three you have to target six," he adds, with a smile.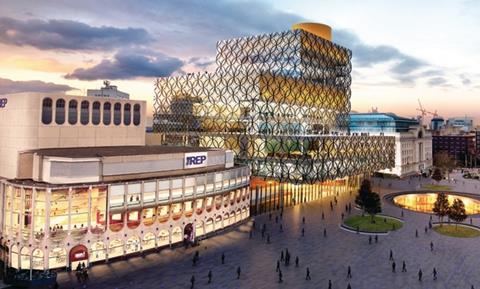 Public money
Goring's not-so-secret weapon in this rise is the public sector, which he sees as ripe for an overhaul of the way it manages its estate. And this is how he plans for Capita Symonds to streak past the bigger real estate players, not least by exploiting its links with parent company Capita, the biggest beneficiary of outsourcing cash spent in the first five months of the coalition government.
"We have an aspiration to grow property management into a market which [CBRE and JLL] don't own, which is the public sector - virgin territory. Coming together with Capita means that we have the relationships with the public sector," Goring says.
No example is left unused to demonstrate how Capita Symonds will fit perfectly in David Cameron's pocket. It can even help set up the government's flagship John-Lewis style mutuals: not-for-profit associations of state employees who would take over running parts of the public sector. "We've been doing mutuals for many years," Goring says.
If state functions are privatised in this way, Goring insists Capita Symonds will be publicly accountable. "If we take on a government service, we are accountable in the same way as the government," he says, and claims that Capita Symonds even answers freedom of information requests. This turns out not to be quite the whole story. Capita does help public authorities answer FOI requests where they concern outsourced services, but it is not directly responsible and can omit details if it feels they are commercially sensitive.
So how ready is Capita Symonds for its expansion plan? Two weeks ago Goring's parent company, Capita, told the City that it had begun to see a slowing of growth in the short term as government contract cutbacks start to take effect. But it remains bullish that cuts, and the resultant outsourcing, will benefit it in the medium term. Goring sees the tide turning at "the tail end of next year".
It is a fortunate coincidence that his business strategy aligns almost perfectly with his political persuasions. "I voted Tory. I just wanted a change, and I felt there were some things that fundamentally didn't feel right. One was the size of the public sector. Things were becoming too sluggish and too difficult, too many links in the chain."
But, in the end, is this grand plan to manage the public's estate about ideology, or business? Goring is clear. "Business."
A week in the life of Jonathan Goring
The working day
"At 5am I get up, have a shower and get on the train - the 6.14 from Weybridge in Surrey. I arrive in the office about 7.00, do half an hour of emails, then go to the gym between 7.30 and 8.30. We're not clockwatchers at all, so if I want to go home because it's someone's carol service, I go at four o'clock. But the norm is to walk out the door some time between six and eight."
Weekday evenings
"Over the past two weeks I haven't really been home, because we've had something on every night. I spend a lot of time with clients and so on." Goring was also fashionably late to his company's own restructuring party because, as he casually drops into conversation, he was at Buckingham Palace. "We sponsor the civil service awards," he explains.
Weekends
Goring used to sail for Great Britain and has kept up his passion ever since. He was on the victorious Capita Symonds boat at industry racing day Little Britain. "We were first in our class." By a long way? "Yeah." Is that normal? "I don't think we've lost," he laughs.
"I've just bought a new boat actually," he explains. "It's being built at the moment in Hong Kong. It's being delivered in May. It's 40ft, very light, very fast downwind. Should be a real grand prix rocket ship."
Goring says he loves the sense of freedom that sailing gives him: "If you're focusing on sailing you cannot think about anything else. But I'm quite good at compartmentalising anyway."
Sustainability Now, the free-to-attend online conference and exhibition for sustainable professionals starts on Wednesday 8th December. Hear from industry leading speakers and interact with key associations and suppliers from across the built environment. Click here to register now!