Developers, architects and occupiers gathered in Dublin last week to discuss the prospects for office building in a time of high inflation and low occupancy
Professionals from across Britain's commercial real estate sector packed their bags and headed across the Irish Sea this week for the British Council for Offices' (BCO) 30th conference.
Roughly 850 were welcomed to Dublin with a drinks reception at the Irish Emigration Museum before settling down to talk about how the sector can navigate the challenges the new post-pandemic normal of high interest and low occupancy.
Here are Building's key takeaways from the two-day conference.
A city transformed
This was the third BCO conference in the Republic's capital since 2006 and the speakers on day one were at pains to emphasise how much had changed since then. Despina Katsikakis, senior vice president of the BCO, contributed to the vision of the Docklands redevelopment more than 20 years ago and marvelled at what had been achieved in the meantime. "Dublin, with its rich architectural heritage, and its remarkable transformation over the past two decades, serves as the perfect backdrop for our conference this year," she said.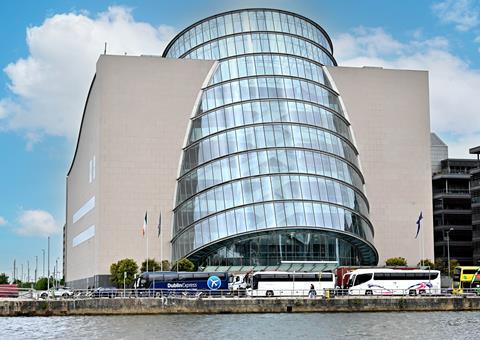 In her welcome speech, Davina Saint, director of Ireland's National Assets Management Agency, remarked how the docklands had been a "slightly bleak" place when she first began working there in the early 2000s, with a general perception that it was not entirely safe. Local workers felt as if they had been "visited by a heavenly body" when Marks and Spencer first opened in the area.
Since then, an attractive tax environment has seen the area transformed into a HQ hub, led by financial services and, more recently, big tech. "Part of the reason for bringing the conference to Dublin was the docklands regeneration and the active role that the government had to align with developers and planning to make that happen," Katsikakis told Building. Grand Canal – often dubbed Silicon Docks – now has the highest concentration of European headquarters of high-tech firms, many of which were represented among the site tours organised by the BCO.
>> Five talking points at the BCO's 2022 conference in Manchester
Visitors were shown around Spencer Place, where a new tower for Salesforce – its greenest office globally – is approaching completion. Meanwhile, Meta let attendees (though unfortunately no press) have a look around the site of its first campus outside the US. Its new EMEA headquarters, which will house 6,000 employees when complete, is being delivered over four phases with the support of Turner & Townsend.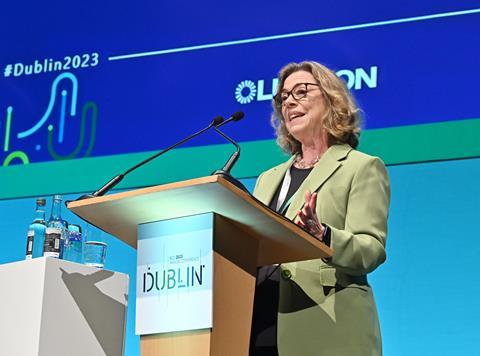 Adjusting to the new normal
"The presenteeism fox has been shot," BCO chief executive Richard Kauntze told Building, neatly distilling the post-pandemic new normal. "During the pandemic, businesses saw that the outputs were still coming, and they realised that they should have trusted staff in the first place".
While most at the conference felt it was too soon to assess the full effects of the pandemic, the occupancy statistics demonstrate clearly that something has changed. The Monday to Friday rate for the first months of 2023 was 29%, according to data from Remit Consulting, with attendance even lower in London and concentrated mostly on the middle three days of the week.
Employees have proven during the pandemic that productive work can take place outside the office, and, in a tight labour market, a great deal of power lies with them. This power shift puts the onus on developers and architects to bring their A-game, according to Katsikakis.
People don't seem to like mandates. They feel they are being asked to come to do some repetitive type of activity they can better do at home

Andy McBain, Natwest Group
"If you move to a situation where can choose where you go, you will choose to go to places that inspire you, that make you feel connected to people, that make you feel better at the end of the day than when you arrived," she says, noting that recent years had seen a "flight to quality" in the office market.
Ed Thomson, associate director at CO—RE, which is developing some major schemes in London, confirmed this and suggested that high interest rates might actually be benefitting established developers' of high-quality offices by discouraging potential newcomers bringing forward projects, thereby shrinking supply of good stock. "We deliver buildings to 2025 that are pre-let. That's not by chance, the good quality stuff is resilient to [market trends] and is being pre-let," he said.
Katsikakis added: "There is a bifurcation in the market between high quality offices that deliver inspiring destinations and b-class offices, which are a big part of our building stock. We need to focus as an industry on repurposing a lot of the existing offices, in terms of renovation and changing use, so you will see an adjustment in the market". PLP partner Mark Kelly agreed, telling Building that a lot of this so-called grey space may require a change of use if they cannot be invigorated in other ways. "What I think is challenging is how you innovate for those office buildings that are not quite as high grade and how you create a market and investment around those buildings," he said.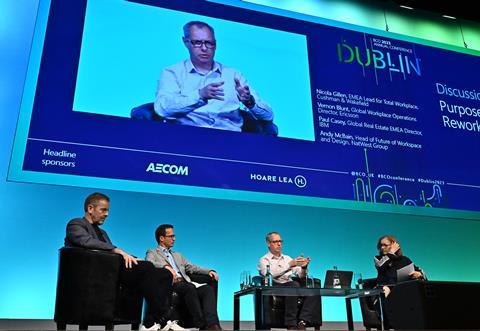 In the occupiers' panel session, there was an acknowledgement of the challenge faced by firms in attracting employees back. "People don't seem to like mandates," said Andy McBain, head of future workspace and design at the NatWest Group. "The general feeling is that they are being asked to come to do some repetitive type of activity that they can better do at home".
IBM's global real estate director Paul Casey took hope in employees' ability to "self-organise", noting that some people were beginning to come in on Mondays and Fridays in order to take advantage of the generally quieter times – a trend which could smooth out occupancy levels and help companies assess their requirements and make quicker decisions.
As it stands, though, many occupiers are delaying decision making and taking advantage of short-term solutions to their office needs. "We are still in the sphere of influence of Covid, especially smaller scale occupiers are taking a longer time to make decisions because it is still unclear what they should commit to at this point," Liam Dillon, development manager at MiddleCap, the developer behind Seal House in London, told Building.
Work has left the building
But to a certain extent, Katsikakis said, people need to accept that the role of the office was changing to become just one node within a more distributed workplace. Last year, she told Building that she wanted her conference to explore the idea of "the ecology of the office" and it was a theme that came up repeatedly across the event. "We need to think about the office as a vital part of an ecosystem that blends work and life. It is not just a place you go to," she said, explaining how big corporates needed to think of the office as a product that "embodies brand and culture" as much as a functional space for employees to complete their work.
[Salesforce] don't provide gyms in the building, they don't provide food, they actually encourage their employees to use the community

Despina Katsikakis
She gave the example of the new Salesforce Tower, which opened last May. "They as a business take a very specific approach which is they put their building in city centres that provide all amenities their employees want around and near the building," she said. "So, they don't provide gyms in the building, they don't provide food, they actually encourage their employees to use the community".
This idea of developers stepping back and letting the community in was raised Kevin Nowlan, chief executive of Irish developer Hibernia, in the developers' panel discussion. At Hibernia's Windmill Quarter scheme, they host concerts and art exhibitions throughout the year, with half of the tickets sold within the office community and half given to Ireland's biggest music magazine to sell. "We realised early on that if you create communal spaces that are really world class then people will pay rent on them communally," he said. "We are now curators".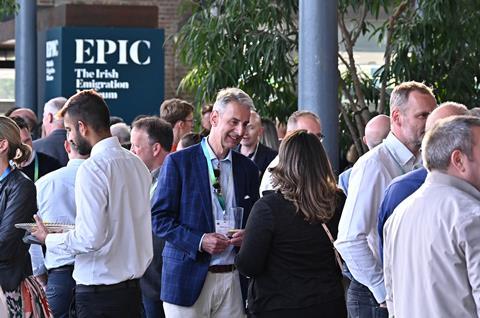 In the same discussion, Niall Gaffney, chief executive of IPUT, said it was much easier to achieve this communal atmosphere when offices were embedded into places that people live, rather than segregated in their own dedicated district. "It was exposed during the pandemic that areas like [Dublin's docklands] were just dead, because you have no one living above offices, no one shopping," he said. "You are seeing that in American cities in a big way. The one thing we have, whether it's in London or in Dublin, we have very interesting cities, historic cities with great urban streetscapes. They are great places to be, whether at work or at play."
Where this is not already the case, public policy will play a big role, with Katsikakis highlighting the importance of smart zoning and transport policies.
Next stop, Birmingham
As usual, the conference closed with an address by the BCO's junior vice president, who will organise next year's conference on his path to taking over the presidency. Peter Crowther, property director at Bruntwood, revealed that 2024's host was Europe's youngest city, with almost 40% of the population under 25, home to more Michelin stars than any other city outside London, and possessing more canals than Venice.
If that last, rather well-worn factoid didn't give it away, Building can tell you that the BCO will return to Birmingham in 2024, a decade on from its last visit to the Britain's second city. Crowther joked that the city had "created brands that created the fuel for our construction industry – HP sauce to go on the bacon, sausage and egg sandwiches, Cadburys to follow it up with, then Typhoo tea to wash it down with," adding that it also had "some of the most exciting office developments" in the country.