Last week, the chancellor beefed up Local Enterprise Partnerships and tasked them with administering anything up to £50bn in government funding to promote growth in local economies. This gives construction companies a rare chance to influence policy and win work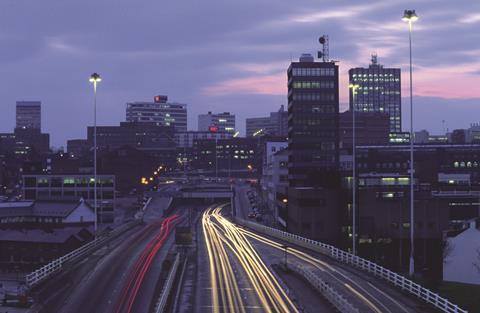 With so much attention on the new £5.5bn of capital funding and the PFI reforms announced last week in chancellor George Osborne's Autumn Statement, you may have missed, or - to be frank - not given two hoots about, the reforms to Local Enterprise Partnerships.
But you just might have missed something important. Because LEPs, designed to promote job growth and strong local economies, and which have been growing in status over the past year, were effectively turbo-charged by Osborne. He not only gave them financial security, a range of new powers and access to cheap borrowing to fund infrastructure, but he also gave a whole-hearted endorsement to Lord Heseltine's report on local growth and its central recommendation: a single funding pot for local services administered by LEPs.
This - potentially - is one of the biggest shifts in local power in a generation, opening up the possibility of anything up to £50bn in government funding being doled out directly to LEPs to administer. As LEPs are private sector-led bodies explicitly set up with a mission to promote economic growth, this could also be a shift that the construction industry needs to be on top of. However, the extent of the shake-up will not be determined until next year, meaning it remains unclear exactly how significant LEPs will be to future pipelines of work.
Certainly LEPs have come a long way. When the coalition axed Labour's Regional Development Agencies in June 2010, along with more than £2bn of annual funding that went with them, it was fair to say their successors, the supposedly "localist" LEPs, were treated with scepticism. Their powers were unclear and they were being expected to operate initially with no specific budget.
Laura Shoaf, head of strategic planning and implementation at one of them, the Black Country Consortium, says: "Our chair used to joke, when he was presenting to businesses about the LEP, that the first thing to know about us was that we had no money and no power." It didn't exactly send the bodies to the top of the construction industry's priority list. Things are very different now, says Shoaf: "Last week's announcement was undoubtedly the most significant set of policy reforms since LEPs were established."
Our chair used to joke that we had no money and no power. last week's announcement was the most significant set of reforms since leps were established

Laura Shoaf, Black Country Consortium
There are now 39 LEPs, with one - or, in some cases, two - covering every acre of ground in England, with their extent supposedly determined by the geography of local economies, rather than where council boundaries happen to be. This means that many cover multiple council areas or parts of councils. Unlike the RDAs they replaced, they have no statutory basis, no land holdings and a central government mandate to stay lean, mean and dedicatedly out of the delivery of projects and services. But despite this, their role in prioritising and directing central government funding in local areas has been growing rapidly.
Just over a year ago, they were given responsibility for handing out the government's Growing Places Fund - £500m of cash allocated for stalled development sites. Neil McLean, property lawyer at DLA Piper, and chair of the Leeds LEP, says: "We've got £36m of cash to invest in sites, so it's absolutely key that developers engage with us." That's just one city.
And if the Autumn Statement is to be believed, the Growing Places Fund will be just the start. LEPs have, in recent months, had their core funding confirmed, been minutely involved in the formation of "city deals" - devolved packages of powers for individual big cities - and been told they will have control over the revenues generated by new business rates levied in England's 24 Enterprise Zones. Labour has also backed them, meaning their existence is not threatened by a future change of government.
But most vitally, Osborne said last week that LEPs will now be explicitly charged with creating a growth strategy for the areas they represent. This will then be used as a basis to bid for money from a single funding pot - starting from April 2015 - which will include cash currently spent by central government departments and quangos on housing, transport, skills and employment schemes.
David Marlow, MD of consultancy Third Life Economics, and a former RDA chief executive, says: "It has been a huge step forward. People were uncertain as to how important they were, but the decisions this autumn appear to have ended that uncertainty."
This growing influence means that the construction sector needs to engage now, in order to influence LEPs' strategic priorities as they develop their growth plans, and to be in the right place to bid for cash to help specific schemes. Simon Nathan, head of policy at the UK Contractors Group, says: "On a local level the understanding of the importance of construction to economic growth is patchy. It's important that message gets through, so we need a real push to get involved now."
One person who has got involved is Simon Eastwood, MD at Carillion Developments, and a board member of the Black Country LEP. He says membership has had multiple benefits. "I led a piece of research on removing the barriers to the planning system across the four authorities [which make up the Black Country Consortium] and we've now gone from a position where planning decisions were never delivered within the statutory period to one where most decisions are now made in 30 days.
"And I've also been able to bang the drum pretty hard for the importance of construction in the local economy."
Lord Heseltine's report, on which Osborne's statement was based, recommended that more than £12bn in government funding per year - £49bn in total - be diverted to the single pot to be spent by LEPs. To give an idea of the scale under his plan, this would include all £4.5bn of this parliament's social housing spend, £2.5bn of flood defences spend, £1.7bn for local transport projects, £338m for waste PFI schemes - to name just a few.
Osborne declined to say how much he thought should go into the pot, saying it would be determined by a mini spending review to be conducted in the first half of next year. Experts say the scene is therefore set for a Whitehall scrap over the extent of this devolution of funding, with spending departments looking to keep control of their cash. Marlow says: "Most departments are likely to be very relaxed about the money from other departments going into the single pots, but much less so about their own."
As well as the challenge of pushing this through, Osborne will also have to work out how LEPs remain nimble with low overheads (each has been promised just £250,000 to pay for running costs), yet start administering potentially huge sums of taxpayer cash - all of which has to be properly audited and accounted for. At the moment many LEPs are not formally constituted in any way - rather they are loose associations of volunteers - and only a tiny number of those that are companies are set up as formal "accountable bodies" allowed to spend government cash.
However, Leeds LEP's McLean says he thinks these problems can be side-stepped. "We have Leeds council as our formal accounting body, but we have an agreement that the funding is entirely controlled by the LEP board. The technicality of whose bank account the money sits in is an irrelevance."
Contractors also need to be aware LEPs aren't likely to lead to a quick solution to their need for work - the single pot will only become available from April 2015. However, while they're not - yet - as powerful as the RDAs once were, these coalition creations can no longer be ignored by the industry.
Osborne's great LEP forward
LEPs will be asked by the government to lead the development of new strategic plans for local growth consistent with national priorities.
Funding of £10m to pay for the running costs of LEPs - about £250k per body.
A single LEP funding pot by April 2015, which is likely to include "some of the funding" for local transport, housing, skills and local growth.
Each LEP will be able to nominate a key infrastructure project and apply for special cheap public borrowing to help fund it, up to a total value across the 39 LEPs of £1.5bn.
£350m extra for the Regional Growth Fund, administered by LEPs in some areas.