What you're looking at is a pioneering project that shows how a low-energy retrofit can make deep cuts in carbon emissions from social housing. Readers of Building's website will be able to follow progress on the Passivhaus diary
A quiet residential street in Balham, south London, might seem a strange setting for a pioneering low-energy project. But the modest terraces lining this road are exactly the types of house that hold the key to the government reaching its 2050 target for slashing carbon emissions.
The argument for greening the houses we live in is hard to ignore. Our 25 million or so homes account for about 27% of the UK's carbon emissions, which is why last year the Technology Strategy Board, set up to promote innovation in the UK, launched a scheme to demonstrate how deep cuts can be made in the carbon emissions from social housing. 64 Midmoor Road, owned by housing association Family Mosaic, is one of 87 projects getting under way, and over the coming four months we're going to be following the project in a fortnightly diary on building.co.uk.
Why have we chosen this project? For a start it's ambitious. The aim is to cut carbon emissions from the 66kg/CO2/m2 per year that the house currently uses to below 17kgCO2/m2/year - this is the total regulated energy use, plus unregulated use for things such as televisions, hairdryers and cooking appliances. This is quite a challenge when you consider that it dates from around 1910 and has solid brick walls.
Prewett Bizley is the architect behind the scheme and is the same practice that undertook the refurbishment of a three-storey terraced house in Culford Road in De Beauvoir Town on the opposite side of London to the highly demanding Passivhaus standard (see Building, 22 January 2010).
The project in Balham will be following the same Passivhaus principles, which are proving increasingly popular for new-build projects in the UK but are rarely used for refurbishments.
As part of this approach, high levels of thermal insulation will be installed, together with vast improvements in airtightness. Robert Prewett, partner at the practice, admits though that the energy for space heating is unlikely to get down to the vital 15kWh/m2/year required to achieve new-build Passivhaus certification. But it is likely to comply with the Passivhaus standard for retrofit under development.
What's also interesting about this project is that the same builder who did Culford Road is being employed. The idea is that the lessons learned from that project can be applied to this scheme. For example, airtightness at Culford Road proved a particular challenge. A figure of 1m3 of air leakage per hour for every square metre of facade was targeted but initial tests revealed a leakage rate five times that. After a day of plugging up gaps with foam and mastic, this came down to 3.5m3/h/m2, which still wasn't low enough to take advantage of the mechanical ventilation and heat recovery system. A few more rolls of sealing tape, and leakage finally came down to 1.2m3/h/m2. At Midmoor Road they are aiming for a leakage rate of 0.6m3/h/m2.
"We're using a similar approach but we're hoping to eliminate the weaknesses that crept in on site at Culford Road," says Prewett.
So what's on the cards? The idea is to retain the look and feel of the property and to focus on heat loss. From the front, the building's appearance will remain intact, the uPVC windows will be ripped out and replaced with more sympathetic timber ones but the existing brickwork and detailing will be preserved.
At the rear it's a different story. The back of the house acts like a massive radiator, says Prewett. Triple-glazing will be used and a 300mm-thick layer of insulation will be added to the outside of the wall to bring the U-value down to 1.1W/m2K. This throws up some interesting challenges. For example, how do you deal with the junctions around the windows and where it terminates at roof level? It's these sorts of areas that Prewett says they want to iron out with neat, architectural details rather than the clumsy, unsightly solutions you often see used.
Inside, a real focus is being placed on reducing thermal bridging. The timber floor joists being built into the front and rear walls will be resupported on hangers, which will also overcome potential problems of damp and rot.
The heating system will also be taken out and - with the help of the massively improved thermal insulation - will be replaced with a single heated towel rail.
Retrofit for the future
As well as the project at Midmoor Road, a further 86 social housing projects across the UK have received funding from the Technology Strategy Board ( to test low-carbon building technologies as part of the Retrofit for the Future campaign. The programme is the first of its kind in the UK and will see social housing filled with innovative technologies in a bid to slash carbon emissions.
The type of things being tested include: substantial internal insulation upgrades using natural materials to help control moisture levels within existing structures, mechanical ventilation and heat recovery devices, intelligent heating systems and vacuum glazing.
Each demonstration home will be evaluated over a two-year period by the Energy Savings Trust and the potential for low-cost implementation in volume across the UK assessed.
The man behind the diary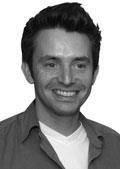 Robert Prewett studied architecture at Bath University and the Technische Universiteit in Delft. He worked for Chistian Kieckens in Belgium and for Feilden Clegg Bradley before establishing Prewett Bizley architects with Graham Bizley in 2005. As well as being a course co-ordinator for construction at Greenwich University School of Architecture Prewett also acts as an examiner for the Architects Registration Board.
The practice's approach is that sustainability and in particular low carbon building should be a prerequisite of all architectural endeavour - the upshot is it doesn't market itself as an "eco-architect". "We don't generally enjoy buildings that make a lot of eco fuss in the way they look and we wonder if they may look a little awkward within a decade or so," he says.
Original print headline - This entire house is going to be heated with a single towel rail