Just under a year ago, newly appointed to a company that was in deep trouble, Kier boss Andrew Davies set about a root and branch reform that included putting its housing arm up for sale, bringing in his own team and cutting 1,200 jobs. So, has it worked? Dave Rogers finds out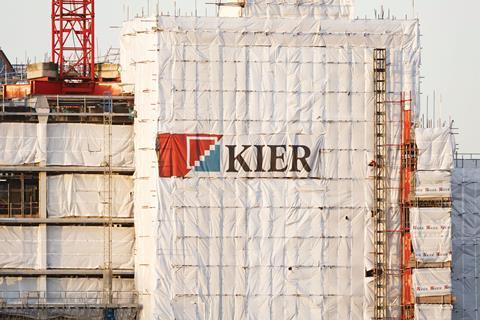 Andrew Davies must like a challenge. If things had gone differently, the 56-year-old would now be two years into trying to turn Carillion around. It collapsed a week before he was due to start as chief executive.
But the implosion of the country's then second-biggest contractor was good news for its third, also listing badly and labouring under a heavy debt pile built up after a Carillion-style spending spree.
Last March, what many had long suspected became official: that Davies was the man being tasked with another rescue job – this time to revive the fortunes of Kier, which was creaking under a botched rights issue, taken up by just a third of shareholders, and an eye-watering average month-end net debt that, just eight days before the firm announced Davies's appointment, had been revised upwards to £430m because of accounting errors. The day Davies started in the middle of April last year, Notre Dame cathedral in Paris caught fire and, when this particular chapter of the company is being written, the parallel for some financial historians might be too hard to resist given the flames he was being asked to put out.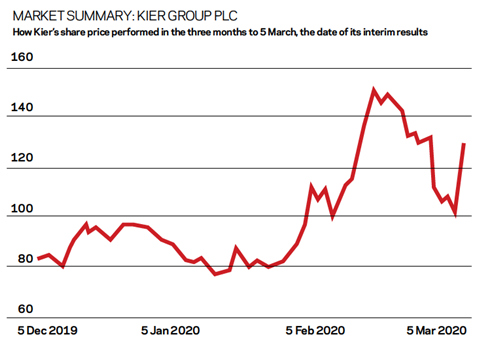 "My first day at Kier, I started a strategic review," Davies told a group of City analysts last week. It was supposed to be out at the end of last July but was brought forward to the middle of June, giving the impression there was not a moment to lose.
What it told nervous investors and clients, especially its biggest one, the government, still reeling from the Carillion body blow a year earlier, was that it had a plan of action rather than simply lurching from one crisis to another.
Davies has ruled out culling more jobs
The review's headlines were selling its housing arm, called Kier Living, pulling the plug on other non-core business such as environmental and FM and taking the axe to 1,200 jobs, a process due to be completed this June.
Initial savings were estimated at £50m a year but have been revised up to £65m and chief financial officer Simon Kesterton has since raised the prospect of further savings, although Davies has ruled out culling more jobs which in the first half saw it spend £17m on redundancy costs. "We've been very careful on reducing headcount because we don't want to compromise frontline delivery," Davies says. "It's delayering [management roles] and removing duplication [of roles]."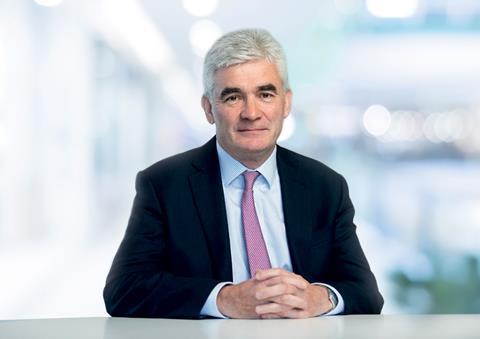 In the 11 months since he started, Davies (pictured) has also moved to bring in his own team, replacing former finance director Bev Dew with Kesterton, dispensing entirely with the chief operating officer role, held previously for only a year by Claudio Veritiero, recruiting a new commercial director, the highly-regarded Stuart Togwell who joined last year from Wates, and appointing former Laing O'Rourke building boss Liam Cummins as its construction chief. A new chairman, former Royal Mail group financial chief Matthew Lester, replaced Philip Cox at the start of the year.
Davies had been in post just five months when last September he was forced to announce a thumping annual pre-tax loss of £245m after exceptional items of £341m sent the firm nosediving into the red.
We're not going to be backed into corners and be a forced seller

Andrew Davies
Last week's interim results for the six months to December 2019 were the first set of numbers, then, entirely under Davies' stewardship. The headline figure said pre-tax losses on the same period in 2018 had narrowed to £41.2m from £45.3m on group revenue down 8% to £1.8bn. Kier did not include the loss on Kier Living, which it has now classified as discontinued, which meant the statutory loss for the period was £91.3m.
There was some disappointment that there was no announcement on the Kier Living disposal. Admitting it could be another year before a deal is complete, Davies said that it won't be bullied into accepting any price. "I've always said it takes two to tango. It's a good business and we're not going to be backed into corners and be a forced seller."
Howard Seymour, analyst at Numis, says playing the long game is the right thing to do: "Management are indicating that putting a 12-month timeframe on the sale means they are not seen as a forced seller and pushed into taking a very low bid, so it gives them time to extract the right value."
>> Comment: Investors back Andrew Davies' vision for Kier

Getting the sale of Kier Living away is crucial for Kier to make inroads into an average month-end net debt which the firm said was still close to the £400m mark – the amount to the end of December was £395m, down £27m from the figure posted in its 2019 full-year accounts.
Cenkos analyst Kevin Cammack says: "They need a major injection of cash to control the balance sheet."
He admits he is one of those left a little disappointed that the firm has not yet announced a sale and is unsure if one will be announced by its year-end this summer. "My expectation was a deal done by the end of June," he says. "I was pretty hopeful by the end of [last] December."
The firm is understood to have sent out more than 15 sale memorandums to interested parties last summer
Cammack says negotiations have been held up by the Brexit impasse, which reached a peak last autumn and which was only finally resolved by Boris Johnson's decisive victory in the December general election. He calls the period a lost quarter but also reckons that Kier has not attracted the sort of offers it was hoping for. The firm is understood to have sent out more than 15 sale memorandums to interested parties last summer.
"I do think it will get away but clearly it is taking longer than hoped," he adds. "One side has got to persuade the other that the price is right. The big question is what is Kier's red line, a price that it cannot accept? I think the red line would be £125m."
Building Value analyst Tony Williams likes what Davies is doing to the broader business, saying that he is "getting down and dirty … Kier is not going bust". But he is pessimistic over what Kier Living will fetch. "It is a pity that the Kier Living deal has not closed. Nor, in my view, will it raise three figures." Peel Hunt analyst Andrew Nussey says he expects proceeds from the sale of somewhere between £80m and £120m.
Price is always key in any sale but in Kier Living's case it is more so. "Investors have been very clear that they want the balance sheet repaired and the sale of Living is the most tangible way to do that," says Seymour.
For his part, Davies is remaining outwardly cool. He says he is speaking to two suitors, widely believed to be private equity, though there is speculation that the firm has signed up for a deal with one bidder. "If you build a [restructuring] plan around the sale of a business, you're not in control," he says. It could be read that he is preparing the ground for a value at the lower end of estimates – Cammack says talk was of £200m when the "for sale" sign was first hung around Kier Living's neck – but Davies points to the slew of initiatives he has taken to get the business on an even keel.
It does seem to be working. Before the exceptionals are thrown in to spoil the party, underlying operating profit at its continuing operations in the first half was up more than 11% to £46.7m with operating margin climbing from 2% to 2.5%.
Davies has set about a root and branch reform of the business. He has drawn up an operations framework, an "instruction manual" he calls it, available to all of its 18,000 staff. He talks about "refreshed values" and going "back to basics". He has removed management layers and it is revealing about how things once were when he says: "The core businesses now report to me."
His grasp of detail is impressing those who are tasked with advising clients to buy into the business. "I think that the straightforward plan he has put forward provides some confidence in [his] ability to transact it," says Seymour.
The previous management were found wanting on the detail and nitty-gritty of running the business

Kevin Cammack, Cenkos analyst
Cammack adds: "I think he is very able. He does know the business and what needs to be done. People feel comfortable with him and he's a man you can have a bit of faith in. He seems to get his hands dirty and people like that. The previous management were hell-bent on a growth strategy and buying things. He is the antithesis of that. The previous management were found wanting on the detail and nitty-gritty of running the business."
There was something else which caught the eye last week. "There are no contract-related exceptionals, this should reassure," noted Peel Hunt's Nussey. Perhaps, but the recent history of quoted and private contractors is littered with red ink caused by problem jobs – Balfour Beatty, Galliford Try and Laing O'Rourke have all been forced to take huge losses on schemes they later admitted they should never have bid for.
Still, Nussey's point is a valid one. Davies' eye for detail and steady hand are seen as a reassuring presence. Kier won a 15-month contract, starting next month, with Birmingham Highways to look after the city's roads following the council's acrimonious split with Amey that will see what was supposed to be a 25-year deal end this month after just 10 years.
Davies says: "I went through the contract very carefully. I foresee a good relationship." His decision to bid for it – the firm won it in competition – will have no doubt felt sweeter after the council's cabinet member for transport, Waseem Zaffar, purred: "[Kier's] reputation as a leading national roads operator should give welcomed assurance to the people of Birmingham that we have put the safe and efficient servicing of our streets at the heart of this process."
Moving out, moving on
This summer, Andrew Davies will oversee a symbolic cutting of ties with the past when 300 staff at Kier's historic home at Tempsford Hall in Bedfordshire leave for the final time. The firm has owned the Jacobean-style country house since the 1960s but Davies says it will move out by the end of June and relocate staff into offices at Rushden in Northamptonshire and Waterbeach in Cambridgeshire, though no decision has been made on where to locate the new head office.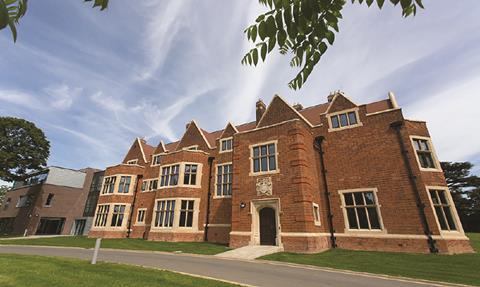 It evokes memories of Tarmac's move out of the grade I-listed Hilton Hall, near Wolverhampton, in 1999. The firm had been in the 18th-century pile for 13 years but, as part of the firm's break-up that year, decided to sell up and put a £2m price tag on the mansion, which came with a moat and more than 100 rooms. Tarmac staff would often see the corporate helicopter, used to ferry executives including boss Sir Neville Simms around the country, landing in the hall's 20 acres of sculptured grounds. It was one of the last "trophy" headquarters owned by a British company but it later became an office and conference venue, perhaps best known to locals as a swish wedding venue. The Tarmac demerger saw one bit keep the Tarmac name, remaining in building materials. The other rebranded as Carillion. Whatever happened to them?
Highways is part of Kier's core future business. It sits in its infrastructure arm which also includes its rail and utilities businesses. Construction, which includes its regional building and housing maintenance businesses, is the other core division.
Davies says the outlook for both is positive although he admits that the pair's combined revenue took a knock, down 6% to £1.7bn. "Volumes came under pressure," he adds. "The government wants to improve the infrastructure of this country [so] the outlook is strong but the reality is that we're in a bit of a pause period."
He expects to start work on its two HS2 contracts with Eiffage, the 70,000-strong French contractor which helped to build Norman Foster's Millau Viaduct in the south of the country and more recently in 2017 a 182km-long high-speed railway between Le Mans and Rennes, later this year.
Carillion was once part of that team, as well. Davies might be privately fed up with these twists of fate involving his employer that never was, but Cenkos's Cammack has another one for him. "Once you've lost control of your balance sheet, it's very difficult to get control back," he says, recalling the task that faced Davies on day one at Kier. "You end up selling things, or borrow more or raise equity. Carillon could only do one of those things. Kier has done all three. Which is probably why they are still here."