The sector is booming, yet failing to attract fresh blood, so staff are in high demand. With big money on offer, now could be the time to move between firms. But be aware of the dangers that move could bring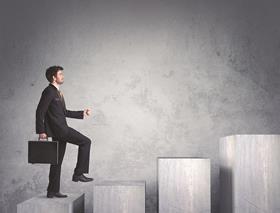 While recent headlines and official data may be raising some question marks over the strength of the construction recovery, there is no doubt that in many regions of the UK for built environment professionals looking for work, it is still boom time.
Anecdotal evidence abounds that contractors, particularly in hot markets like London and Manchester, are having to work incredibly hard to staff up in order to deliver the pipeline of orders they have won. David Hurcomb, chief executive of M&E contractor NG Bailey says he's been told of situations where contractors attempting to poach candidates from rivals have simply asked them to name their price in order to leave. "It's completely mad," he says. "But then the industry is slightly mad in the way it works."
For those with experience managing major projects - but without Hurcomb's stress of running a whole company - it's a good time to be in construction.
However, this headlong rush to recruit brings its own dangers, both for employers and the candidates themselves.
So how do professionals navigate this minefield?
Hunting for talent
The epidemic of poaching and movement of senior staff in the last year to 18 months is hardly a surprise given the way the industry works. Because while most construction firms make a lot of noise about recruiting apprentices and graduates to refresh the industry's talent pool, the reality is that the number currently completing construction apprenticeships is at a historic low, and graduate programmes are only just being reinstated after having been cut back severely during the recession.
This explains why despite rising turnover at contractors, and quarterly output still rising year-on-year, the number of people employed in construction - according to official government data - fell by 1% between June 2014 and the same month this year, to below 2.2 million. Firms are getting around this overall lack of new intake by desperately trying to pull staff in from less well-performing (or generously-paying) rivals.
Chris Hill, director at construction recruitment specialist Catalyst, says he knows of "crazy" situations where companies looking to poach staff have effectively got into bidding wars with their existing employers - meaning in one case a construction manager was able to nearly double his £60,000 salary overnight with one move. "The market has gone from zero to full throttle. Commercial people - QSs, estimators, commercial managers - are very hard to come by," he says.
For employees looking for their next move, this market dynamic can obviously seem like a great opportunity. But there are dangers to be aware of, particularly when attempting to make a big money move. Catalyst's Hill, who works with Balfour Beatty and Costain among others, says: "You have to look hard who the contractor is. There's not a danger necessarily in moving for money, but you have to remember that if you go for a mercenary rate, then when times get tougher, you'll be first out of the door because you're expensive and a recent hire."
The latest trend, according to Andy Steele, chief executive of contractor Osborne, speaking in these pages last week, is for contractors to look to cut out whole teams from their rivals, in order that they arrive at the new firm with a ready-made network that gives new staff the best possible chance to succeed. This can give candidates an edge, if they know that the firm courting them is keen to bring across a complete team.
"It's do-able," says Hill, "but for the employer it comes at a price because the candidates know they hold the cards."
Future problems
Despite the strength of the recruitment market, however, normal rules around employee behaviour still apply. Changing employer frequently, particularly if the move is made without a promotion, doesn't look good on your CV. While contractors are keen to pay well for the right candidate, they are less keen to reward those with an obviously mercenary outlook.
"If I get a CV where someone has moved jobs three or four times in the last half a dozen years it's an immediate question-mark for me," says Hill. "You can tell quite quickly if someone's sole driver is just money. I just wouldn't put them forward. Contractors want long-term commitment from someone who is career conscious, not someone who's just money conscious."
For employers, trying to keep control and maintain standards at an organisation bristling with new hires is tough work, meaning quick expansion can store up future problems. Bearing in mind that new hires are usually cheaper to make redundant than long-term staff, it is important that candidates have an eye on the financial strength and reputation of a new employer. Steve Beechey, group strategy director at contractor Wates, says: "As an industry we can't just keep paying people more, as those firms that do will become uncompetitive."
This is particularly worrying in a sector where contractors are still struggling to build out schemes won at non-existent margins in the recession, where rising staff overheads can be an additional burden on already strained cash flow. NG Bailey's Hurcomb says: "Resourcing is a massive issue for everyone. Where I see companies with a big movement in their workforce, making lots of hires, I think it's a very good indication of where you're going to see future problems."
Given this environment, contractors are doing everything they can to hang on to existing staff, and promote loyalty, including through bonuses linked to project delivery - which reduces the chances of employees walking out to a rival half way through a job. But loyalty goes both ways, and there is a limit on how much a professional can test the patience of his employer, even with the current skills shortage.
John Frankiewicz, former capital works chief executive at contractor Willmott Dixon, says: "You can't go back knocking on your manager's door for a rise every few weeks, each time a head-hunter calls. At some point there will be a reckoning."
Employees and employers alike should be aware of the pitfalls - as well as the opportunities - created by the current strong market.